It Just Got Harder To Get Arrested For Pot In New York City
Mayor de Blasio announced on Monday that the NYPD will no longer arrest people caught with small amounts of marijuana, issuing summonses instead. Advocates expressed cautious support.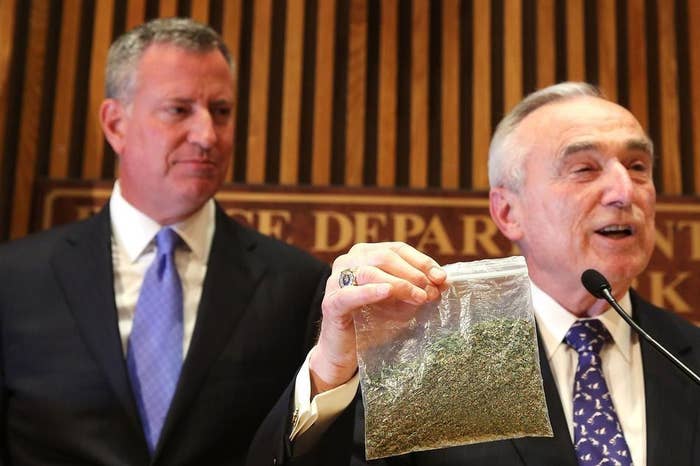 NEW YORK CITY — The New York Police Department will no longer arrest people for low-level marijuana possession, Mayor Bill de Blasio and Police Commissioner William Bratton announced in a press conference on Monday.
The NYPD will issue violation summonses to people caught with small amounts marijuana, instead of putting them in handcuffs and taking them to a precinct. The summonses will require people to appear in court at a later date and pay a fine.
The policy, which will go into effect on Nov. 19, will not protect people who are found with more than 25 grams of marijuana, those who are smoking in public, or those caught with the drug near schools or playgrounds, the officials said. People who have open warrants, are subject to an active investigation, or do do not have proper identification could also be arrested.
Speaking at the press conference, Mayor de Blasio said that the new policy is intended to refocus the attention of police officers away from petty offenses and toward more serious crimes.
"When an individual gets arrested for even the smallest quantity of marijuana it hurts their chances to get a good job, to get housing, to qualify for a student loan," de Blasio said. "This policy will allow officers to continue on with their work and to put more time and energy into fighting more serious crime rather than get bogged down with an unproductive arrest."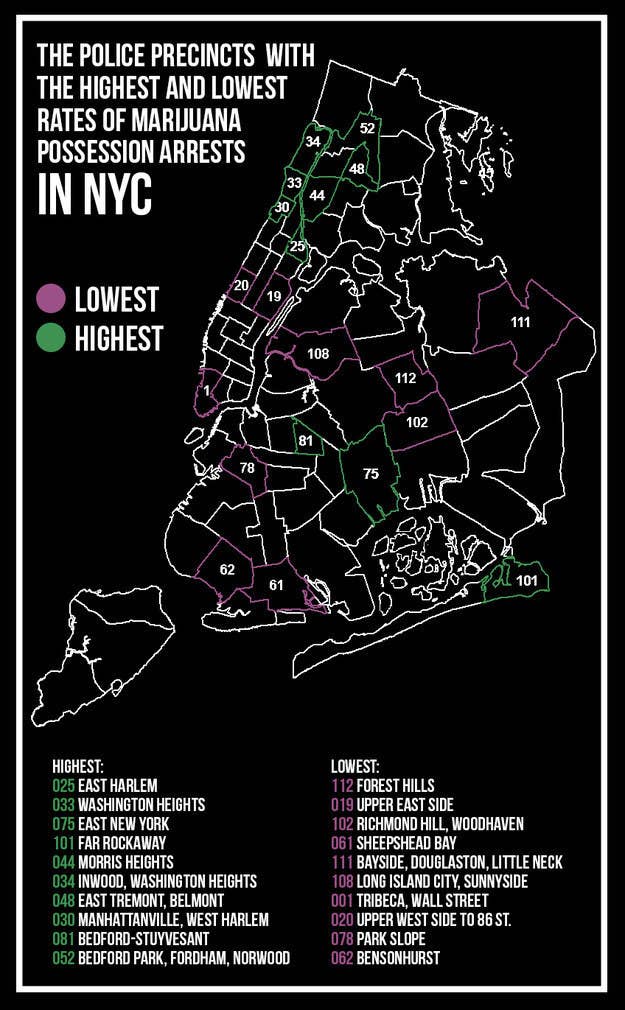 The new policy could bring about a sea change in the way the city is policed. Misdemeanor-level marijuana possession accounts for a large percentage of the city's arrests, a vast majority of which happen to young black or Latino men living in poor neighborhoods.
De Blasio and Bratton said that they had been working on the new policy for months, in conjunction with the city's five district attorneys and other law-enforcement officials. Manhattan District Attorney Cyrus Vance​ ​said​ Monday​ he supported the change two years ago and still does.
"This policy — by diverting thousands of cases from criminal court — will also keep low-level offenders, particularly teens, from an arrest and all its attendant consequences, including a night or more in jail," he said.
Some public defenders praised the policy.
"This is a huge improvement," Lisa Schreibersdorf, executive director of Brooklyn Defender Services, told BuzzFeed News. "Summonses don't get you fingerprinted. This will be better for people who are vulnerable to collateral consequences, like immigrants."
Still, Schreibersdorf cautioned that the policy will not fulfill its goal unless the NYPD relaxes its identification requirements for summonses. Immigrants and teenagers often do not carry valid identification, she said, which often means that they cannot be processed for a summons. She added that the policy change does not address what she called the root cause of the problem — police officers in New York routinely stopping people without probable cause.
"Having summonses is an improvement for people who are already being stopped, but that doesn't mean they should be stopped in the first place," she said. "The problem, from my perspective, is that stopping people without cause is unconstitutional."
Advocates also warned that the new policy could result in an increased number of arrest warrants, which are issued to people who fail to show to court for a summons. As The New York Times reported, up to a quarter of people issued summons fail to appear for their court appointments. As a consequence, there are currently 1.2 million open bench warrants in New York City — about one per every eight residents.
Possession of less than 25 grams of marijuana has not been a crime in New York State since 1977 — yet he NYPD made 59,000 arrests for misdemeanor possession in 2010.
Under current law, the only way to get arrested and charged with a misdemeanor for having less than 25 grams of marijuana is to display it "in public view." The legal definition of that term, however, is ambiguous. "Public view" can mean smoking pot in a public place, but it can also mean that a police officer stopped you, frisked you, and pulled a small bag of marijuana from your pocket.
When the bag leaves your pocket, it has technically entered public view, and the officer can legally arrest you and charge you with a misdemeanor — even though you had less than the decriminalized amount. This broad interpretation of "public view" helped low-level marijuana possession become one of the NYPD's most commonly used arrest charges during stop-and-frisks.
At Monday's press conference, Commissioner Bratton said that the NYPD has not interpreted "public view" to include marijuana removed from suspects' pockets since 2010, when then-Commissioner Ray Kelly told officers that misdemeanor charges would not be appropriate in such cases. Advocates for softer drug law enforcement policies, however, took to Twitter to disagree.
Marijuana arrests have declined sharply since 2011, when a U.S. District Court declared the stop and frisk an unconstitutional form of racial profiling. By 2013, the NYPD was making only 28,000 marijuana possession arrests — still a large number, but 47% less than in 2010.
A recent study by the nonprofit Drug Policy Alliance found that upwards of 86% of all low-level marijuana arrests made in 2014 affected black people or Latinos — even though national studies have shown that white people are just as likely to smoke marijuana regularly, and slightly more likely to have tried it.
The report also found that the geography of the arrests is highly segregated, with dominantly white neighborhoods seeing fewer arrests than neighborhoods of color with similar per-capita incomes.
These race and class disparities in drug law enforcement became a sore point for Mayor de Blasio, who as a candidate promised to end discriminatory policing. They also drove Ken Thompson, the Brooklyn district attorney, to announce in July that his office would no longer prosecute low-level marijuana possession, opting instead to dismiss most of such cases.
Still, the NYPD defended the high number of arrests, with Commissioner Bratton saying that Thompson's decision would not affect the NYPD's approach to marijuana possession. The policy announced on Monday marks the first time the current administration will take concerted action to address the disparities in marijuana arrests.
In an interview with the New York Times, Thompson said he was worried that the new policy could harm those it was intended to help by removing prosecutors from the picture. This is because a prosecutor can opt to dismiss a misdemeanor, but cannot do the same for a violation.
But as new report by the Vera Institute shows, prosecutorial review can cut both ways. The Institute analyzed data provided by the Manhattan District Attorney and found that black people and Latinos were "much more likely to receive a sentence offer including a jail or prison term" than white defendants in similar circumstances.
In the case of misdemeanor marijuana possession, the Vera report found, black people arraigned in Manhattan were 19% more likely to receive jail or prison time than people from all other ethnicities. By contrast, defendants arrested in Brooklyn could expect their cases to be dismissed. The new policy is expected to standardize procedures across the city.
Monday's announcement comes in the midst of a wave of marijuana legalization. Last week, Oregon, Alaska, and Washington D.C. all voted to legalize recreational marijuana, bringing the number of federal entities that have legalized marijuana to five.