Four Arrested In New York City For Threats Against Police, Most On Social Media
The arrests, which took place on Monday and Tuesday, come in the aftermath of the killing of two police officers in Brooklyn after the assailant wrote about his plan on Instagram. Three of the threats happened on social media.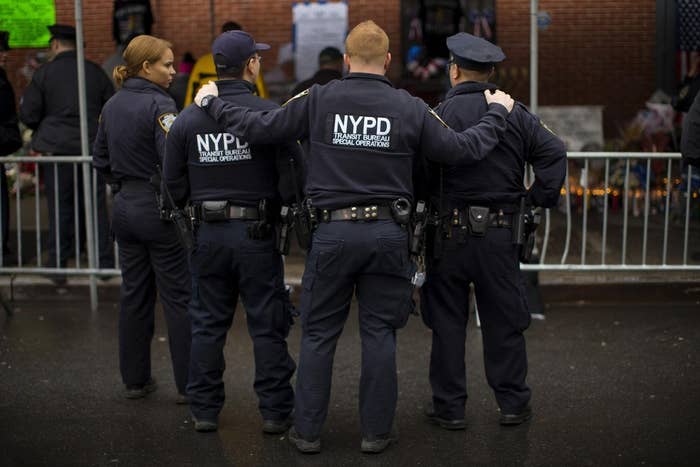 NEW YORK CITY — At least four people were arrested this week for allegedly making threats against police, the New York City Police Department said Wednesday.
Three suspects were detained after making threats on social media, a police spokesman told BuzzFeed News. A fourth suspect was arrested in connection to a 911 call.
Two of the suspects were arrested Monday, police said. Devon Coley, 18 years old, was detained on charges of making terroristic threats after he allegedly posted an anti-police cartoon to his Facebook page. Robert Bowman, 52 years old, was arrested on charges of making a false report to police.
The other two suspects were arrested on Tuesday, according to the NYPD. Sixteen-year-old Ysin Shearin was charged with making terroristic threats, while 46-year-old Roberto Alibita was charged with making a false report.
It was not immediately clear whether any of the suspects had retained attorneys.
The arrests come in the aftermath of Saturday's ambush and assassination of two police officers in Brooklyn. Ismaaiyl Brinsley, the suspect in that incident, had posted about his intentions on Instagram before heading to New York to shoot at the officers.
On Tuesday, the NYPD increased security around two of its precincts in Brooklyn — the 79th, in Bedford-Stuyvesant, and the 81st, in Brownsville — after receiving threats, police told BuzzFeed News.
Police Commissioner Bill Bratton has repeatedly asked the public to report any and all anti-police statements, saying that the NYPD has received a large volume of what he called "copycat threats."