Despite What The NYPD Says, Synthetic Pot Will Not Turn You Into The Hulk
Experts told BuzzFeed News that, contrary to what New York Police Commissioner Bill Bratton wants the public to believe, synthetic marijuana does not give people "superhuman strength."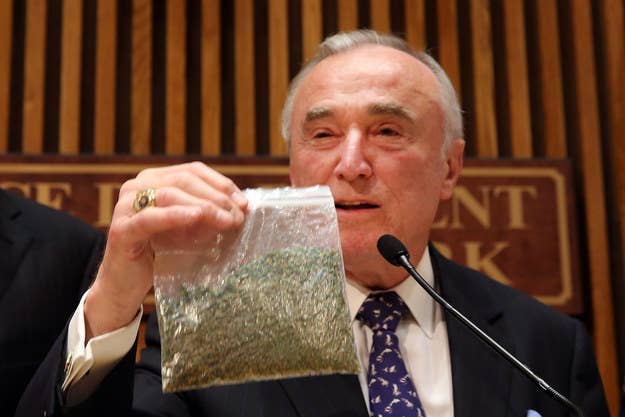 NEW YORK — He might as well have been talking about the Incredible Hulk, or narrating the plot of a later-day Reefer Madness.
On Tuesday, New York Police Commissioner Bill Bratton painted a terrifying picture of the effects of synthetic marijuana. Speaking at a news conference at police headquarters, the head of the NYPD said that users of the product known as "K2" or "Spice" can acquire "superhuman strength" and "imperviousness to pain."
But it turns out the commissioner was at least partially wrong.
Bratton was trying to convince reporters of the dangers of synthetic marijuana, a designer drug of dubious legality that consists of a blend of herbs sprayed with a variety of psychoactive chemicals. The drug, which is often sold under the counter in bodegas for as little as $5 a dose, has become increasingly popular in Upper Manhattan, particularly among the homeless, Bratton said.
It is also a dangerous substance that has been linked to thousands of emergency room visits across the country. To illustrate his point, New York's top cop told a story about a man from the Bronx who became so demented after smoking the substance that he ended up grabbing the chainsaw the NYPD was trying to use to gain access to his locked room.
"As the personnel were attempting to saw a hole through the door with an electric saw, this individual was so out of it, he grabbed the electric saw with both hands and was totally impervious to the pain that was being inflicted on him," Bratton told reporters. "It took quite a few efforts on the part of our officers to ultimately subdue him."
BuzzFeed News spoke to two expert psychiatrists who have studied the effects of marijuana and synthetic marijuana. Both of them acknowledged that the variety of substances sold as K2 can be very dangerous, but they refuted Bratton's more colorful claims.
"If you are talking about the effects of actual cannabinoids, which do occur in a number of synthetic marijuana products, I think 'superhuman strength' is not likely one of those effects," Ryan Vandrey, a professor of psychiatry at the Johns Hopkins School of Medicine, said in referring to the family of psychoactive chemicals found in marijuana.
"There are no substances that can actually imbue a person with 'superhuman strength,' though certainly stimulants which boost adrenaline or other drugs with analgesic properties might make it seem that it is so," Joseph Pierre, a professor who studies schizophrenia at the David Geffen School of Medicine at UCLA, told BuzzFeed News. "Similar reports were quite common back in the days when PCP was more popular."
PCP, also known as "angel dust," did in fact make an appearance during Bratton's press conference, though it was not mentioned by name. As part of his presentation on the dangers of synthetic pot, the commissioner showed reporters two videos depicting what he said were the effects of K2. However, as Gothamist first reported, one of the clips is part of a 2003 episode of COPS that was shot in Des Moines, Iowa, and depicts a man who was high not on synthetic marijuana but on PCP.
Asked why the department had opted to show a video depicting a man on PCP during a news conference about a completely different drug, an NYPD spokesperson told BuzzFeed News that the clip was not meant to demonstrate the effects of any particular substance, but rather to "depict the type of behavior sometimes associated with Excited Delirium Syndrome," a disorder that "has been associated with cases involving methamphetamine, PCP, synthetic marijuana (K-2), LSD and other drugs."

The NYPD did not respond to questions about the scientific basis for Bratton's statements about K2's ability to grant users "superhuman strength" and "imperviousness to pain."
Although they were skeptical of Bratton's claims, both psychiatrists consulted by BuzzFeed News emphasized that synthetic marijuana can be very dangerous because it can contain any number of substances in any number of doses, and because the effects of synthetic cannabinoids are not very well understood.
"There is no way to know exactly what constituents are contained in the various products for sale," Pierre said. "There are hundreds of synthetic cannabinoids — none of these have been extensively tested in humans and some are much more potent in terms of what they do at cannabinoid receptors than others. This means that from product to product, there can be a huge variation in dose and effect."
"There are no known substances that can actually imbue a person with 'superhuman strength.'"
Vandrey said Bratton appeared to be "trying to get people's attention" and generate support for an important public health issue.
"It's possible that he exaggerated, but I don't think he's going for any particular chemical, but rather trying to control a haphazard drug market," Vandrey said. "There's very clear evidence that some of the chemicals found in some of these products can be very dangerous."
Still, some activists who advocate for changes to current drug laws chastised Bratton for making what they said were inflammatory remarks.
"The language that Bratton is using is almost word-for-word the same kind of scare tactics we saw in the 80s," Gabriel Sayegh, the managing director for policy and campaigns for the nonprofit Drug Policy Alliance, told BuzzFeed News. "We have a lot of evidence about what happens when you lie to people about the impact and effects of a drug. That's why nobody believe the federal government when they say marijuana is just as dangerous as heroin."
Bratton's comments only worsen the problem by encouraging legislators to pass laws banning substances, rather than creating regulatory frameworks that would allow the government to control the production, distribution, and consumption of the drugs, he added.
"Banning new drugs doesn't help the people who are consuming the substances, and it puts the police in an impossible situation in which they have to enforce unenforceable laws," Sayegh said. "The only thing it does is allow lawmakers to take a victory lap. It's true that some of these substances are not safe, but people are going to consume whether they are legal or not, and we have to make sure they are as safe as possible."
Sayegh also pointed out that Bratton's choice of words seemed to echo the racially loaded language historically used to describe black people as dangerous addicts.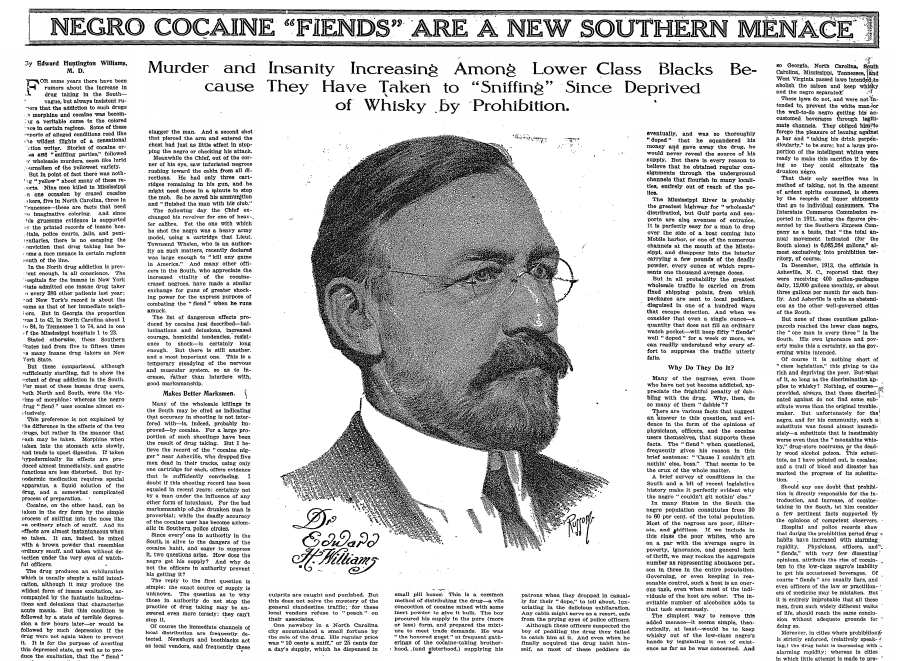 "If you go back a hundred years, you see articles in the New York Times about 'Negro cocaine fiends' who as a result of taking cocaine are impervious to pain and attack police officers," Sayegh said. "I want to be clear that I'm not accusing Bratton of making racist comments, but the fact is that the language he used is rooted in a racist history."
As for users, the consensus seems to be that smoking synthetic pot is simply not very pleasant. BuzzFeed News spoke to three people who said they had used K2 or Spice, all of whom requested anonymity to discuss their drug use with candor. While their reactions varied from the mild to the terrifying, none of them enjoyed the experience.
"It usually made me feel like shit," a New York-based reporter who used Spice while on probation to avoid testing positive in drug tests. "The high comes on quickly and powerfully, but it also dissipates just as fast, so often we would smoke a lot of it to stay buzzed. It's not a warm high like marijuana — it feels more sterile, and personally, it felt like my blood temperature dropped when I hit it. Your heart beats faster. It makes you feel extremely anxious, and not in the way weed make you anxious — it's a darker kind of anxiety."
Another user, a doctoral student in criminal justice from North Carolina, had such a bad experience he ended up in the hospital.
"The high I got was intense, but not good intense," the student said, saying he used the drug while on vacation from college because he didn't know where to purchase regular marijuana in his hometown. "The trip was so bad that I yelled for my brother and told him I thought I was dying. My mom called 911 and an ambulance came."
"I only had one hit, but I felt my heart begin to race within about one minute of the hit," the student added. "I sat down, but the dizziness and tunnel vision made me fall back onto my bed. That's when I yelled for my brother. He was trying to talk to me, but all I could say was, 'I think I'm dying. I think I'm dying.'
"He later told me that I must have said this 15 to 20 times before passing out. I remember falling back on the bed and not being able to move, but that's where my memory ends until I woke up."
A third user, a writer, tried the drug while traveling through Texas because the friend he was saying with didn't know where to find any real marijuana. He said he didn't suffer any negative side effects other than a headache, but he told BuzzFeed News he found the drug thoroughly unexciting.
"I discovered after trying it a few times that K2 was a shittier version of weed," the writer told BuzzFeed News. "It tried to do everything that weed did — euphoria, relaxation, appetite stimulation — but did all of those things far less effectively."
None of the users interviewed by BuzzFeed News, however, reported gaining the ability to hold chainsaws or a sudden increase in their physical strength.