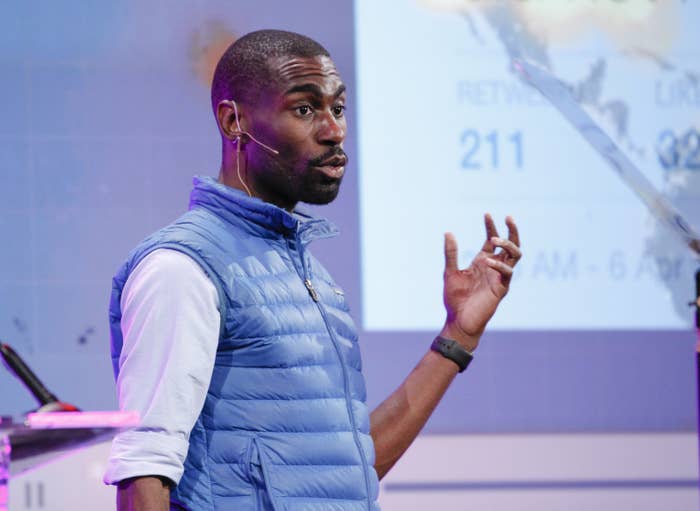 DeRay Mckesson, the Black Lives Matter activist who is running in the Democratic primary for mayor of Baltimore City, will hold a fundraiser at the Manhattan home of a former Citibank executive next week.
The fundraiser is scheduled for March 9 and will take place at the Upper West Side home of Ted Dreyfus, according to an open Facebook page for the event. A former Citibank executive, Dreyfus has also worked for the Clinton Foundation. His wife, Sue Lehman, serves on the board of Teach for F, an organization that placed Mckesson at a New York City public school from 2007 to 2009.
The hosts of the event, according to the campaign's website, will be Barry Mills, the former president of Bowdoin College, Mckesson's alma mater, and Travon Free, a writer for The Daily Show.
"Our campaign is coming to New York because DeRay needs you to be a part of the movement that will set a new course for cities across our country," the event's Facebook page read. "It's important that we build our campaign with support from folks like you."

Tickets for the event will run from $250 to $6,000. Guests who purchase the top tier of tickets will have access to a "private event," the campaign website said.
The Mckesson campaign did not immediately respond to a request for comment from BuzzFeed News.
CORRECTION
Mckesson was a Teach for America corps member, which means the organization placed him in a teaching position within New York City's public school system. A previous version of this article mistakenly stated that Mckesson had worked for the organization.
Sue Lehman is a board member of Teach For America, while her husband is a member of the global advisory council for Teach For All, Teach For America's parent organization. A previous version of this article misstated their roles in the organizations.