Bryan Singer Accuser Files New Sexual Assault Lawsuit
The complaint alleges that an unnamed executive at early internet firm Digital Entertainment Network repeatedly raped Egan when he was underage. Details in the lawsuit could allow Egan to avoid California's expired statute of limitations.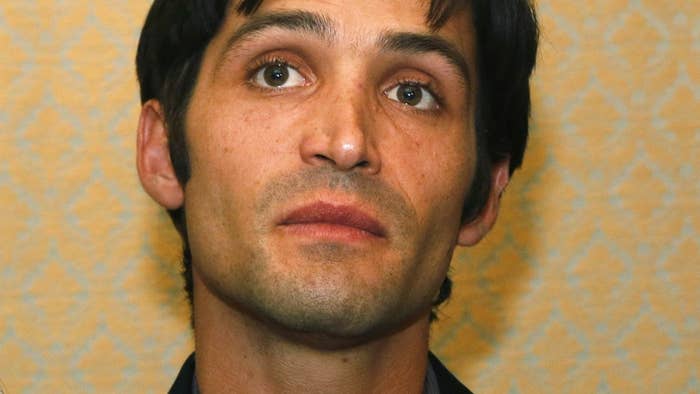 Michael Egan, the man who in April accused director Bryan Singer and other Hollywood executives of sexual abuse, filed a similar complaint on Tuesday against an anonymous defendant.
The complaint, which was lodged in the U.S. District Court for the Central District of California, alleges that a unnamed executive at early Internet firm Digital Entertainment Network repeatedly raped Egan when he was underage.
Egan had previously filed sexual assault lawsuits against four people who were either investors or board members at DEN, including Singer and former Disney executive David Neuman.
Singer and the other named defendants have all denied all allegations and filed motions to have the lawsuits dismissed. Egan's counsel has since voluntarily dismissed the complaint against Neuman, but kept a prerogative to bring charges against him again in the future.
The complaint only identifies the assailant as "the President of DEN." Neuman once had that title.
In 2000, Egan also filed a similar lawsuit against three members of DEN's board, Marc Collins-Rector, Chad Shackley, and Brock Pierce. Collins-Rector was later found guilty of transporting minors across state lines in a separate criminal case filed in New Jersey. Charges against Pierce, who denies all wrongdoing, were eventually dropped.
In sworn testimony from that lawsuit, Egan said that Neuman had never abused him. Tuesday's complaint states that Egan signed that testimony under duress after Pierce and the anonymous defendant threatened to harm him and his family.
Neuman and Pierce did not immediately respond to requests for comment on the new allegations. Jeff Herman, Egan's attorney, declined to comment.
Details of the new complaint could allow Egan to avoid the expired statute of limitations in California.
The new complaint also states that the defendant paid Egan an undisclosed sum during and after the alleged assault. The document goes on to argue that this payment constituted "partial or advance damages" for childhood sexual abuse.
Under California's Insurance Code, people who make such payments are required to inform their alleged victims of the applicable statute of limitations for a potential lawsuit against them. The complaint alleges that the defendant never informed Egan of that statute of limitations, arguing that this omission has "continuously tolled the statute of limitations for when Plaintiff may bring this childhood sexual abuse lawsuit."
California law states that a person may bring charges of childhood sexual assault up to eight years after they cease to be minors, or their 26th birthday. This brought Egan, who is now 32, to file his lawsuits 2014 against Singer and the others in Hawaii, a state that has passed legislation allowing victims of childhood sexual abuse to file complaints after the ordinary statute of limitations has passed.
In order to take advantage of Hawaii's legislation, Egan had to declare that at least some of the alleged abuse took place there. Singer and the other defendants' have made this claim the center of their motions to have the lawsuits dismissed, citing a 2000 deposition in which Egan swore he had never been to Hawaii.
The recent lawsuit also says that the trauma of the abuse forced Egan to repress memories of the anonymous defendant's assault, and that those memories only resurfaced on or around June 2013.
"Through trauma therapy and quitting alcohol abuse," the complaint reads, "Plaintiff challenged his maladaptive defense mechanisms. This allowed Plaintiff to finally recognize the childhood sexual abuse by Defendant DOE and how it contributed to the severe psychological and emotional injuries for which he was suffering."
The complaint includes a declaration by Frederick Stampler, a psychologist, stating that there is good reason to believe Egan did indeed repress memories. Stampler's declaration could help Egan avoid California's ordinary statute of limitations. Since 2003, California has allowed alleged victims of sexual assault to file lawsuits up to three years after they make the first "discovery" that they were assaulted. The provision is explicitly designed to help victims suffering from repressive symptoms.