Three Russian Citizens Charged With Espionage In New York
The FBI charged three Russian citizens on suspicion of engaging in economic espionage. One of them has been arrested, two of them remain at large.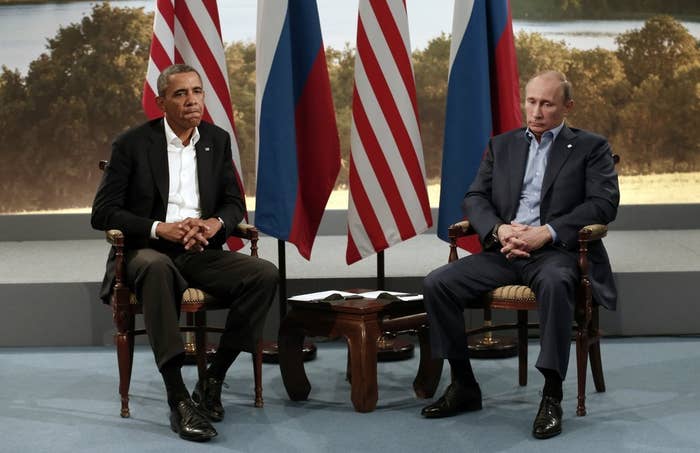 What We Know So Far
Three Russian nationals have been charged with trying to spy on the U.S.
One suspect, Evgeny Buryakov, has been arrested. The other two, Igor Sporyshev and Victor Podobnyy, are at large.
The ring tried to collect economic intelligence and recruit U.S. residents, the FBI said.
Updates
Mark Galeotti, a professor at New York University who studies Russian security services, told BuzzFeed News the indictment was a sign that Russian intelligence activities in the U.S. are widespread.
"Not only do they have people under nonofficial cover but people under nonofficial cover who are doing what could be described as doing non-essential work," Galeotti said.
"The people who they are recruiting are precisely people who are really being recruited for the future. They're not necessarily going to be that much use now – it's more a sense of 5-10 years down the line they might prove to be useful."
"This has always been the weakest element of Russian intelligence – even if you go back to KGB times," Galeotti added. "People who go into the intelligence world and go for the economic side are people who weren't smart enough to get into the banks, or people who are sufficiently corrupt who regard this as a way of making money."
One of the defendants, Igor Sporyshev, a Russian trade representative, contacted Evgeny Buryakov, a banker and another defendant in the case, to ask for his help in coming up with questions "to be used for intelligence-gathering purposes" for a Russian news outlet.
The Federal Bureau of Investigation said Monday it charged three Russian citizens with spying on the United States.
Evgeny "Zhenya" Buryakov, Igor Sporyshev, and Vicotr Podobnyy are accused of conspiring to work as unauthorized intelligence agents for the Russian Foreign Intelligence Service between 2012 and the present, according to a criminal complaint filed in Manhattan U.S. District Court.
Buryakov, who was arrested on Monday in the Bronx, allegedly entered the country as a private citizen, working as a spy under deep cover while pretending to be a banker at an unnamed Russian financial institution, according to the complaint. A LinkedIn profile under his name lists him as a Deputy Representative at Vnesheconombank.
The other two defendants, who remain at large, served as diplomats at the Russian consulate in New York City and at the United Nations.
"This case is especially egregious as it demonstrates the actions of a foreign intelligence service to integrate a covert intelligence agent into American society under the cover of an employee in the financial sector," FBI Assistant Director Coleman said in a statement.
Preet Bharara, the U.S. Attorney for the Southern District of New York, in charge of prosecuting the case, said that the the arrest of the three alleged highlighted tensions between Russia and the U.S.
"The arrest of Evgeny Buryakov and the charges against him and his co-defendants make clear that – more than two decades after the presumptive end of the Cold War – Russian spies continue to seek to operate in our midst under cover of secrecy," Bharara said.
The defendants are accused of recruiting New Yorkers as sources and gathering intelligence on potential new sanctions against Russia and American efforts to develop alternative energy sources.
Sporisyhev, who worked as Russia's Trade Representative in New York, is accused of relaying assignments from Moscow to Buryakov, who then used his position as a banker to collect information. Podobnyy and Sporisyhev then analyzed the information and relayed it back to Moscow, according to the complaint.
The three alleged spies avoided discussing intelligence matters over the phone and via email, preferring face-to-face meetings outdoors. The complaint alleges that Buryakov would pass Sporisyhev a bag, a magazine, or a slip of paper containing information.
Among the people that the three alleged spies tried to recruit in the United States were "several individuals employed by major companies and several young women with ties to a major university located in New York," according to the complaint. Many of these potential sources were people of Russian origin.
The defendants allegedly discussed the use of unorthodox tactics for the recruitment of sources, according to the complaint.
"I have lots of ideas about such girls but these ideas are not actionable because they don't allow to get close enough," Sporyshev allegedly told Podobnyy during a conversation about a young woman who worked at a financial consulting firm. "And in order to be close you either need to fuck them or use other levers to influence them to execute my requests."
In another conversation, the defendants allegedly tried to convince a young man with ambitions to rise through the ranks of Russian oil giant Gazprom to provide them with information in exchange for influence and contacts.
"This is intelligence method to cheat, how else to work with foreigners?" Prodobnyy allegedly told Sporisyhev. "Your promise a favor for a favor. You get the documents from him and tell him to fuck himself."
The defendants apparently used their real names while in the U.S. and sometimes expressed dissatisfaction with their covers, saying they were "not even close" to "movies about James Bond," according to the complaint.
"Of course, I wouldn't fly helicopters, but pretend to be someone else at a minimum," Podobnyy allegedly told his co-defendants in a recorded conversation.
The Russian Embassy in Washington D.C. did not respond to a request for comment via email. The phone numbers listed at the embassy's website appeared to have been disconnected.
Only one of the three defendants, Buryakov, has been arrested — the other two remain at large. A previous version of this article stated all three had been detained.
Here's the complaint:
Download PDF
---