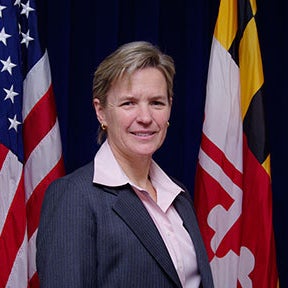 BALTIMORE — Freddie Gray wasn't having it. Even though he hadn't been convicted of anything, he'd been sitting in jail for more than a year. His day in court kept getting postponed. First it was a death in the prosecutor's family. Another time, there simply wasn't a free courtroom to hold his trial.

Then, on May 20, 2013, that day finally came — but it wasn't what he was expecting.
"Go ahead," a dejected Gray told his attorney, Jan Bledsoe, from the front row of the courtroom where visitors would normally sit, according to a videotape of the proceedings in the Baltimore City Circuit Court that was reviewed by BuzzFeed News. Bledsoe was talking to the judge at the front of the courtroom.
"What do you mean, go ahead?" Bledsoe replied, visibly exasperated. "I can't go ahead without being here at the bench! Do you want to plea or not?"
Bledsoe, then a private defense lawyer, had been hired by the Baltimore City Public Defender to represent Gray in a felony drug case. The client-attorney relationship was rocky, videotapes of court proceedings show. Bledsoe wanted Gray to take a plea deal, but Gray wanted to go to trial.
After she pressured him in open court, Gray took the plea — but not before making sure the judge understood he thought he'd had a bad lawyer.
"Your honor, do you have any more questions about my representation?" Bledsoe asked Circuit Court Judge Michael Reed after questioning Gray on why he thought she'd done a bad job.
"No," Reed answered. "I'm satisfied that he is not satisfied with your representation."
Two years later, Bledsoe works for Marilyn Mosby, the Baltimore prosecutor who made headlines in May after she charged six city police officers with killing Gray, putting an end to weeks of protests and unrest. Bledsoe serves as the deputy state's attorney for Mosby's Police Integrity Unit — and, as of Thursday, as one of the prosecutors in the case against the six officers.
Asked whether Bledsoe's previous representation of Gray constituted a conflict of interest in her work as prosecutor, Rochelle Ritchie, a spokesperson for Mosby, told BuzzFeed News there was no such conflict and that Bledsoe would remain on the case.
"Unfortunately in Baltimore City, many defendants become victims of crime," Ritchie said in the statement. "Lawyers also change roles within the legal profession. Defending an individual one day does not preclude an attorney from fighting for justice for that same individual the next."
Ritchie did not answer questions about why Bledsoe chose not to disclose her previous involvement in Gray's criminal case or whether any other members of the prosecutorial team had worked in any previous cases involving Gray or any of the officers.
But Bledsoe's involvement in Gray's previous criminal cases — which has not been previously reported — is likely to raise questions in Baltimore, where Mosby and the lawyers for the six officers continue to file dueling motions on whether the cops can expect a fair trial in Charm City.
The lawyers for the officers have argued in court filings that finding an impartial jury in Baltimore would be impossible, because most of the city's residents have already formed an opinion on the case. They have also said that Mosby should recuse herself, because her relationships with the local government — she is married to a city councilman whose district suffered damage during the unrest — shows that she stands to gain politically from convicting the officers.
For her part, Mosby has called the officers' motions "premature, frivolous, illogical, and unsupported by authority," and compared the "ridiculous allegations" against her to "a pinball on a machine far past TILT." She has said in court filings that she is pursuing charges against the officers not out of political ambition, but because "Mr. Gray was a healthy young man when arrested without probable cause, but died as a result of his treatment while in police custody."
Bledsoe's own impartiality has also been called into question. The prosecutor's partner, Jayne Miller, is an investigative reporter for WBAL and has covered the Gray case. In May, the Fraternal Order of Police — the union that represents the six police officers charged in Gray's death — sent a letter to Mosby asking her to appoint a special prosecutor.
Later that month, Miller said she was going to "step back" from covering the case as it headed to court, the Baltimore Sun reported.
Sean Malone, a lawyer for Officer Caesar Goodson, who has been charged with murdering Gray, did not immediately have comment. The police union and Billy Murphy, the attorney for Gray's surviving family, also did not respond to requests for comment.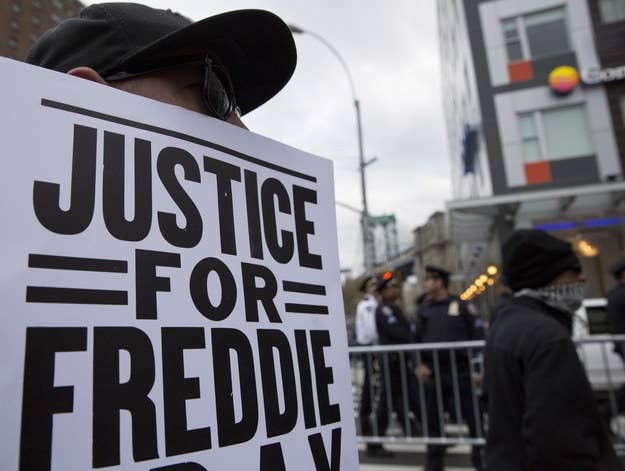 The case that brought Bledsoe and Gray together for the first time began at 5:35 on the morning of April 13, 2012, when members of the Baltimore Police Department gathered around Gray's mother's modest row house in Northwest Baltimore.

The officers knocked loudly on the door, yelling "Police!" several times, according to court records. Moments later, the cops used a battering ram to break down the door and flooded the house. They moved quickly, sweeping through the rooms and arresting everyone they saw — Gray's mother, sisters, stepfather, and an unrelated young man who was in the house at the time of the raid.
Gray himself was not arrested that day. Records show he was already incarcerated when the search warrant was served.
The police then searched the house. In a crawlspace in the basement, according to a statement of probable cause, they found a blue duffle bag containing what could be described as a drug-dealer's toolkit: razors, scales, glass vials, ziplock bags, caffeine powder, six ounces of pot, and a little under an ounce of cocaine. They also found a P380 handgun in a safe in the second floor.
Those findings would become the basis for a slew of criminal charges against nearly all the members of Gray's household, records show. Except for Gray's mother, who was allowed to remain at home because of a mental illness, every other inhabitant was brought to Baltimore's central booking facilities and accused of possession of cocaine with intent to distribute, as well as a number of auxiliary charges, including possession of material used to package and distribute illegal drugs.
Prosecutors, however, quickly let the rest of the family go. They dropped all charges against the unrelated young man who was in the house at the time of the raid. With Gray's sisters, they went farther — expunging their records entirely. Gray's stepfather, Richard Shipley, pleaded guilty to a gun charge in exchange for a suspended sentence.
When it came to Gray, though, the state's attorney was unrelenting.
Court records reviewed by BuzzFeed News show that Gray's prior drug convictions allowed the state's attorney's office to file motions requesting a minimum mandatory sentence and doubling the maximum penalty allowed for his charges. This meant Gray was facing upward of 50 years in prison, the first 25 without the possibility of parole.
"This is a very serious situation," Circuit Court Judge John Howard told Gray during one of the case's first hearings, according to court videotapes. "Make sure you get a lawyer."
Gray, however, couldn't afford to pay for his own counsel. Court records for various criminal cases show he repeatedly said he'd never been employed. Ordinarily, this would have meant that the public defender's office would have assigned Gray one of its staff attorneys. Because of an undisclosed conflict of interest none of the the public defender's staffers could represent Gray.
Instead, the office hired Bledsoe, then a prominent defense attorney with a successful private practice, as a "panel attorney" for Gray — a private lawyer who agrees to represent an indigent client. Court documents show she entered an appearance in the case on September 11, 2012.
Panel attorneys are typically paid $50 an hour, according to a source in the Office of the Public Defender — far less than what an attorney of Bledsoe's standing could charge to represent a wealthier client. However, several attorneys who know Bledsoe told BuzzFeed News that she was not known to hurry a case simply because it was unprofitable.
Deputy Public Defender Natalie Finegar declined to comment on Bledsoe's time as a panel attorney.
When it came to Gray, the state's attorney was unrelenting.
By at least some measures, Bledsoe's efforts to represent Gray were effective. She was able to negotiate with Assistant State's Attorney Larai Everett to get Gray a relatively generous deal: 14 years, suspended but for time served, and 18 months of probation — all in exchange for a guilty plea.

In other words: Say you did it and we'll let you walk free.
The problem was that Gray didn't want to plead guilty. He felt that the fact he hadn't been in the house at the time of the raid could give him a chance during trial, court videotapes show. He might not have been entirely mistaken. Several defense attorneys and former prosecutors told BuzzFeed News that Baltimore City juries are known for nullifying drug cases, which they feel are a reflection of unjust laws and unfair policing practices.
Near the beginning of the May 20, 2013, hearing, court videotapes show, Bledsoe informed Judge Reed of her client's decision to go to trial. Reed responded by asking the Everett, the assistant state's attorney, to once again explain the maximum potential sentence Gray could face if convicted.
"Mr. Gray, do you understand what happened?" Bledsoe then asked of her client, according to the court videotapes. "The court just wants to make sure you are aware that, if you are convicted, you would be eligible for 25 years without the possibility of parole, and that you are now rejecting 14 years, suspended all but time served." Essentially, Gray would walk free if he took the deal.
After a brief conversation with Gray, Bledsoe seemed more exasperated than ever.
"Nope, rejected," Bledsoe told Judge Reed after conferring, according to the videotape. "We've been playing this little game for a while. Can you just send us to trial?"
"It's a game, but it's not a game," Judge Reed replied, looking at Gray. "And I understand. And I'm going to send you to trial. But as a judge, what happens is, you get this perspective. I handle cases from judges that sat 20 years ago. And what I get are people like you, today, at your age, who are now on their fifties and sixties — I got one guy in his seventies — and what they're trying to do is re-create this day. [...] At a certain point, this offer will not be available to you, and I just want you to know that. And it sounds like you know it. Right? You know it, right? You gotta speak up."
"Yes," Gray mumbled.
"All right," Judge Reed replied, as if washing his hands. "Fantastic."
But then, as the court was about to send the case to trial, Bledsoe interrupted.
"But wait!" she said. "He just said he wanted to say something."
After a brief conversation with Gray, Bledsoe turned back toward the judge.
"OK," she said, visibly relieved. "He's ready to go, on a plea. Having been informed by the court of the consequences, he's ready to go on the plea."
As required by law, Bledsoe then began explaining to Gray the consequences of pleading guilty. He would waive a trial by jury. He would not be able to appeal his conviction except on very specific grounds — one of which, Bledsoe said, would be to argue before a court that he'd had had incompetent legal counsel.
"Now, you and I have had several disagreements," Bledsoe asked Gray. "Is that correct?"
"Yes," Gray replied.
"Have you, despite those disagreements," Bledsoe said, "thought that I have represented your interests?"
There were a few moments of silence, in which Gray stood in the courtroom in his bright-yellow inmate's uniform, staring nowhere in particular.
"I don't know," he finally responded.
"Would you say I did something incorrectly?" Bledsoe asked.
"Yeah," Gray replied.
Bledsoe went through a list of the things she'd done as Gray's counsel. She'd explained the facts of the case. She'd talked to him about the defenses that were available to him. She'd gone over the search warrant, and explained how the state could prove Gray's guilt through constructive possession.
Still, Gray was adamant.
"I wasn't there!" he said, referring to the raid of the house. "I was at DOC when it happened."
It was at that point that Bledsoe asked Judge Reed if he had any other questions about her representation, and that Reed answered he was satisfied with Gray's dissatisfaction.
"Has anyone forced you to take this plea?" Bledsoe asked.
"No," Gray said.
"Are you doing this voluntarily?" Bldesoe asked.
"Yes," Gray replied quietly.
Gray then pleaded guilty to unlawfully possessing a controlled dangerous substance in sufficient quantity to indicate an intention to distribute the same, against the peace, government, and dignity of the state. He was sentenced to nine years in prison, with all but the year he had already spent in jail suspended, and given 18 months of probation.
Two years later, he died in police custody of a catastrophic neck injury sustained in a Baltimore Police Department van, after being arrested "without force of incident" for "fleeing unprovoked upon noticing police presence," according to the statement of probable cause.
"I wasn't there!" Gray said, referring to the raid of the house. "I was [in jail] when it happened."
On Thursday, as Maryland sinks into the depths of the sweltering Chesapeake summer, the big question remained whether Barry Williams, the judge assigned to the case of the six officers, will allow the trial to proceed in Baltimore city. Williams has scheduled a hearing in September, in which he'll likely hear arguments for both sides on whether or not to move the case.

Bledsoe's involvement in Gray's old case may not have a significant impact on whether the officers accused of killing him will be tried in Baltimore city. But it does highlight some of the irony implicit in the case.
A lawyer who did not want to go to trial for an impoverished black man will now try to show that the man who allegedly killed him had a "depraved heart." An office that aggressively sought to lock him up now wants to vindicate him.
The same legal system that pushed Gray into the margins is now supposed to bring him justice.