Every now and then, I asked Ashwin about his wife: in line at the movies, or after a beer.

Or after we'd screwed.
He would reach over and take the cigarette from my hands, kissing my smoky mouth. Then he would change the subject. I never believed for a minute they were intimate. I never believed he was in love.
I'd met him at a gay bar. He was shy and even a little rude when I walked over to him and introduced myself, shaking his hand, and later, when he'd rejected me, going home with someone else.
I wanted him then and there.
I didn't have him until three weeks later, when he called me out of the blue. I didn't even remember his name. He asked to speak to Jonathan and I'd told him my name was John. Then he asked if we could meet.
"I'm sorry, who is this?"
"Ashwin Acharya."
"And we met where?"
"At the Babylon Nightclub, three Saturdays ago."
I remembered him: tall and handsome with a shock of dark brown hair. He'd worn a pink ascot and expensive-looking shoes; he was alone. I was in my tank top and jeans. I remembered laughing at him, thinking he had taken a wrong turn on his way to The Trump Hotel or something. But he hadn't. He told me this over the phone. He also told me I was cute, and that he liked my blond hair—I didn't tell him it was dyed. Instead, I floated off into a dream world of Arab sheikhs and shopping trips to Dubai; I didn't realize he was Indian at the time. I felt stupid later, making sure to tell him that I loved Indian food — that chicken makhani was my favorite — and that Aishwarya Rai was beautiful. He seemed less concerned with this and more concerned with my educational background. I told him the truth: that I had dropped out of college and I was bartending at a restaurant downtown. I was twenty-two.
He was forty-five. I was shocked when he told me. I thought he was thirty or maybe even twenty-something. He had smooth copper skin and bright eyes. He was rich, too, judging from the Mercedes sedan he picked me up in on our first date. He lived in the suburbs of Chicago. He had driven forty minutes just to see me.
"Where should we go?" he asked.
"I thought you would know."
He took me to a restaurant on the fringes of town. I figured it was a place he visited regularly but later realized it was because he didn't want to be seen. He told me this in a motel room, off the freeway, after we'd screwed.
"So you like sleeping with men?" I said.
They had girlfriends or wives and they walked freely in two separate worlds, just because they could.
Earlier that evening, I'd asked Ashwin if he had a boyfriend; he'd told me he had a wife. I was disappointed but not surprised. I'd met men like him before. They had girlfriends or wives and they walked freely in two separate worlds, just because they could. They weren't camp like I was. For a moment, I was envious (though whether it was of Ashwin or of his wife, I wasn't sure).
"I like sleeping with you," he said.
I thought it would be the end of it — the way most dates of this nature were — but then two days later he called me again.
"I was thinking about you."
"You were?"
I was standing on the platform of the L, waiting for a train to take me to Wicker Park —where I stayed in a shared apartment to which Ashwin had never been. He was driving home from work. He was a dentist and he owned a practice in Highland Park. I pictured him with his leather gloves and his big black Mercedes, pulling out of a parking space or a garage. I wondered about his house — I pictured a large mansion with pretty moldings. I wondered if he had kids. I asked him this on our second date.
"Not yet."
I was surprised. I'd assumed someone his age would have at least had one. My expression must have betrayed this because later he explained to me that his wife was very young.
"How young?"
He paused. We were sitting at a bar near my apartment, with frosted glass windows. He reached for my hand.
"Let's not talk about it."
We began seeing each other twice a week, sometimes on weekends, staying in motel rooms and, when he was comfortable, in my room. My roommate was never home. Her name was Stephanie and she was dating some tech guy who lived in River North. When Ashwin saw her pictures for the first time he was confused.
"Her parents don't mind?"
"Mind what?"
"That she is living with a man."
I laughed. "I'm gay," I said.
"Her parents know you are gay?"
"Of course," I replied. "Everyone does."
He looked disappointed by this, as if there was something undignified about it. Then he glanced around the room. He found it charming, with its mismatched furniture, its multicolored walls, its unused bottles of discounted wine. He was bold, touching things at random and not caring whose they were. We would order in or go out to eat or else watch a movie in my bed, cuddling up after sex. He was competent in that area — he would pin me down and whisper something sexy in my ear, something sweet even, like he couldn't get enough of me, or he never wanted to stop. Then he would pin my hands behind my back and pull on my hair. Unlike most guys he would stay long after it was over, smoking a cigarette or else nibbling on whatever we had eaten that day: Chinese noodles, linguine with clams, chicken salad sandwiches from the restaurant down the road. He was the youngest of four children. He had immigrated in his twenties. I asked him what it was like back home and he told me it didn't matter.
I asked him what he told his wife he was doing when he was sleeping with me.
Only it did matter. It mattered to me. I started to wonder about his life at home, about his wife — Uma —who, according to Ashwin, was closer to my age than his own. He said that prior to their wedding they had never even met; he was thirty-eight and his parents were concerned. They were getting older. They had diabetes. They had asked him once how he would feel, knowing they had died worrying about him. So he agreed. He married. He never looked back.
I found this all very poignant and sad but Ashwin didn't seem to care at all. He didn't seem to care about anything, really. Once I asked him — I asked him what he told his wife he was doing when he was sleeping with me.
He smiled.
"She's not here."
"Where is she?"
"In India."
"For how long?"
We were sitting up in bed, watching the news. Ashwin had ordered pizza. He was folding a slice of pepperoni into his mouth.
"She's been there for six weeks," he said.
I did the math in my head; it had been six weeks since Ashwin and I had first met.
"When does she come back?" I asked. He was silent. "When?"
"Not for a while."
I asked him why he never told me this, why he never talked about his wife, why, at the very least, he never invited me to his home. He reached under the covers and smacked me on my thigh.
"You want to see my house?" he said, smiling. "Okay."
He invited me for the weekend. I decided to cook him a meal. I borrowed one of Stephanie's cookbooks and began thumbing through the pages; then I went grocery shopping. It was the first time that Ashwin let me pay for something. I decided on a chicken curry dish with sultanas and steamed rice. I figured he would be surprised: All we ever ate was pizza and Chinese.
Ashwin wasn't home. He'd left me the keys along with a note that read: "See you soon." I walked around. There was a wide glass staircase, walnut floors, long grey sofas upholstered in leather and suede. The back of the house overlooked a glittering lake and a strip of forest beyond. There was a boat nearby — a white speedboat with red piping — sitting under a cobalt sky.
I had been hoping to see pictures of Ashwin's wife; I had been thinking about her all along. But there were none.
I had seen houses like this before as a child, when my father took me to work with him on Sunday afternoons. He was an electrician who installed hi-fi systems inside rich people's homes. His clients were mostly doctors or lawyers. They lived in brick houses with circular drives. They had identical children, all with blond hair. Sometimes these blond children would talk to me about the weather in Aruba. I had never been to Aruba before, but they talked anyway, their skin tanned, their hair twisted into braids, as if I, too, had been there. Once, in high school, I accompanied my father on an installation at the home of one of my classmates: a popular boy named Dylan Shaw. I didn't realize it was his house at the time. I felt embarrassed, standing there in my overalls while my father looked up and down the walls. "Geez Louise," he said, shaking Dylan's hand. "This is some place you got here." Later, at school, I ran into Dylan in the hallway, and when I walked into the men's restroom he followed me inside.
I unloaded the groceries and opened Stephanie's cookbook, thumbing through the pages again. Then I explored the house, peeking into closets and doors. The living room featured a plasma TV, a stainless steel bar, colorful abstracts of octagons and squares. There were elegant touches all over the house: silk pillows and white lacquered tables all gleaming under the sun. It wasn't what I had imagined the home of an Indian person to look like at all — in high school, I'd had a friend named Kareena, and her house was crammed with pictures of elephants and gods. Privately, I had been hoping to see pictures of Ashwin's wife; I had been thinking about her all along. But there were none. I walked into their bedroom. I glanced around. I pulled back the covers of Ashwin's king-sized bed. Then I got inside. The windows overlooked the lake, which, by that point, looked like a sheet of smoked glass. Moments later, I heard the garage door open and caught a glimpse of Ashwin's sleek black Mercedes as it glided up the drive. I hurried downstairs.
He was tired but eager, taking me in his arms. He said he had been thinking about me all day.
"It was you that kept me going," he said. "I was thinking about your face."
I tried to picture him in his big bright office, holding a dental instrument in his hands. I remembered my own dentist then: a large man named Dr. Morrison who drove a bottle green Porsche.
"Study hard, John," he'd said. "And this, too, can be yours."

Ashwin wore a dress shirt and tie; he loosened them in the kitchen. His dark hair was slicked back from his face.
"Some wine?" he asked, pouring a little into a crystal glass.
I was struck by how formal it was. At my apartment we drank wine out of plastic cups — or not at all — huddled under my sheets. My living room was unlivable. Suddenly I longed for the intimacy of it, for the way we clung to each other in the middle of the night. Here, in this expansive space, sitting at opposite ends of a glass dining table, we were far apart.
The wine was delicious. So was the food: gourmet cheese, premade lasagna, a chocolate mousse torte. It would be my turn to cook tomorrow. We stayed up late, talking into the night. Ashwin lit a fire. He told me the house was his long before his wife had arrived, the furniture his choice, the design his conception. I couldn't help but imagine myself living in it. I couldn't help but imagine other things, too: a dog and a child and a car in which to cart them around. I was thinking about these things when Ashwin looked at me from across the table, smiling.
He screwed me on the floor, pressing my face into the rug. Then he opened another bottle of wine. "Like this," he said, swirling it around, explaining that the wine needed to breath. I felt ignorant in his presence. Ashwin regaled me with his travels — he had been to Cambodia recently, to a village called Angkor Wat, where he had visited the largest Hindu temple in the world. He asked me if I'd ever traveled and I nodded my head.
"To Europe," I lied.
He asked me where and I panicked. I wasn't even sure that I could point to Europe on a map. The only places I had ever seen were the amusement parks in Florida and California, when I was a child. "To England," I said.
He had been there three times.
I couldn't help but imagine other things, too: a dog and a child and a car in which to cart them around.
The next morning, I awoke in Ashwin's bed, tangled in his sheets. I'd had too much to drink. I looked over and saw that his side of the bed was already made. I went downstairs. He was rooting around in the kitchen, cooking bacon and eggs. He handed me a fork and a plate. "Good morning," he said.
"What time is it?"
"Ten."
It was the first time I had seen him this way, with his thin legs exposed, his face unshaven. He looked tired.
"I thought we could go out on the boat," he said. "It's warmer today."
I nodded. I drank three cups of water. I felt nauseous. Ashwin gave me some medicine and encouraged me to eat, rubbing the back of my head. When I was feeling better we changed into our clothes — jeans and sweaters and a light jacket Ashwin had let me borrow — and headed out onto the dock.
His boat was long and shapely, with tan leather seats. There was an ice chest in the center filled with sandwiches and beer; Ashwin had brought it onboard. He took the wheel.
"Would you like to try it?" he said.
I had never driven a boat before, but I said yes anyway. Then Ashwin grabbed me suddenly and guided me with his hands. I slammed on the brakes. He fell backwards.
"Oh, god," I said. "Are you okay?"
He didn't say anything for a while, just lay there on the floor like a dead animal. In his silver jacket he looked like one of the silver-skinned fish I had seen washed up on the shore. I was certain he would reprimand me, tell me I was an idiot, that I didn't know what I was doing, that I was too inept for his home. Instead he laughed. He stood up and tossed his head back and laughed and laughed, the sun shining, the lake gleaming, the birds dancing over us like moths over a flame. I went over to kiss him, placing my hands on either side of his face, but he pulled away.
That afternoon, Ashwin made coffee while I set about preparing dinner. I had marked the necessary pages in Stephanie's cookbook — highlighting the portions in which she told me to use two chilies instead of one, three tomatoes instead of four, red onions instead of yellow. It said to roast whole fresh spices from scratch instead of using spices from a bag. I had not read this before. Still I continued, cleaning the chicken and marinating it with yogurt and salt. I chopped onions and fried them with cumin and cloves. I added ginger and garlic, too. The fragrance was intoxicating. I pictured Ashwin and me on a boat in the middle of the Indian Ocean, Ashwin reaching towards me instead of pulling away.
"What's this?" he said, looking over my shoulder. "You're making chicken masala."
I had tried chicken marsala before, at The Olive Garden. I told Ashwin this and he laughed.
"Not marsala," he said. "Masala. It means spice."
I was embarrassed again, and also terrified; Ashwin told me his mother used to make him chicken masala every Sunday night.
"Does Uma make it?" I asked.
I knew it was a mistake as soon as I had said it. But I couldn't help myself. I'd been hoping to find out about her all along. I'd assumed that I would, that, being in her house, among all of her things, I would be impressed by her somehow. But in this glass palace there wasn't a single trace of her, not even her clothes.
"Uma doesn't cook," he said, wiping the kitchen countertop, putting everything away.
The meal was awful: The chicken was rubbery and the curry tasted like Campbell's Tomato Soup. But Ashwin didn't seem to care. He ate noisily, smacking his lips. After dinner, he suggested we go to a bar — a gay bar called Renaissance. We got dressed in Ashwin's room. I wore a floral-printed shirt, acid-washed jeans. Ashwin wore a dress shirt and tie. I laughed at him.
"You can't wear that," I said.
"Why not?"
"Because it's not sexy enough."
I stripped off his clothes. Ashwin flipped me onto the bed and pressed his belly against my back. He said we could bring the nightclub home with us; there was no need to go to a bar. He had a strobe light and a fantastic sound system. He asked me to get dressed and meet him downstairs. When I arrived, all of the lights were off except for two red and white orbs flashing around the room. Ashwin reached for my hand.
I'd imagined there was someone out there who could make it all disappear, reinvent me somehow. And now there was.

He danced well — surprisingly well. I should have known better. I should have remembered the Bollywood movies Kareena and I would watch at her house, how everyone was dancing, how they sometimes held hands. Kareena told me that in India it was common for men to hold hands — it didn't make them queer, it just meant that they were friends. I pictured Ashwin and myself in India. I pictured Ashwin holding my hand. I wondered if people would think that I was just a friend, too.
Then Ashwin spun me around the room and told me that he had never felt this way before.
"About a man?" I asked.
"About anyone."
I found it utterly romantic. I had always dreamt of something like this. In high school I'd had visions of a life just like this one, with a man just like Aswhin. I'd pictured a house where everything was beautiful and where the pains of adolescence — the bullies, the scars, the look on Dylan Shaw's face when he saw me on his doorstep that morning, and later, in the men's restroom, when he followed me inside — simply faded away. I'd imagined there was someone out there who could make it all disappear, reinvent me somehow. And now there was.
"Do you love me?" I asked, whispering in Ashwin's ear.
He told me he did.

That night, I dreamt of things I had never experienced before: palm trees and deserts and spices and sounds, Ashwin in a long silk tunic, standing in front of the Taj Mahal. I saw myself standing next to him, on a smooth white bench with Ashwin's camera hanging from my neck. We slept together in a tight bundle on top of Ashwin's sheets, tangled in each other's arms, until I woke up the next morning and he was gone.
It was late. Light streamed in just as it had the morning before, only this time it was cold and grey. This time, dark clouds hovered above. I closed my eyes. I opened them again. Then I went into the bathroom and splashed warm water on my face.
Ashwin wasn't in the kitchen. He wasn't in the living room either, and, after waiting a few moments, I began to worry, noticing his car keys on the kitchen countertop — next to Stephanie's cookbook. Then a door burst open and Ashwin came rushing into the room. He was carrying a box with him, a large box filled with personal items: photographs and greeting cards he set near the stove.
"You have to leave," he said.
"What?"
"Get your things."
I watched him disappear into a closet and come back with a broom. Outside, the boat was tied to the dock and covered in a thick black tarp, as if it had never been used.
"I don't understand," I said.
"Get out," he said, firmly.
Then he ran upstairs.
"What's going on, Ashwin?" I said, following him. "Why are you being this way?"
He ignored me, dragging a suitcase into the room, ripping it open, rummaging inside. He began removing plastic bags full of clothing — women's clothing — hanging them in a closet nearby. Then he went into the dressers and took out condoms and lubricant and a pair of fuzzy handcuffs I had never seen before, that we had never used. He placed them in a bag.
"Whose are those?" I said, sounding shrill.
He was silent, checking the surrounding area, finding a place to conceal the bag. Then he turned to look at me.
"Whose, Ashwin?"
He said nothing.
"Is it your wife?" I said, shouting. "Is it Uma?"
He told me to get my things together and leave at once. I did as I was told, pulling a T-shirt over my head, throwing my underwear into a duffle bag, running downstairs to approach the front door — where I saw a huge car parked in the driveway, a white Lexus with chrome wheels.
"Oh, fuck," Ashwin said, coming up from behind me. "Goddamn it."
A young couple got out of the car, an Indian couple with a small child. They were unloading their suitcases. They approached the front door. Ashwin pulled me aside. He was sweating.
"Listen," he said. "Just tell them you are my friend. Tell them you stopped by. Tell them you work with me," he paused, panicked, "—at the grocery store."
My heart dropped.
"But you're a dentist," I said.
He shook his head.
One evening, in high school, my father came home from a parent-teacher conference and asked me about a boy named Dylan Shaw. I didn't think he remembered. I didn't think he recalled that winter morning on Dylan's front doorstep, shaking his hand — he had made a lot of house calls in those days — but then my father told me about the meeting my teacher had called, to discuss what had happened, and now he knew everything: the names, mostly, but also the violence, the time my shirt was ripped open and cold water was poured over my head. The time I was thrown into a dumpster behind our school. The time Dylan and his friends chased me into a wooded area and took turns urinating on my face. I could see the terror in his eyes. He said they were bullies — they were afraid. They didn't matter. But he was wrong: I was the one who was afraid.
Everything mattered.
I drove home that morning and replayed the scene at Dr. Acharya's house, hoping for it to change. I went to the market, the mall, picking things at random, not caring what they cost. I drove to the restaurant where Ashwin had taken me on our first date. I reached my apartment at dusk, carrying my duffle bag up the stairs. Stephanie was in the living room. She was smiling.
"Where have you been all weekend?" she said.
I didn't tell her the truth. I didn't tell her about Ashwin. I felt like a fool. I'd stood quietly by while Ashwin explained to Dr. and Mrs. Acharya that the house was in order, the backyard maintained, the mail stacked neatly in the den, the boat still covered in its tarp, per their instructions, unused. I watched Dr. Acharya hand him five crisp hundred-dollar bills, for his time. Then I watched him disappear. They didn't ask me who I was. They didn't say a word. Later, when Ashwin walked me to my car, he explained to me that Dr. Acharya was his cousin — he had sponsored his visa. They had asked Ashwin to housesit for them while they were away.
I asked him who he really was and he shook his head.
"No one you need to know."
I went into my bedroom and threw my bag on the floor, realizing, once again, that I was alone. I stared at my bed where, not long ago, Ashwin had ripped off my clothes. Just then there was a knock at the door. I turned around. It was Stephanie. She was holding a bowl of popcorn in her hands.
"Where's my cookbook?" she said.
I couldn't control it; I started to cry. I was only relieved that it hadn't happened sooner, that it hadn't happened in front of Dr. Acharya or his wife, that I hadn't made a scene, pulling at Ashwin's clothes, leaving them to wonder what was wrong. ●
Illustrations by Jasjyot Singh Hans for BuzzFeed News
Text from If You See Me, Don't Say Hi by Neel Patel. Copyright © 2018 by the author and reprinted by permission of Flatiron Books.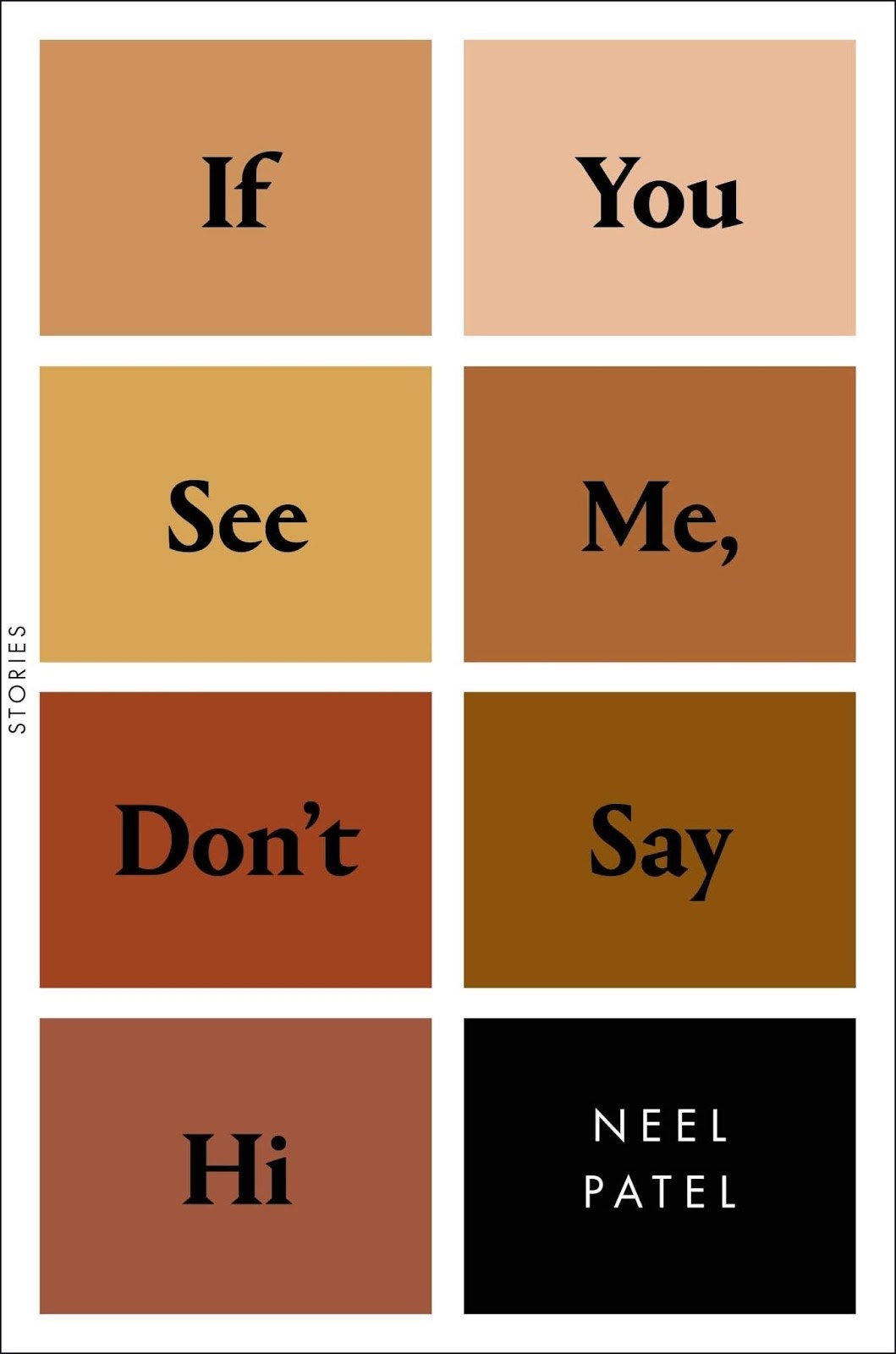 Neel Patel is a first-generation Indian American who grew up in Champaign, Illinois. His short stories have appeared in The Southampton Review, Indiana Review, The American Literary Review, Hyphen Magazine, and on Nerve.com. He currently lives in Los Angeles, where he is at work on his debut novel.

If You See Me, Don't Say Hi is out July 10.