Egypt's "Couch Party" Swings Against The Muslim Brotherhood
A "silent majority" makes noise in Cairo. Morsi holds on.
CAIRO — Egyptian flags waved, young men climbed on giant barriers in front of the presidential palace here Monday night, as millions of demonstrators roared the same slogans against President Mohammed Morsi that they once shouted against Hosni Mubarak, who was forced out 29 months ago: "Leave, Leave" and "The people and the army are one hand."
Egypt's Defense Minister Gen. Abdel-Fattah El-Sisi issued a public statement Monday giving Morsi and his opponents, who demanded his exit, 48 hours to come to an agreement for an end to the crisis or the military would be forced to "map out a future plan for the country." Morsi's office responded early Tuesday morning: "Egypt, by all its power, will not allow the country to go backwards under any circumstances."
But on the street, protesters took the military's words as proof that Morsi's days are numbered. Outside Cairo's presidential palace and in Tahrir Square, where Egypt's popular revolt against Mubarak began, people erupted in glee.
What was different from the past was how those who had supported Mubarak's government now joined with the old regime's critics in the name of bringing Morsi down. By the presidential palace, those with nostalgia for Mubarak's Egypt appeared to dominate the packed streets. The deal they are making could yet prove to be a bargain with the devil.
"It's important to get back our Egypt. It was stolen from us," said Ihab Mustafa, a middle-aged man who works in financial services and admitted without hesitation his fondness for life in the Mubarak era.
His wife chimed in: "We are all Muslims but we are bigger in size than the Brotherhood supporters."
Sami Lufti, 60, called himself a member of Egypt's silent majority: those who had stayed home when Mubarak fell, who were indifferent to the revolution, and remained quiet in the turbulent months afterward as they watched Egypt's economy spiral downward and crime run rampant. Now they were out in force and billed themselves half in jest as "the couch party," mocking their middle-of-the road status. "I am from the majority of Egyptians who stayed home. These are the people we are seeing today," Lufti said. "We want someone to look out for Egypt's benefit, not just himself, the way Mubarak did and the way Morsi has done."
The grey-haired man smiled proudly at his wife and grown daughter and cousins. More than 10 of his relatives had joined him at the rally. He confessed that he missed the old days when he felt Mubarak was good, before his wife and sons led Egypt astray. "We don't hate the Brotherhood," he explained, "but they are not qualified to lead the country. They missed their chance."
One teenager, 17-year-old Kareem Sayed, was an even more vociferous backer of Mubarak than his elders. He wanted Mubarak's last prime minister, Ahmed Shafik, to beat Morsi for the presidency last June and now he hoped the army would come back to power. "For now the military should rule," he said.
About a 10-minute drive away from his critics, thousands of Morsi's supporters were gathered on the streets of the middle class neighborhood Nasr City, with its high rise apartment buildings and billboards advertising food products like macaroni.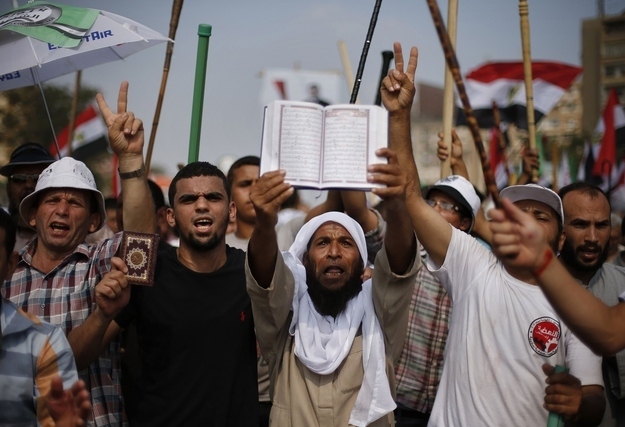 The atmosphere among the Islamists was defensive and far from the jubilance on display at the anti-Morsi rally. Men in hard hats and biker helmets guarded the roads with wooden sticks and metal pipes. They described themselves as holy warriors defending Egypt's democracy. "We will sacrifice our souls, our money and our children to defend Dr. Morsi, not as a man but as the legitimately elected president," said Eid Fathi, who owns a shoe factory outside of Cairo. Carrying a big club, he explained: "If someone attacks us, we will defend ourselves."
Realizing they sounded so grim, Fathi's friends insisted people were actually having fun at the pro-Morsi protest.
Just down the road, vendors were selling hot tea; some sold orange juice. Pop jingles played from speakers with peppy foot-tapping lyrics urging people "to keep your head up, Egyptians." Men danced and waved Egyptian flags. Like their secular brethren, they played the Egyptian anthem. But despite the efforts to relax, no one seemed able to let go of the tension.
And Morsi's supporters roared in agreement when a judge from a makeshift stage yelled: "If the army is going to jump over our legitimacy, this gathering will offer a project of a million martyrs."