Egyptian Army Fires On Ex-President's Supporters, 30 Killed In Clashes
UPDATE: The AP is reporting that 30 have died nationwide, hundreds have been injured. The Muslim Brotherhood isn't going gently. "Kill me, Kill me."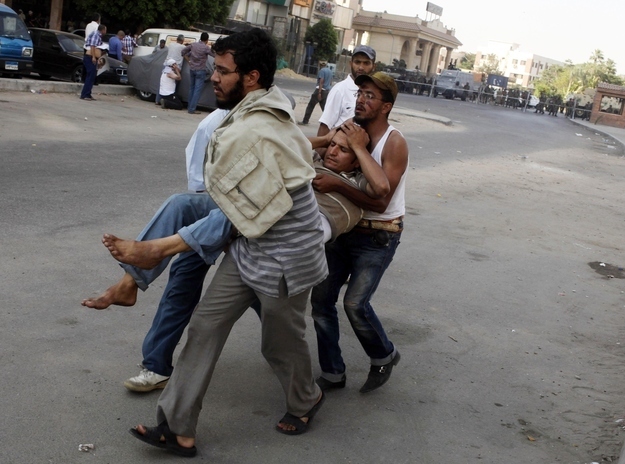 CAIRO — The Egyptian army fired on protesters supporting deposed President Mohammed Morsi, witnesses to the clashes and news reports said Friday, opening a bloody new chapter in the country's post-revolutionary chaos.
The Muslim Brotherhood supporters of the Muslim Brotherhood were marching on the Republican Guard compound, where deposed President Mohammed Morsi was thought to be jailed. At least a few thousand men swarmed in front of the innocuous driveway nestled between box-like apartment highrises. Here they believed Morsi was locked away and they pushed forward in defiance of what they called a military coup.
Three Morsi supporters stepped on the razor wire in front of the driveway where army and police guarded the fenced entrance to the military compound, according to protesters' accounts. The army fired a minute of warning shots and one of the Morsi supporters standing on the razor wire shouted 'kill me, kill me', the protesters said.
And then the soldiers fired on the men. Suddenly a body laid on the ground; demonstrators smeared blood of the dead and wounded on their faces, according to a witness account. Some Morsi supporters huddled with their wounded by the surrounding highrises.
One protester cried: "I am standing next to a martyr. Where are the ambulances."
Teargas was fired and Cairo stood on edge.
UPDATE: According to the AP, 30 have died in clashes throughout Egypt, hundred are injured.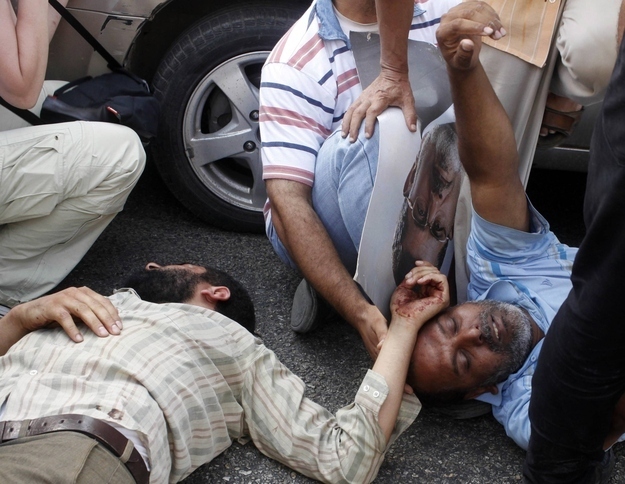 WARNING: Below Are Graphic Images And Video Of A Protester Being Shot And Killed