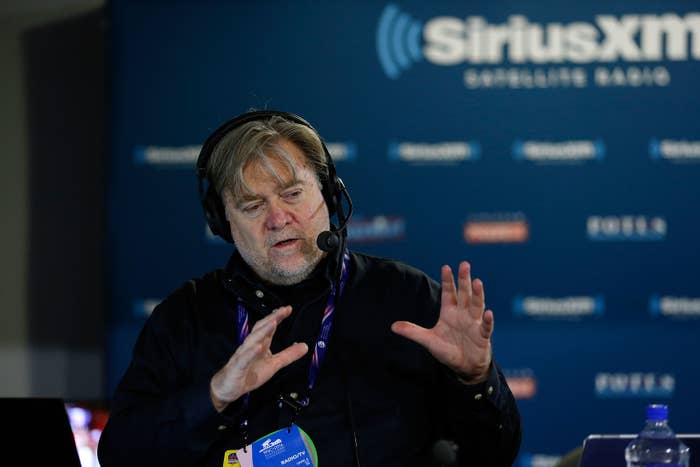 Steve Bannon, Donald Trump's campaign CEO and former Breitbart chief, gave a rare interview Wednesday in which he hailed a "sea change" reshaping American politics and framed Trump's rise within a nationalist tide across Europe and the United Kingdom.
"This whole movement has a certain global aspect to it," Bannon said on Breitbart News Daily, a Sirius radio program he hosted before leaving Breitbart to join the Trump campaign.
"People want more control of their country," Bannon told Breitbart editor-in-chief Alex Marlow. "They're very proud of their countries. They want borders. They want sovereignty. It's not just a thing that's happening in any one geographic space."
"There's real engagement," he added. "Regardless of what happens next week, obviously I think that we're going to win and I've thought that from day one, but there's a sea change in American politics. This movement — as I keep saying— it's just at the top of the first inning."
Bannon argued that establishment leaders in both parties had missed grassroots anger that began with Tea Party victories in 2010. "I still think that most of the people in the establishment don't realize how deep this movement is and how powerful it is," he said.
The UK voting to leave the European Union this summer, Bannon argued, resonated with Trump voters and demonstrated that similar political currents existed in both countries: "Whether you're in Wisconsin or Maine or Mississippi, people know the details of it, and they know what drove that vote."
Bannon also announced that he would rejoin Breitbart's radio show after the election. "My term of duty here ends on the evening of the 8th. I look forward to getting back and being part of it," he said.
"I look forward to being a part of it again. It's something I miss a lot."