Rudy Giuliani: FBI Director James Comey's "Feeling The Pressure" From "FBI Agents"
"There's a kind of revolution going on inside the FBI," Rudy Giuliani said over the FBI's investigation of Hillary Clinton's private email server.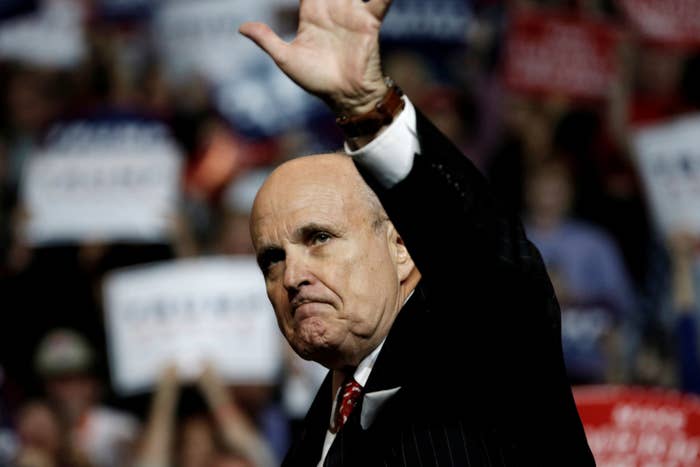 Rudy Giuliani suggested Friday that FBI Director James Comey is "feeling the pressure" from inside the FBI over Comey's decision not to recommend charges against Clinton related to her use of a private email server in July.
Comey wrote to Congress on Friday to make officials aware that the FBI is investigating emails that may pertain to the Clinton email investigation. Later, the New York Times reported that the emails were obtained during the investigation of Anthony Weiner over allegations he sexted an underage girl.
Appearing on The Lars Larson show Friday afternoon, Giuliani, a top Donald Trump ally, alleged that FBI officials were unhappy with Comey's handling of Clinton's email investigation.
"The other rumor that I get is that there's a kind of revolution going on inside the FBI about the original conclusion being completely unjustified and almost a slap in the face to the FBI's integrity," Giuliani said. "I know that from former agents. I know that even from a few active agents."
How much of that does he think is "pushing James Comey to do what he did today," Giuliani was asked. He noted that he has "affection" for Comey but was disappointed by the recommendation this summer.
"I think he's feeling the pressure," the former New York mayor said of Comey. "I think he's feeling the pressure of a group of FBI agents who don't look at it politically — just as everybody's got to be treated the same. If everybody was treated the same, she'd be under indictment now for false statements to the FBI, for destruction of evidence, for obstruction of justice."