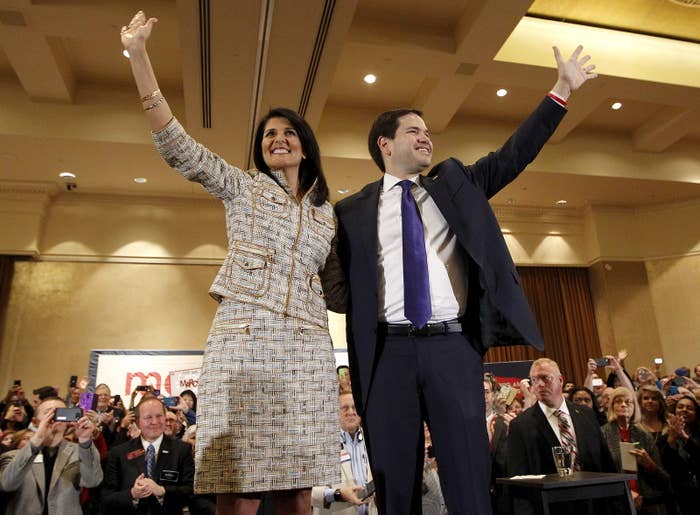 South Carolina Gov. Nikki Haley said Wednesday that she still planned to vote for Donald Trump despite what she called an "embarrassing" election that "has really turned my stomach upside down."

Speaking at a news conference about her efforts to help aid South Carolina in the aftermath of Hurricane Matthew, Haley resigned herself to a choice between two candidates whom she found personally distasteful.
"This is no longer a choice for me on personalities because I'm not a fan of either one. What it is about is policy," said Haley, who gave a ringing endorsement of Marco Rubio during the Republican primary. "I think I've been really clear. This election has really turned my stomach upside down. It has been embarrassing for both parties. It's not something the country deserves, but it's what we've got."
Haley, who said in May, "I have great respect for the will of the people, and as I have always said, I will support the Republican nominee for president" and appeared at the Republican National Convention in July, added that she based her vote on policy decisions.
"I come back to say that the best person based on the policies and dealing with things like Obamacare still is Donald Trump," Haley told reporters. "That doesn't mean it's an easy vote, but that does mean that I'm watching out for the people of South Carolina."
"As a governor of this state, knowing what our state's needs are and knowing the processes that are going to take place, there's a few things that worry me," Haley noted. "One of the things is who the directors are going to be put into place at those agencies because it's we've had to deal with the EPA, whether it's been the National Labor Relations Board, whether it's been any of the mandates from Health and Human Services that have passed down, along with education — all of those issues came into play in South Carolina, and they caused us a lot of heartache."