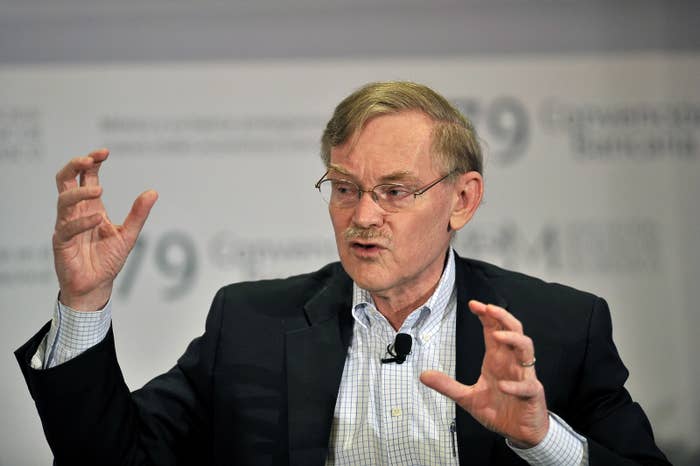 Robert Zoellick, a former top official in both Bush administrations and the president of the World Bank from 2007 to 2012, offered a blistering assessment of Donald Trump in an appearance on Republican strategist Mike Murphy's podcast.
Zoellick, who served as deputy secretary of state in George W. Bush's administration and deputy chief of staff to George H.W. Bush, told Murphy, "I've seen the presidency up close. Trump is a dangerous man. I would not want that man with his finger on the triggers."
In March, Zoellick signed an open letter with 50 conservative foreign policy experts calling Trump "fundamentally dishonest" and blasting his "hateful, anti-Muslim rhetoric." In the podcast interview with Murphy posted on Saturday, Zoellick said Trump "has no sense of dignity and there's a dark side to him, too."
"I don't have a sense that he listens," Zoellick told Murphy. "Any president needs help. They need to study, they to learn things, and that doesn't seem to be his style. He just tries to react with what he sees in the news, and it's all related to his image of how you do real estate negotiations as a bargain and his sense of his own personal brand. And then how he treats aspects of the Constitution, how he treats other people. I would not be comfortable with him serving in that role."
Zoellick also worried that Trump would hurt Republican Senate candidates in competitive races across the country and leave lasting damage to the GOP's appeal among minority voters.
"I've tried to build out the Republican Party, tried to reach out with Mexican-Americans, Hispanics, Asians, others. This is a big setback," said Zoellick. "I've been trying to help some of my friends who are internationalists in the Senate to get re-elected, and the numbers are weighing them down. Very, very good people who we could lose."