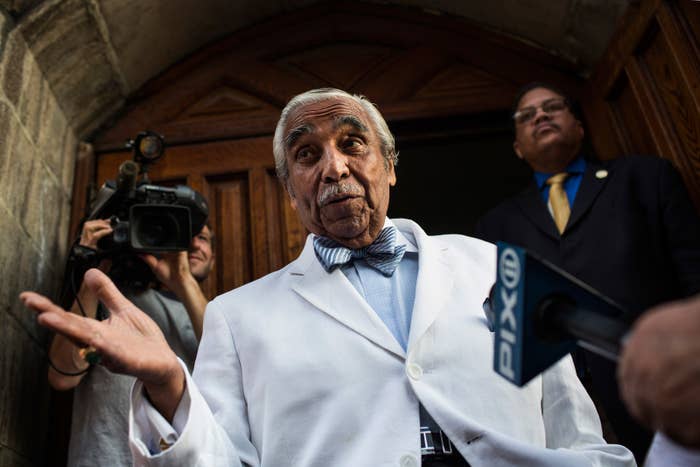 Rep. Charlie Rangel, a Democrat from New York, delivered a profanity-laden critique of Donald Trump on Thursday, apparently not realizing that his microphone was on and he was live on air.
In an interview with Joe Madison for SiriusXM Radio, Rangel said of Trump, "If he didn't have money we would've locked his ass up a long time ago."
"He's consistently crazy," Rangel said. "It's not like he had a bad day. Every day he tears his ass and reverses himself and contradicts himself."
Rangel, who has represented Harlem and Upper Manhattan since 1971, recalled meeting Trump various times during his public life, and mocked how Trump would always declare himself the smartest person in the world.

"Goddamn shit, and he, he'll just tell ya that he's so smart, that smart people just come to him!" Rangel said.
Rangel, who is retiring at the end the current congressional term, went on to warn of the potential harm a Trump presidency could do to the country.
"This man is about to kill the goddamn goose that's producing these eggs," Rangel said. "Poor folks are gonna get screwed anyway, but he's taking down the country with him. I mean, he's done more damn damage to the reputation of our country aboard just by threatening to pull out of NATO."
It was only when Madison asked Rangel about Hillary Clinton that Rangel asked when their interview would start.
Madison told him they had already been recording live, before reassuring Rangel about his language.
"That's okay, we're SiriusXM."