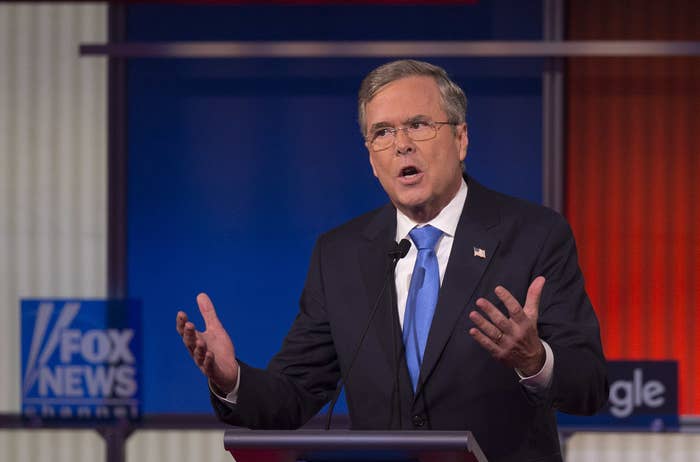 At Thursday night's Republican presidential debate, Jeb Bush praised an initiative that virtually eliminated veteran homelessness in Houston, Texas, and pointed out that it was done without federal assistance.
The coalition of charitable groups, called The Way Home, does in fact partner with multiple federal departments and receives federal funding.
Bush, when asked about the Wounded Warrior Project spending 40% of its donations on administrative expenses the debate, highlighted the initiative, saying, "In Houston, Texas, there's an organization in place because someone acted on their heart, wanted to make sure that there's no homeless veterans in Houston. And they've come pretty close to that without federal government assistance. We need to mobilize the entire country to treat our veterans and treat them with much more respect than they get today."
The initiative did succeed in drastically reducing homelessness among veterans, but it did so by partnering with the Department of Housing and Urban Development and the Veterans Administration. At a ceremony last June in Houston marking the coalition's success, three Cabinet secretaries attended, and Houston's mayor, Annise Parker, credited the federal government for its help in reaching the group's goal.
"From regular provider coordination meetings and aligning local and federal resources, to dedicated street outreach teams… the Houston region has come together as a team to transform our homeless response system to effectively end veteran homelessness," Parker said.
Secretary of Housing and Urban Development Julian Castro, also present at the ceremony, credited the federal government for its role as well.
"Thanks to our coalition of federal and local leadership, Houston has developed the tools to identify and support every veteran in the city experiencing homelessness," Castro said.
When asked for comment, a spokesperson for Jeb Bush's campaign told BuzzFeed News, "The point is that this was a local effort that got federal assistance — not a big, top-down federal program. This is in line with Jeb's long standing support for bottom up programs, not top down federal programs. Reforming the Department of Veterans Affairs and ensuring care for our veterans is a top priority of Governor Bush's."