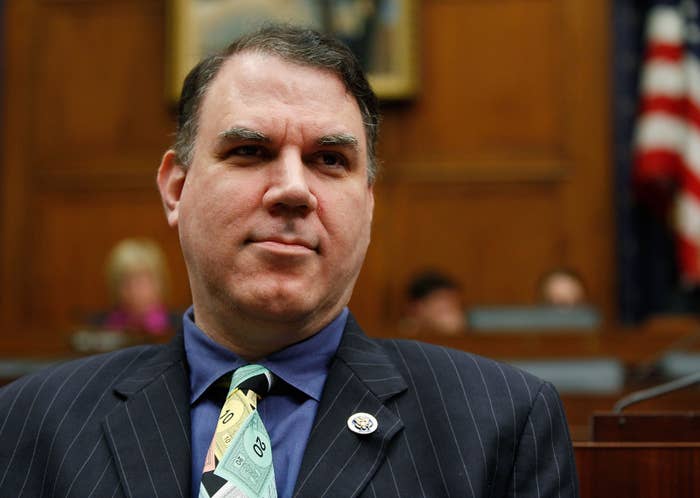 Democratic Congressman Alan Grayson, in an interview with BuzzFeed News on Wednesday, said he is letting his supporters decide which candidate will receive his superdelegate vote because he's disturbed by the Democratic Party's leadership ignoring the voices of its base.
Grayson, who is currently running for the Democratic Senate nomination in Florida, announced earlier today that he would let his supporters decide his superdelegate vote through an online poll on his campaign website.
"There is a divide between grassroots Democrats and establishment Democrats," Grayson said. "It's troubling. There's a negation of the popular will when you say that a block of delegates can vote regardless of what voters want."

Grayson's decision comes after Bernie Sanders beat Hillary Clinton by 22 points in the New Hampshire Primary, but both are expected to leave the state with 15 delegates each due to the overwhelming number of superdelegates who have announced their support for Clinton.
Clinton currently has a 350-delegate lead over Sanders due to super delegates.
In November, the Clinton campaign named Grayson to her Florida Leadership Council, but he released a statement clarifying he didn't officially endorse her, and has said positive things about Sanders, including that he's a "strong candidate" and "national treasure."
"The whole system causes me concern, the idea that if all the super delegates line up behind one candidate, the other has to win by, 59 to 41 in order to have a shot at the nomination, their candidate has to win by 18 points." Grayson said, "so, that's intrinsically undemocratic."
In an email sent to his supporters on Wednesday, Grayson instructed them to go to GraysonPrimary.com to state their preference, Bernie Sanders or Hillary Clinton, as well as why he should vote for the person.

Grayson said he hasn't decided when he will cut off the voting, but that it would be before Florida's March 15th primary, and that, if the comments are persuasive enough, he won't just vote for the candidate at the convention, he will fully endorse them as well.
"I imagine I will find people's arguments persuasive."
Liberal groups MoveOn.org, Democracy for America, and the Working Families Party have held similar online votes so that supporters could decide whom they should endorse, and Sanders won each handily, with 78% of MoveOn voters, 88% of Democracy for America voters, and 87% of Working Families Party voters.
Grayson dismissed the idea that he could be giving an outsized voice to a vocal minority of Democrats.

"All I'm saying is I want to let the people decide. I think that the way to win this election is to choose the candidate that has the support of the people, that, by its definition is the most electable candidate."
"The point of this is very simple: the point is power to the people," Grayson said, "We're not gonna let the politburo decide this one."
He concluded that he hoped other superdelegates would follow his lead.
"I'm hoping this will set an example for other people."