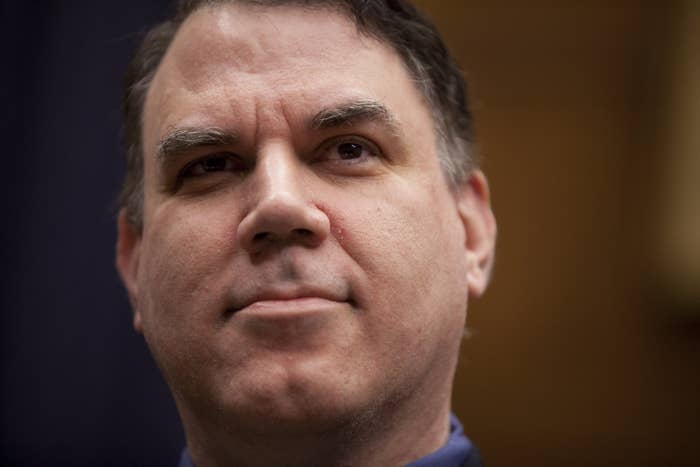 Rep. Alan Grayson of Florida told BuzzFeed News in an interview on Monday that he will endorse Democratic presidential candidate Bernie Sanders.
Grayson, who is also a superdelegate, decided his endorsement after asking his supporters to take part in an online poll to determine who he should support. The results were overwhelmingly in favor of Sanders, who received 84% of the 376,000 votes cast.
"We deliberately structured this so people could not only vote and but also gave their reasons," Grayson said. "The overarching theme of the comments was that the country is in desperate need of a revolution to combat inequality, and only Bernie Sanders is attempting a revolution that is likely to succeed. He is the only candidate giving voice to the deep anxiety people feel about the economy and widening income inequality."

Grayson described the results as an "earthquake" and pointed out that more people voted in the poll than in South Carolina's primary on Saturday, and more than voted in New Hampshire and Nevada combined.
Grayson is the second member of Congress to endorse Sanders in the past two days, after Hawaii Rep. Tulsi Gabbard resigned from her position as vice chair of the Democratic National Committee and endorsed Sanders on Sunday.

Hillary Clinton's campaign named Grayson to her Florida Leadership Council in November. He later released a statement clarifying he didn't officially endorse her.

He touted his endorsement of Sanders as a reflection of the will of the people, and expressed concern at the hundreds of superdelegates who have already pledged their support to Clinton when only four states have voted in the primary process.
"It's surprising and disturbing that so many people have made that decision based on their own personal agendas and what's good for them rather than what the people want," Grayson said.
The endorsement also comes two days after Sanders' crushing defeat in the South Carolina primary, where he lost to Clinton 74% to 26%. Grayson says he still sees a path to victory for Sanders.

"You'll see him win states tomorrow, on Super Tuesday, and other states going forward," Grayson said, "and national opinion polls show them neck-and-neck."
"The primary process focusses on individual states, but this is all a microcosm of the national picture, and the national picture has Bernie eliminating the Clinton lead."
Democrats in Florida will weigh in on the nomination fight between Clinton and Sanders when they hold their primary on March 15.
Grayson is in his own heated primary; in Florida he is running against Rep. Patrick Murphy in the Democratic primary for Senate. Murphy is the establishment favorite and has received endorsements from party leadership, including Senate Minority Leader Harry Reid, who also endorsed Clinton and called for Grayson to drop out of the race because of an ongoing ethics investigation into him having his name on three hedge funds. Grayson in turn has said Reid is turning "the party into a circular firing squad."
Grayson said he isn't concerned about any potential backlash he might face from the party for his endorsement of Sanders, and that party leadership should be better attuned to the will of party members.
"I'm disgusted by the party leadership in my race and in so many others," Grayson said, "we're choosing our the standard bearer of our party to lead the United States."
"The Democratic party needs to be democratic," Grayson continued. "This is a zero sum game. Either the party politburo can pick our candidates, or the people can pick our candidates. I believe the people can and must pick our candidates, otherwise how can we expect them to vote if we take away their choice?"