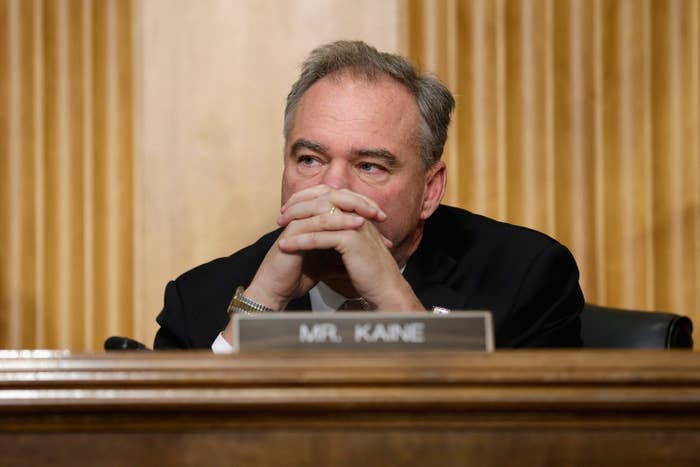 As a member of Richmond, Virginia's city council in 1997, Tim Kaine proposed barring non-resident drug offenders from entering the city for a period of time as part of their sentence, according to local news reports at the time.

Kaine argued at the time that his proposal, which would have targeted those convicted of drug offenses inside Richmond's city limits, would be prohibitive enough to deter illegal activity.
As the senator from Virginia, Kaine has pushed for legislation addressing what he has called a policy of over-incarceration and has been outspoken about addressing the problem of heroin addiction in his state. But, like his Democratic ticket-mate Hillary Clinton, Kaine was much more aligned in the 1990s with the so-called "tough on crime" movement, pushing for longer sentences and tougher punishments for drug and violent crime offenders.
Crime measures passed during this time are widely viewed to have disproportionately impacted black Americans, and Clinton herself has had to answer for comments she made and proposals she pushed for on this issue during the 1990s.
Kaine's proposal on the Richmond city council came at a time of soaring homicide rates in city, which the city's police chief attributed to a power vacuum caused by the jailing of established drug dealers. Kaine's solution was to ban "outsiders" who, according to the Richmond Times Dispatch, he referred to as ''people coming in and treating the city as their toilet.''
The Times Dispatch wrote an editorial criticizing the plan as unconstitutional because it would potentially violate the first amendment guarantee of a person's right to peaceably assemble.

In a letter to the editors of the newspaper dated April 21, 1997, Kaine pushed back on the criticism, saying the Times Dispatch misinterpreted his proposal.
"I simply asked whether we can impose as a sentencing condition on outsiders who commit drug crimes in the city a mandatory period where they may not enter Richmond for any purpose," Kaine wrote. "This, along with jail time for users, would make the consequences of drug use prohibitive."
He continued, "Many of these non-Richmond criminals earn their livelihoods within the city's boundaries. Threatening to disrupt that livelihood might deter their illegality."
In response to criticism, Kaine wrote that he had asked the Richmond city attorney to study the idea, but there is no evidence it developed into anything other than just a proposal. Despite Kaine's defense, in a year-in review the Times Dispatch declared his proposal as a "1997 Raspberry," an title bestowed by the paper on some of the worst stories of the year.
In response to a request from BuzzFeed News, the Clinton campaign did not comment on Kaine's proposal.