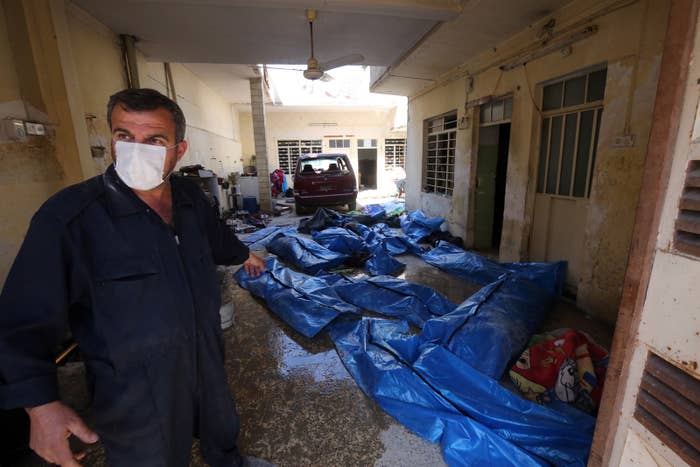 WASHINGTON — Despite capturing 700 videos surrounding an airstrike that may have killed hundreds of civilians, the US military did not know about the reported deaths until more than a week later, a CENTCOM spokesman told reporters Monday.
"We look through those videos initially" to determine if it achieved the mission, Air Force Col. John Thomas, a CENTCOM spokesman, said, and there was no indication internally that civilians may have died. The videos were taken over the 10-day period before and after the strike, whose exact date still has yet to be determined but took place sometime between March 17–23.
It was not until Thursday, when reporters from Rudaw arrived at the strike site and alleged that more than 200 deaths had resulted from the attack, that questions arose. Local residents and officials charged that the US strike, in a densely populated part of western Mosul known as Jaida, detonated a truck bomb and a second explosion, leading a set of apartment buildings to collapse.
By Friday, photos of piles of blue body bags and a series of destroyed buildings crawling with rescue workers searching beneath the rubble began to circulate. On Saturday, the US said the coalition conducted strikes in the area and that it was conducting an internal investigation into civilian casualties.
The US's inability to determine the massive damage its strike caused during a key battle against ISIS is the latest example of how, short of independent observers on the ground, there is no way to know how many civilians have died due to coalition strikes in the war against the militant group.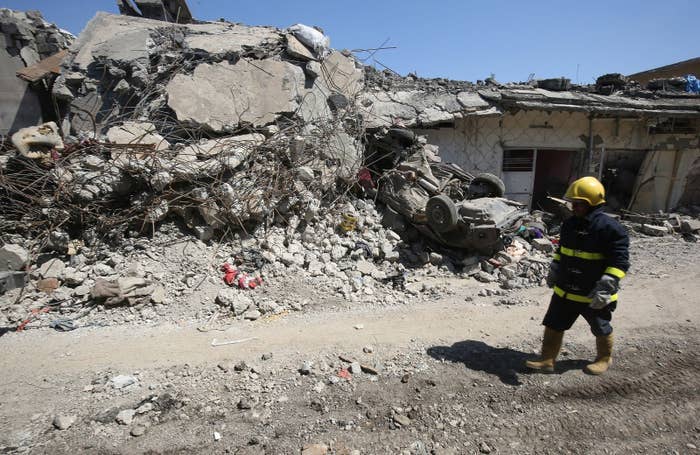 This strike in western Mosul was one of the few places where local rescue workers, government officials, journalists, and others could see the effects of the strikes, and what they discovered was a large gap between what the coalition claimed and the reality on the ground.
"A NATO official told us that from the air only, you cannot determine how many civilians you have killed. And yet that's precisely what we are asked to do with the coalition every day," said Chris Woods, director of the nonprofit Airwars.org, which tracks civilian deaths in Iraq and Syria based on local reports. (NATO did not immediately respond to a request from comment from BuzzFeed News to confirm whether this was the case.)
Local reports put the death toll Monday at 260, which if determined to be caused by a coalition strike would be the deadliest civilian casualty incident in Iraq since the US invasion of 2003. It is also the third accusation US officials said they were investigating in the past 10 days. The Pentagon is also is trying to determine if civilians died in two strikes in Syria in the last two weeks — at a potential mosque in Jinah, Syria, targeting al-Qaeda and a second strike at a school outside of Raqqa that local officials said was being used as a shelter for displaced civilians. In all, the strikes are alleged to have killed more than 350 people.
Thomas told reporters the CENTCOM staff tasked with investigating such incidents are stretched because of the number and scale of the ongoing cases. It's unclear how many of the 700 videos under review as part of the Mosul assessment were captured by drones or aircraft, how detailed they were, or how long.
The Trump administration has taken a more hands-off approach to the war effort, deferring to the generals running the campaign. But the spike in deaths has led Amnesty International and other human rights groups to conclude the US is not as committed to reducing civilian casualties. Never has the US been accused of killing so many in such a short period of time. According to Airwars.org, there have been 1,000 alleged civilian deaths in Iraq and Syria by coalition airstrikes in the month of March alone, a record high since the US-led coalition's strikes began.
In addition to the growing accusations of civilian casualties, in recent weeks, the US military has been increasingly opaque about its effort in Iraq and Syria. Last month, the US military moved Marines into Syria as part of a staging effort for the upcoming battle for the Syrian city of Raqqa, the de facto ISIS capital. The move took place without a public announcement beforehand. On Monday, CENTCOM said it would no longer give figures for future troop deployments in Iraq and Syria, saying it will instead provide rough unit sizes.
"It's about capabilities not numbers," Thomas said.
Despite that, the US military repeatedly said during its briefing on Monday that no one does more to minimize civilian casualties and that it has liberated thousands of Iraqis from ISIS's grip. Some military officials speaking on background suggested that ISIS detonated the explosives after the US strike to make it look like the US caused the deaths. Still others said that even if the strike started a violent chain of events, ISIS was ultimately responsible for attacking from civilian areas and placing truck bombs and other explosives near civilians.
"There is no military force in the world that has proven more sensitive to civilian casualties" Secretary of Defense Jim Mattis said during a meeting at the Pentagon with his Qatari counterpart on Monday. "We are keenly aware that every battlefield where an enemy hides behind women and children is also a humanitarian [shield] and we go out of our way to always do everything humanly possible to reduce the loss of life or injury among innocent people. The same cannot be said for our adversaries and that is up to you to sort out."
The US military has long insisted that it causes far fewer civilian casualties than local groups allege. And both sides have an opaque view of the war. The US military does not have ground forces in place near most of its strike sites, and some locally have an incentive to misrepresent accounts of what's happened.
The US figures do show a surprisingly effective campaign. During the first 14 months of the war against ISIS, CENTCOM said there had been no civilian casualties, despite thousands of weapons drops and local reports throughout the war suggesting otherwise. And on Monday, Marine Corps. Gen. General Thomas D. Waldhauser told reporters that none of the 500 US strikes on the Libyan city of Sirte over a five-month period led to civilian deaths "to my knowledge."
The allegations have raised the ire of human rights groups. Amnesty International noted that civilians were told to stay in their homes during the against ISIS, led on the ground by Iraqi forces with coalition support.
But otherwise, the alleged deaths have not sparked any outrage in Washington or demands for clarity on how the US deals with civilians in the midst of dense urban spaces. There have been no questions from Capitol Hill about the strike, nor has the White House mentioned it. That may change Wednesday when Army Gen. Joseph Votel, commander of CENTCOM, testifies before the House Armed Services Committee.
But for now, there were "no indications" of a change to approach since the three allegations emerged, Thomas said. The investigations into civilian deaths for the three incidents should be done within a month, he said.