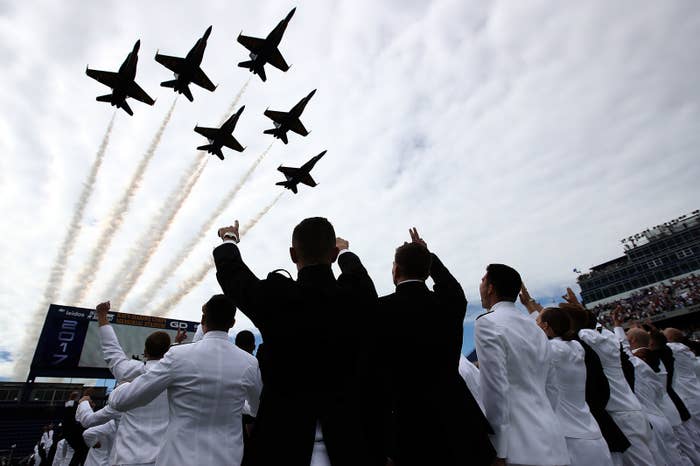 The US military's plan to integrate transgender troops by July 1 has been delayed by at least six months, according to the Associated Press, which reported that the US military services chiefs asked for more time to complete integration.
Under guidelines established in 2016, the service branches had until the end of this month to outline how they would each bring transgender troops into the fold. While at least 5,000 transgender service members are already in the military's active duty forces, the services are still crafting policy on the final step in the guidelines: how to recruit and integrate new troops.
Instead, the Army and Air Force asked for two more years to finish studying how to welcome transgender troops, officials within the branches told BuzzFeed News. The Navy, on the other hand, said it would be ready by July 1, but has asked the Pentagon for an additional year following a request by the Marine Corps, which falls under the Navy's purview.
According to the AP report, the chiefs agreed to the six-month delay.
Top Pentagon officials did little to clarify the reasons for the delay, particularly as transgender troops already serve. Dana White, the Pentagon's top spokesperson, confirmed that the chiefs asked for more time, but would not say for how long. Earlier this month, White refused to say whether the July 1 deadline would be met.

The service chiefs made their recommendations to Deputy Defense Secretary Robert Work, who will submit his recommendations to Secretary of Defense Jim Mattis. White said on Friday that Mattis had not yet made a decision because he had not received Work's recommendation.

It is currently unclear what purpose the extra time would serve. The services have previously said they were concerned about whether the US military could deploy people undergoing transition — but military health care has paid for medical transition for transgender troops since last October. There have also been no reports of major incidents, conflicts, or effects on force readiness concerning transgender troops. A 2016 RAND Corporation report commissioned by the Defense Department concluded that integrating transgender troops would have "minimal impact."
"The limited research on the effects of foreign military policies indicates little or no impact on unit cohesion, operational effectiveness, or readiness," the RAND study found.
"This proposed delay is disappointing because it's such an incredibly important recruitment change," Ashley Broadway-Mack, president of the American Military Partner Association, a resource network for LGBT service members, veterans, and their families, told BuzzFeed News.
"Secretary Mattis has made clear he believes there is a need to increase troop levels, and any qualified American who is willing and able to serve should have the opportunity to join the ranks, regardless of their gender identity," Broadway-Mack said. "We urge Secretary Mattis to reject further delays and move quickly in implementing this important recruitment policy."