The Pentagon Now Knows That To Get To Trump, You Go Through Jared Kushner
"You have to understand where the levers are. You don't have to like it, but that is where they are," a defense official told to BuzzFeed News. "It's in our interest."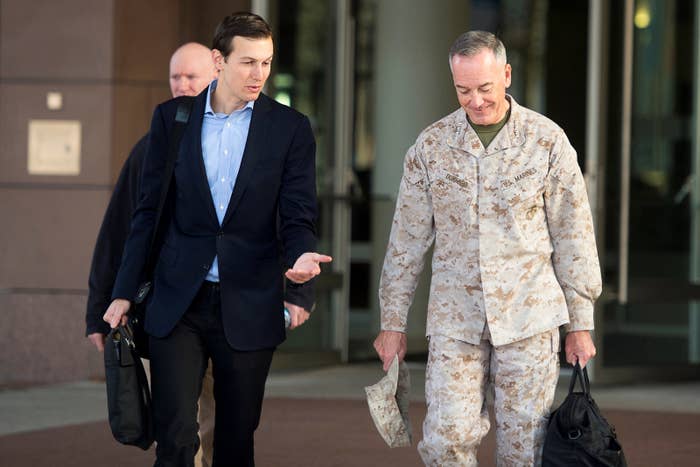 WASHINGTON — Within the halls of the Pentagon, the decision to invite Jared Kushner, the senior adviser to the president who just happens to be his son-in-law, on a military trip to Iraq was heralded as an unconventional — yet brilliant — political move.
After all, Kushner, perhaps more than any other White House adviser is responsible for a seemingly limitless portfolio of matters, both foreign and domestic – Middle East peace, the upcoming visit of Chinese President Xi Jinping to Mar-a-Lago, reforming the entirety of the federal government, and combating opioid addiction to name a few. And while past administrations depended on the National Security Council or a coterie of long-time political operatives, the early days of the Trump administration suggests that to reach Trump, one must travel through the36-year-old man married to the president's daughter, herself now a senior aide.
Given the Trump White House's thwarting the conventional chains of command, the Pentagon has decided to go along, in the hopes that the face time — coupled with the experience of traveling to the front lines of the war against ISIS — will become leverage in the discussions about the way ahead.
"You have to understand where the levers are. You don't have to like it, but that is where they are," a defense official told BuzzFeed News. "It's in our interest."
Kushner, who has no political, military or diplomatic experience, got a crash course on the war from the highest-ranking military leader, Marine Gen. Joseph Dunford, the chairman of the Joint Chiefs of Staff. The trip came with all the trappings of military showmanship — military aircraft shuttled Kushner above the Iraqi capital; he spoke with men and women in uniform serving in often rustic conditions. The White House confirmed on Monday that he'd even met with Iraqi Prime Minister Haider al-Abadi.
The Joint Staff was quick to tweet out pictures Monday of the two together on the ground: