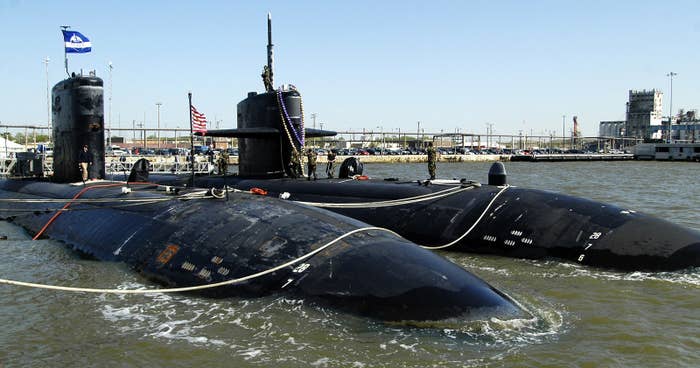 Pentagon officials are in shock after the release of a transcript of a call between President Donald Trump and his Philippines counterpart revealed that the US military had moved two nuclear submarines towards North Korea.
"We never talk about subs!" three officials told BuzzFeed News, referring to the military's belief that keeping submarines' movements secret is key to their mission.
While the US military will frequently announce the deployment of aircraft carriers, it is far more careful when discussing the movement of nuclear submarines. Carriers are hard to miss, and that, in part, is a reason the US military deploys them. They are a physical show of force. Submarines are, at times, a furtive complement to the carriers, a hard-to-detect means of strategic deterrence.

According to the transcript, released Wednesday, Trump called Philippines President Rodrigo Duterte April 29, in part to discuss the rising threat from North Korea. During that call, while discussing ways to mitigate North Korean leader Kim Jong Un's nuclear ambitions, Trump said: "We have two submarines — the best in the world. We have two nuclear submarines — not that we want to use them at all. I've never seen anything like they are but we don't have to use this, but [Kim] could be crazy, so we will see what happens."

During the same call, Trump also called the North Korea leader a "madman with nuclear weapons" and celebrated Duterte for doing an "unbelievable job on the drug problem." The Filipino leader has supported the alleged extrajudicial killing of 8,000 people since he took office in June, part of his purge to rid his nation of drugs. Duterte has bragged about committing murder himself, called former president Barack Obama a "son of a bitch" and once threatened to suspend the bilateral agreement between his nation and the United States that allows US troops to visit the Philippines.
"Keep up [the] good work, you are doing an amazing job," Trump told Duterte during the call.
A US official who had previously seen a version of the transcript confirmed to BuzzFeed News that the published version appeared accurate.
By announcing the presence of nuclear submarines, the president, some Pentagon officials privately explained, gives away the element of surprise — an irony given his repeated declarations during the campaign that the US announces far too many of its military plans when it comes to combatting ISIS.

Moreover, some countries in the region, particularly China, seek to develop their anti-sub capability. Knowing that two US submarines are in the region could allow them to test this.
Finally, it is unclear why Duterte would need to know the specific number of subs in the region. The Philippines is not a part of US military efforts to deter North Korea, so why would Duterte need to know such details?
In the past, the US Navy has acknowledged that nuclear submarines were part of a deploying strike group. By doing so, it tells the public the general deployment schedule and regional destination. But saying that submarines are in the region is not the same as saying how many there are and that they are near North Korea, as Trump did during the phone call. Strike groups don't stick together and sail as one big unit but can break off as needed.
The military also has announced roughly 48 hours beforehand when a nuclear submarine deployment is returning home, in part to notify families.
The reason behind the April 29 call is unclear. It began with Trump congratulating Duterte on his approach to tackling illicit drugs in the Philippines before discussing the emerging North Korean threat. It ended with Trump repeatedly urging Duterte to visit him in Washington.
"If you want to come to the Oval Office, I will love to have you in [the] Oval Office. Anytime you want to come," Trump said, according to the transcript, later adding: "Work it out with your staff. Seriously, if you want to come over, just let us know."