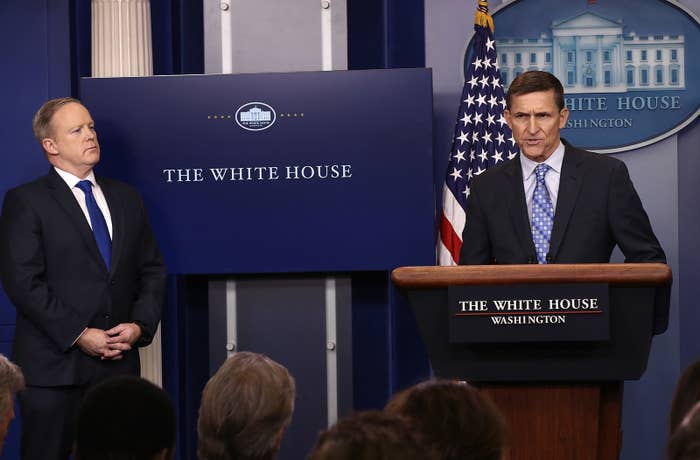 WASHINGTON — A top adviser to Iran's Supreme Leader and a high-profile Revolutionary Guard commander dismissed US National Security Adviser Michael Flynn's warning that Iran was "on notice" over the testing of medium-range missiles as "slogans," "propaganda," and "hollow ranting."
The response from Iranian leaders came a day after Flynn took to the White House press briefing room podium and said that Iran had conducted the missile test over the weekend, in alleged violation of UN Security Council Resolution 2231. An attack by loosely Iranian-allied Houthi rebels in Yemen on a Saudi military ship had also taken place, Flynn said, and the US was paying attention.
Then on Thursday, President Donald Trump doubled down on Twitter, and reiterated that Iran had been "put on notice" for testing the ballistic missile.
Ali Akbar Velayati, a prominent Iranian politician close to Supreme Leader Ali Khamenei, said the latest comments by the White House are part of a long line of what he described as empty threats against the Islamic Republic.
"With the passage of time, Trump will also realize that such hollow ranting against Iran only undermines their credibility among common people," a report by the Iranian Students News Agency quoted him as saying. "It will be good for this gentleman or all others who have newly joined the US administration to learn from their predecessors not to indulge in baseless ranting."
Trump, in his tweet, said Iran should thank the US for the nuclear deal. But Iran's Foreign Ministry spokesman Bahram Qassem said the US should be grateful to Iranians for supporting the fight against ISIS. Despite decades of tension between Washington and Tehran, both nations find themselves on the same side in the fight against ISIS, with Trump hinting for months he might support the Iranian-backed dictatorship of Bashar al-Assad against jihadi groups.
"It is a shame that the US government, instead of thanking the Iranian nation for its continued fight against terrorism, keeps repeating unfounded claims and adopts unwise policies that are effectively helping terrorist groups," he was quoted as saying. "If Iran was not cooperating with the region's legitimate governments, armed forces, and popular resistance forces, in order to combat terrorists like ISIS — which according to the US president were founded and shaped by the his country's politicians — several capital cities in the region would now be under these terrorists' control."
Brig. Gen. Esmail Kowsari, a former member of parliament who now commands a key military base in Tehran, said the statements by the administration only highlighted US powerlessness.
"The US has been closely watching Iran for 38 years and has never been able to do anything," he told reporters, according to the semiofficial Fars News Agency. "They cannot do anything now, as well, after Trump has taken office."
Both Velayati and Kowsari are conservative, unelected regime insiders who wield tremendous power but have grown deeply unpopular in Iran. Velayati ran for president of Iran in 2013 but lost to the moderate Hassan Rouhani. Kowsari, a hardliner, ran and lost his seat for parliament last year in part over his opposition to the nuclear deal forged by Barack Obama and Rouhani.
Flynn's comment was a bold declaration but also one that left people in the capital scratching their heads about what precisely he meant.
"President Trump has severely criticized the various agreements reached between Iran and the Obama administration, as well as the United Nations, as being weak and ineffective," Flynn said at the Wednesday White House press briefing. "Instead of being thankful to the United States for these agreements, Iran is now feeling emboldened."
Flynn's statement was met with surprise among officers at the Pentagon, where officials were not prepared to respond to the brief statement. Secretary of Defense Jim Mattis, who was en route to Asia when Flynn appeared at the White House podium, had reviewed the statement beforehand. (The Guardian reported that he actually toned it down before Flynn's delivery.)
But the Joint Chiefs of Staff had no immediate comment. The State Department forwarded all questions to the White House.
The administration's stance towards Iran has been under discussion, though, even if Flynn's hardline stance was unexpected. On its Twitter account, US Central Command retweeted a message from the previous day from Nikki Haley, the US ambassador to the United Nations, that included similar language. "The US is calling Iran out and will respond accordingly," the screenshot statement read, with the hashtags #USUNStrong and #TakingNames added.
"We saw the statement as well," CENTCOM said in a statement after Flynn's appearance provided to BuzzFeed News. "This is still at the policy level, and we are waiting for something to come down the line. We have not been asked to change anything operationally in the region."
"The US military has not changed its posture in response to Iranian missile tests," Christopher Sherwood, a Pentagon spokesman, told reporters on Wednesday.
In a briefing that Flynn alluded to earlier in the day, a senior administration official told reporters that the warning came because "we are concerned about a range of destabilizing activities." They noted that the Iran deal "does not address the majority of issues we are concerned about," including Iran's undermining of governments and sponsorship of terrorism.
Obama administration officials told members of Congress soon after the deal was signed that those issues were left out to focus specifically on the issue at hand: Iran's nuclear program.
"Our focus is on re-establishing security and a pathway to prosperity and stability to more areas of the Middle East," an official said.