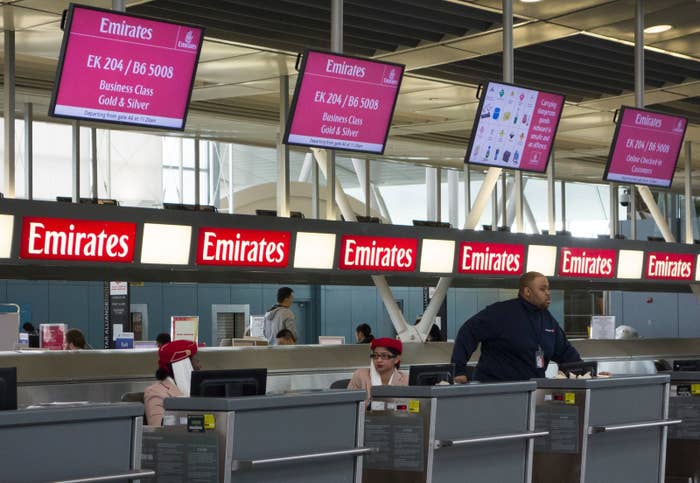 The United States' ban on passengers taking laptops, tablet computers, and other electronic devices on flights from 10 airports in the Middle East and North Africa was spurred by increased chatter picked up in recent weeks from militants saying they want to hide explosives in computers, a US official told BuzzFeed News.

The ban was being pushed by the White House, the official said, and Secretary of Homeland Security John Kelly subsequently signed on to it.
"It was driven by intelligence," deputy White House spokesperson Michael Short told BuzzFeed News when asked whether the electronics ban originated in the White House as the official indicated.

While the official said the ban was being implemented because of rising threats, the US has yet to increase the threat level. The ban — which caught the airline industry off-guard — goes into effect at 8 am EST on Saturday and remains in place "indefinitely."
The official's statement — that the ban is in response to relatively recent chatter — seems to differ from a statement from the Department of Homeland Security released earlier Tuesday saying the "2015 airliner downing in Egypt, the 2016 attempted airliner downing in Somalia, and the 2016 armed attacks against airports in Brussels and Istanbul" were examples of why increased security was needed.
"Evaluated intelligence indicates that terrorist groups continue to target commercial aviation and are aggressively pursuing innovative methods to undertake their attacks, to include smuggling explosive devices in various consumer items. Based on this information, Secretary of Homeland Security John Kelly and Transportation Security Administrator Acting Administrator Huban Gowadia have determined it is necessary to enhance security procedures for passengers at certain last point of departure airports to the United States," the statement said.
It does not appear intelligence gathered during the Jan. 29 raid on a suspected al-Qaeda compound in Yemen was part of the US assessment as officials began discussing the rising threat before the Inauguration. There is also no evidence that the US picked up a specific threat amid the chatter it had intercepted, such as discussion of a future attack.

The department said airlines would have 96 hours to comply with the new rules and the ban would remain in place until "the threat changes."
Here's the list of every major air travel hub that is affected by the ban:
Hamad International Airport, Doha, Qatar

Dubai International Airport, UAE

Abu Dhabi International Airport, UAE

Ataturk International Airport, Istanbul, Turkey

Queen Alia International Airport, Amman, Jordan

Cairo International Airport, Egypt

King Abdul Aziz International Airport, Jeddah, Saudi Arabia

King Khalid International Airport, Riyadh, Saudi Arabia

Mohammed V Airport, Casablanca, Morocco

Kuwait International Airport, Kuwait
Devices banned from the cabin — which will need to be packed in checked baggage — on any U.S.-bound flights from those airports include anything larger than a cellphone. Examples include laptops, tablets, e-readers, cameras, portable DVD players, electronic gaming units larger than a smartphone, and travel printers/scanners.
Also on Tuesday, the United Kingdom said it would implement a similar electronics ban, while authorities in Canada said they are considering one.
"Transport Canada is in close contact with U.S. security officials and is assessing the security concerns. For security reasons, we cannot elaborate on aviation security concerns. Transport Canada continuously assesses our security and makes adjustments whenever needed," the agency said. "A decision on whether to implement a similar ban respecting large electronics on flights to Canada will be made shortly."
The Australian government, however, said it had no plans to introduce similar measures, according to a spokesperson for Minister of Transportation Darren Chester. "The Australian Government is in contact with industry and our international partners, and will continue to monitor security developments and adjust our security settings if needed," read the statement provided to BuzzFeed News.