The combined graduating class of Harlem Children's Zone Promise Academies 1 and II got more than just a degree and an inspirational speech from its commencement speaker this year, Pharrell Williams.

All 114 graduating students of the two charter high schools, all of whom have received offers to attend colleges and universities, are guaranteed an internship in Williams' network, the singer announced during his speech.
"So let me be clear ... every member of the 2019 graduating class is guaranteed an internship waiting for them — you — next summer," Williams told the grads.
The Promise Academy's administration partnered with the producer to create an internship program that would give these students the connections necessary to succeed within their respective fields, according to CEO Anne Williams-Isom.
Williams-Isom told BuzzFeed News that many of her students "don't have those connections to people … that can open doors for them."

"So when we have somebody who is willing to say something as important as 'I will guarantee you a high-quality internship once you finish your freshman year of college,' we thought that that was very valuable, and we're very excited about it," she said.
Another goal of this program is to "end generational poverty," according to Williams-Isom.
"In order for us to get our community, these children, and these families out of poverty, we want to make sure that they are connected to a livable wage, and we know that for so many of our young people, the way that they're going to be able to do that is with that college degree in their hands, but also with some experience from very good internships that they will be able to do while they're in college," she said.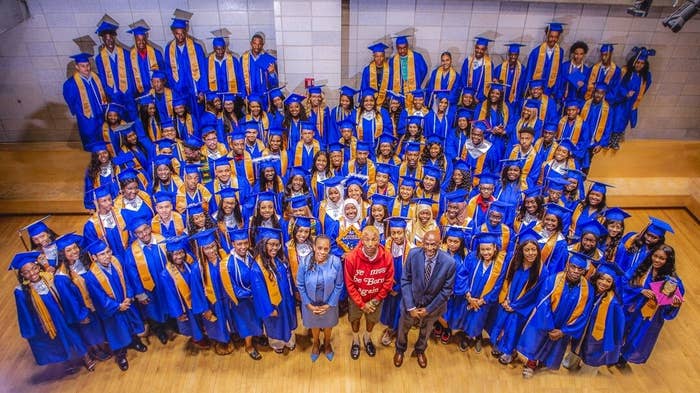 Jada Warmington, the class valedictorian of Promise Academy 1, who graduated with a GPA of 96.48, said she was a "bit shocked" when the singer announced the news.
"When he guaranteed my entire class with an internship, I knew that this a stepping-stone into something great," said Warmington. "I just knew that next summer was gonna be the summer for me, because I was a little bit worried about going into college and not knowing what's next, like how am I gonna prepare for internships for the fall and summer, especially the really competitive ones."
Another graduate, John Jackson II, who plans on creating computer engineering/coding centers for disadvantaged kids, hopes that this opportunity can "help me with my goals and lead to a variety of connections in the business world."
"I hope this internship can educate me from a business standpoint and teach me the ins and outs of the administration world and show me how to manage things that you can't learn in a classroom," Jackson told BuzzFeed News.
Along with an internship opportunity, Williams had some inspiring words to share about encouraging the kids to participate in a "new Harlem Renaissance."
"The world is watching Harlem, but this Renaissance will be different. And believe it or not, with respect, it's gonna actually be better. And the reason why is because the new Harlem Renaissance has education at its core," he said.
This isn't the only philanthropic project that Williams has in store. Back in April, Verizon announced a partnership with the artist to increase access to technology in undersourced schools under the Verizon Foundation.
All across Verizon's Innovative Learning schools, these institutions will be receiving a "tech-infused music curriculum" that will center on "cutting-edge technology such as augmented reality, virtual reality, robotics and machine learning," according to Billboard.

With this move, WIlliams is following in the footsteps of black billionaire Robert F. Smith, the investor who erased the college debt of Morehouse College's class of 2019 earlier this year.