This Is What The Internet Looks Like Without Facebook
A web without Facebook means mobile traffic would be devastated.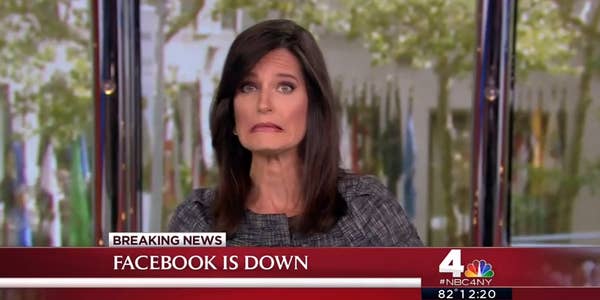 On Friday, Facebook was down for about an hour and while the rest of the world not-so-quietly panicked, the analytics company Chartbeat took the downtime to look at its data under unique conditions to see what the web would look like without the traffic driving giant. The short answer: mobile web traffic would be crippled.
The company observed that its publishers saw a three percent overall drop in traffic during the outage. Perhaps most notable though, Chartbeat data scientist Josh Schwartz said that Chartbeat publishers saw an 8.5 percent drop in mobile traffic, demonstrating just how critical Facebook is for the growth of the mobile web. "The main thing that it does for me, is that it shows what a state of disarray we'd be in on mobile without Facebook," he told BuzzFeed.
That new data point backs up Schwartz's previous research that mobile visitors are avoiding homepages almost completely and use Facebook as a personal homepage for news. And although there was a 3.5 percent increase in desktop traffic during the outage, the mobile drop is impossible to ignore considering that according to ComScore, mobile platforms "account for 60% of total digital media time spent."
In addition to its mobile dominance, the study also suggests that only a small part, if any, of "dark social" traffic — currently unmeasurable traffic thought to be from emails, instant messages, or obscured referrer links from social media — is unidentified Facebook traffic. Spotting the difference between the drop in dark social and Facebook traffic leaves you with only a 16 percent gap that could or could not be Facebook traffic, meaning that 84 percent of dark social traffic on the Chartbeat publisher network is coming from a source other than Facebook.
While Chartbeat's findings in this one hour window are by no means definitive for a site as complex and important to the internet ecosystem as Facebook, it's just the latest reminder for publishers of the social network's staggering — and often unsettling — influence.