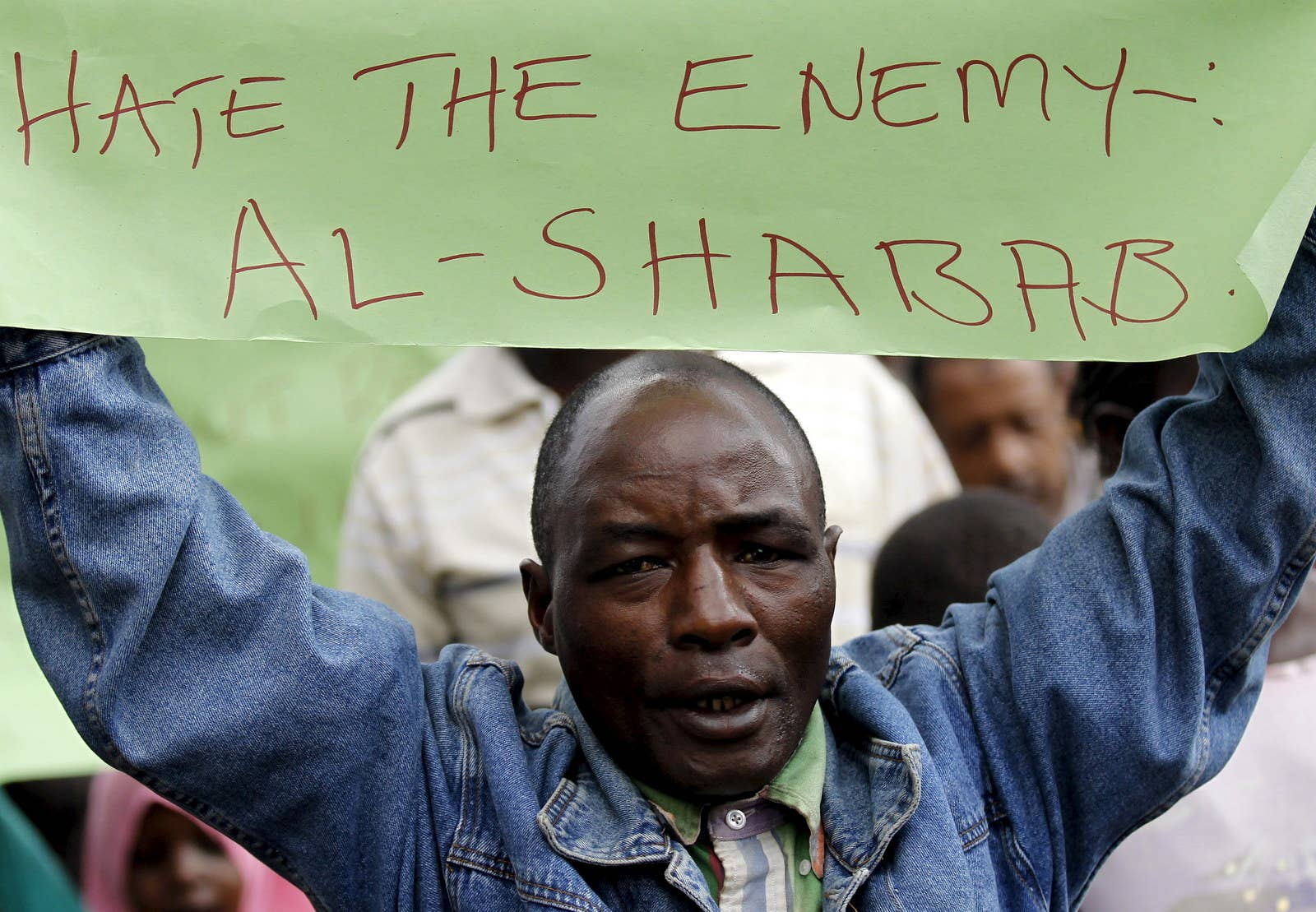 NAIROBI — The US is spending millions of dollars on a controversial anti-terrorism program in Kenya that critics say has endangered the lives of the very people it was intended to help, and is seen by some as a means of collecting personal data on young Muslims.
Since 2011, the US government has been funding a secret campaign to dissuade young Muslims in Kenya from joining terrorist groups, such as al-Shabaab and ISIS, which are increasingly threatening the country. Although the program has been running for more than five years, little is known about how it operates. But hundreds of internal documents obtained by BuzzFeed News from the United States Agency for International Development (USAID) reveal for the first time it has paid out more than $3 million in grants to more than 60 different organizations — and a USAID official said they plan to spend an additional $20 million.

The recipients of US funding range from musicians to Muslim community organizations, which were paid to spread anti-radicalization messages, using social media, music, and religious sermons. One of the clerics who received a grant was shot dead by extremists who targeted him because of his anti-extremism sermons.

To keep the program under wraps, US-funded activities are not officially branded as counter-extremism and
do not use the USAID logo.
Other individuals funded by the US to promote the program have faced threats and intimidation from extremists. In one instance, a group of musicians ended up fleeing to Europe, out of fear of retaliation from the extremists who their work was supposed to counter.
"They were not fast enough to pick up how dangerous it was" to be associated with US funding, said Martine Zeuthen, a counter-extremism researcher in Kenya.
The focus of many of the early grants was the Eastleigh estate, a rough-and-tumble residential neighborhood in the capital, Nairobi. Home to a large Muslim community of Somali immigrants who fled conflict in their home country, Eastleigh has been described by the US government as the "perfect location for Somali extremists to network for terrorist plotting or fundraising undisturbed by the battles of their homeland." In 2012, the US program expanded to cities in Kenya's Coast region, which the US described as "highly radicalized."
Between 2011 and 2014, USAID — which administers the program — distributed $3.7 million to organizations in Nairobi and the Coast region, according to documents obtained by BuzzFeed News from USAID, following a request under the Freedom of Information Act (FOIA). Wanting to reach more people outside those two areas, the agency increased funding to $20 million in 2016.
The program — known as Countering Violent Extremism, or CVE — is part of the US government's "soft power" strategy to combat radicalization in Kenya. When it was launched in 2011, the Obama administration described the Kenyan project as one of the "first explicit CVE programs" that "sought to counter radicalization of Somali youth in Nairobi."
But critics say the program is flawed and inherently counterproductive. They argue that it exclusively targets Muslim communities and endangers the lives of individuals who receive grants. The program has also been criticized for collecting vast amounts of personal information on Muslims, leading many to believe it was at least in part designed to gather such data.
To keep the program under wraps, US-funded activities are not officially branded as counter-extremism and do not use the USAID logo. The US government also does not publicly disclose the names of organizations that have received grants. BuzzFeed News obtained the names of these organizations from USAID.
"We were poking ourselves into a new environment that we have never touched."
Within weeks of the program starting in Kenya in 2011, it came up against the harsh reality of the situation on the ground. While the US was pouring millions of dollars into anti-radicalization programs, Kenya was rocked by a series of attacks that left dozens of people dead. The Kenyan police then began a crackdown on young Muslims in two cities where the US had focused its efforts to counter radicalization.
As a result, the Kenyan government's security campaign ended up driving some of those very men into the arms of the extremists. Kenyan activists and security analysts argue that so long as the Kenyan government continues to target its Muslim population, the US government's CVE approach has little chance of working.
Even CVE experts and US officials who run the program acknowledge its limitations. "We were poking ourselves into a new environment that we have never touched," said John Langlois, a senior American official with USAID. "At least from my side of things, the jury is still out on how we get CVE activities to ... be legitimately effective."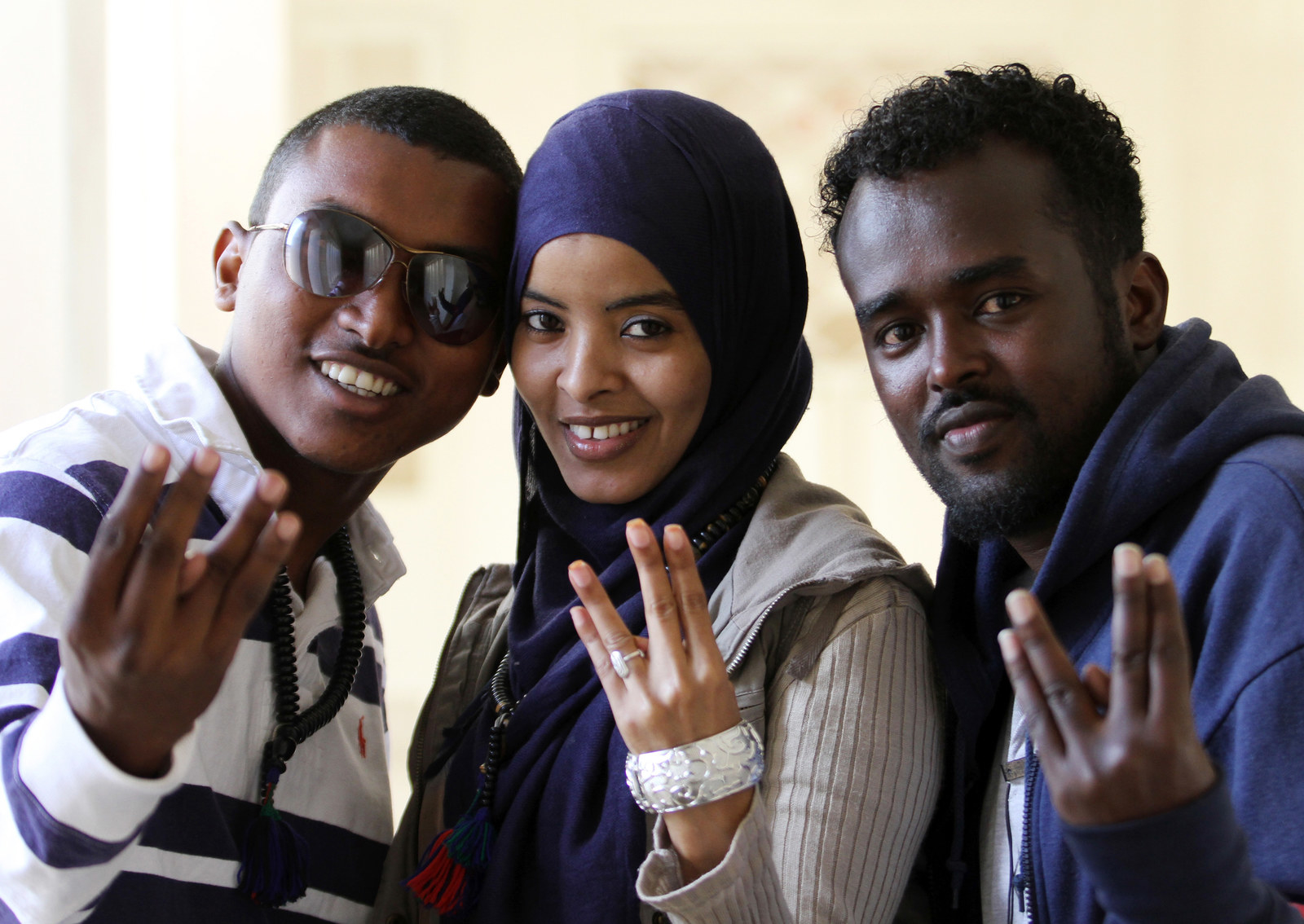 By the mid-2000s, a musical collective known as Waayaha Cusub — the name means "new era" in Somali — had gained a small but growing fan base in Eastleigh. Hundreds of kids would turn up to their concerts, and their fame soon spread online across East Africa. Known for their peace songs calling for an end to the civil war in Somalia, and fronted by singer Falis Abdi Mohamud, they were not afraid to challenge tradition; their videos showed Muslim women wearing jeans and without hijab, or dancing with men.

The US saw an opportunity to capitalize on their popularity. Between 2012 and 2013, USAID gave Waayaha Cusub nearly $100,000, the documents show, with the hope that the group could help steer young people away from extremism by holding concerts that carried anti-extremism messages. But, in 2014, after traveling to Amsterdam to perform a peace concert, the group never returned to Eastleigh. Its members sought asylum in the Netherlands; publicly they said it was because they feared being deported to Somalia, but friends of the group said it was because they were scared they would become targets of al-Shabaab if they were to return to Kenya. These efforts to use musicians in Kenya are reminiscent of a failed attempt by USAID to infiltrate the hip-hop scene in Cuba to spread anti-communist messages.
The experience of these musicians underscores a major defect in the program, critics say. Receiving money from the US is often seen "as evidence of external 'meddling,' and thus it may inadvertently serve as a rallying point for violence," according to James Khalil and Zeuthen, who were commissioned by USAID to evaluate the CVE program.
Zeuthen, a CVE expert in Kenya with Britain's Royal United Services Institute, said taking US money had created a climate of fear, with many people concerned they would become targets for al-Shabaab. "Anything associated to America, it means that sometimes people implementing the program are at more risk," Zeuthen said. "So, there were a couple of times that the community got very angry with the people who were doing the work because they were like, you are collaborating with the infidels."
Another Eastleigh resident who received a $50,000 grant, Burhan Iman, is an activist and executive director of Eastleighwood, a film production company that creates awareness about the recruitment methods used by extremist groups.
Iman used the grant to mentor unemployed youth, offering acting classes and helping them tell their stories through film, in the hope that they wouldn't become vulnerable to al-Shabaab.
But Iman's activism soon came under attack from al-Shabaab, which accused him of propagating Western values and corrupting the minds of young people. "What you are doing is haram," or forbidden in Islam, Iman said he was told by al-Shabaab in a series of anonymous phone calls and text messages. Some of his colleagues quit over the threats, he said, and fearing for his safety, Iman moved from Eastleigh to another part of Nairobi. "You lose focus when you live under fear," Iman said.
Iman said the US was not doing enough to guarantee his personal safety. "I hope the USAID and US Embassy could learn a lesson from the disappearance of Waayaha Cusub," he said.
The Council of Imams and Preachers of Kenya, run by Sheikh Mohammed Idris, a prominent imam in Mombasa, received a grant of more than $60,000. It was intended to fund radio talk shows and forums to "train local leaders on countering the manipulation of religious edicts by groups promoting violent and extremist agendas within the region," according to USAID.
The project ran for just under four months, ending in November 2013, and in June of the following year Idris was shot dead by gunmen suspected of links with al-Shabaab. "As leaders, we foresaw problems with regards to youth uprising against us," said Mahmoud Abdillahi, secretary general of the council's Mombasa branch. "We faced opposition because we were working with both the Kenyan government and the United States. And they believe all Americans are Jews and against Islam. We were questioned as to why we are siding with these nonbelievers."
Langlois, the US official who oversaw the program, said he wasn't sure if the imam was targeted solely for his associations with the US. Idris had been preaching moderation, he said, with or without USAID funding. "How much of it was due to outside support versus his own message as an individual person?" asked Langlois.
Sometimes the US government's attempts to tackle extremism clashed with the customs of the Muslim community. Hassan Ole Naado, deputy secretary general for the Supreme Council of Kenya Muslims — which received the highest individual grant of $200,000 to host the first national CVE conference in Kenya — remembers meeting a USAID consultant who told him that madrasas in Kenya were possible recruiting grounds for extremists. Ole Naado told the consultant that madrasas provide free religious education to students and play an important role in shaping young Muslims. "I will not want to see any strategy that profiles my community," he told the consultant. He didn't want young people to be classified as potential terrorists just because they went to a madrasa.

Security experts and human rights activists say the counter-extremism program is based on oversimplified theories of radicalization. There is no well-defined trajectory to becoming an extremist, they argue, and say that radicalization is a highly individualized process that cannot be easily categorized. "Are people prone to terrorism or extremism because they are being seduced by the internet or radio? Or is it because the local conditions are so bad that the human rights issue is genuinely dire?" said Andrew Franklin, a 64-year-old former US Marine and security consultant who has lived in Kenya for more than 30 years.
"CVE is based on a fear of Islam," he said.
Another flaw is that many Muslim communities don't view it as being designed for their own benefit, said Ndung'u Wainaina, executive director of the International Center for Policy and Conflict in Nairobi. Many feel that they have little control over the program and that its objectives are set in Washington, rather than being tailored to their needs. Wainaina said he's worried that the program's focus on Muslims could perpetuate the idea that they pose a threat simply by being Muslims.
"That's why communities are skeptical in engaging with those programs — because it directly exposes you."
Wainaina is also concerned that the program is being used to collect intelligence on young Muslims. According to an internal USAID document obtained by BuzzFeed News, the US government has a database of almost 20,000 names of people who have attended workshops or events funded by the agency since 2011.
"These programs are not about radicalization alone," Wainaina said. "These are very well-designed programs of gathering intelligence, feeding systems of intelligence — but the best way to gather that intelligence is appearing to be directly linked with communities."
Langlois, the senior US official who oversaw the program, said the database is used to contact individuals for feedback on the program. But the US has also used the list for other reasons. In 2012, a firebrand cleric named Sheikh Aboud Rogo was shot and killed in Mombasa, leading to three days of protests and the death of at least eight people. Human rights organizations said the killing was the work of Kenyan security forces. In the run-up to the one-year anniversary of Rogo's death, the US government said it was concerned that some clerics could use the event to "mobilize youth through the misrepresentation of religious edicts." The development agency office in Nairobi tapped into its larger database and, with the help of the Supreme Council of Kenya Muslims, sent a mass text message calling for peace to 12,000 names on the database.
Such targeted outreach efforts by the US government bear the hallmarks of a sophisticated technique for hoovering up data on people of interest in the community, said Wainaina. "That's why communities are skeptical in engaging with those programs — because it directly exposes you," he said.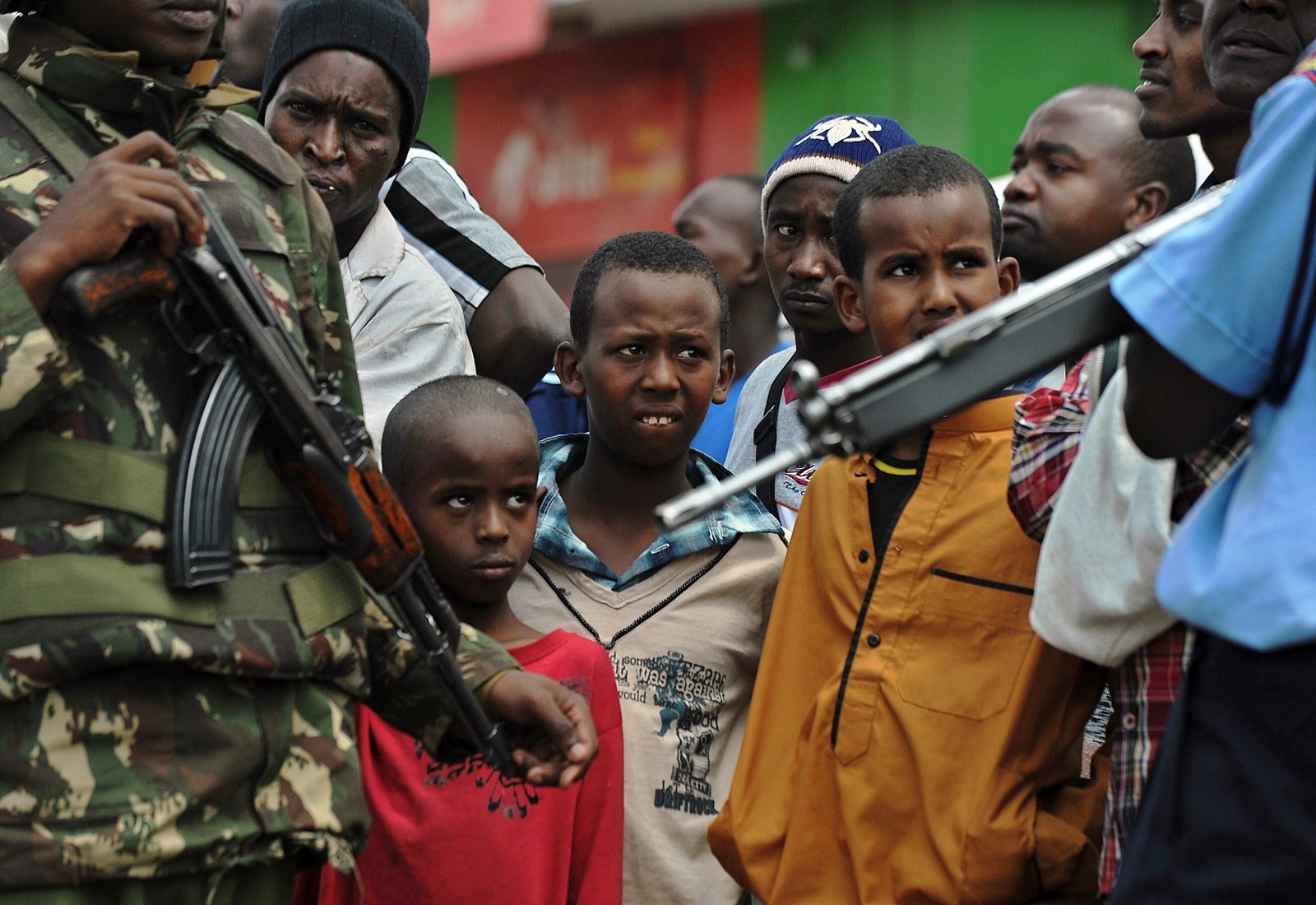 US officials in charge of the program admit that much of the time they're not even sure if they're reaching the right people. Are young people who are prepared to take part in US-funded activities really the ones they should be talking to?

"Do we care about just preventing tendency towards risk, towards radicalization, extremism and violence, or do we really want try to get at specific people who may be the next folks who shoot up" malls or universities, asked Langlois. "Is aid or development organization the right one to be able to do that?"
Many of the individuals the project was designed to reach reject it entirely. "CVE is really a psychological warfare," said Arkan Uddin Yasin, a member of the East Africa branch of Hizb ut-Tahrir, a global Islamist movement that seeks to unite Muslims under one caliphate.
Yasin, who was arrested in February 2016 on charges of inciting young people to revolt against the government, attacked the US government's support for Kenyan anti-terrorism forces, which he said are "killing us in the streets."
"We are insular to these CVE initiatives," by the US government, Yasin said. "We understand that they are insidious, they are devious in intent."
Meanwhile, some religious leaders just don't think the program will have any long-term impact. Ole Naado compared it to a painkiller, saying it treats the pain but not the root causes, such as the marginalization and profiling of Muslims, the alleged extrajudicial killings by Kenyan authorities, and enforced disappearances.
There remains a distrust of the initiatives among Muslims, said Wainaina. "They see it as a Western-imposed program," he said. "It has nothing to do with them."
Activists and security experts say CVE will not work as long as the US and Kenyan governments are seen as partners. The US has spent millions of dollars funding Kenya's anti-terrorism police unit, which has been accused of carrying out extrajudicial killings and indiscriminately rounding up hundreds of young Muslims during counterterrorism operations. Between 2013 and 2015, Human Rights Watch documented the cases of more than 30 people who disappeared from their homes in Nairobi and in northeastern Kenya, a predominantly Muslim region, after they were taken into custody by security forces.
"If we don't change the practice and policies of the Kenyan government," said CVE expert Zeuthen, "our programs are not going to be sustainable because the government is part of the problem." ●
Support for this article was provided by the Toni Stabile Center for Investigative Journalism at Columbia University's Graduate School of Journalism.