During an appearance on "The Kelly File" on Monday, Jeb Bush disagreed with Megyn Kelly when she pointed out that, in the past, he had supported a path to citizenship (though he then went onto say he'd be open to it as part of a "compromise").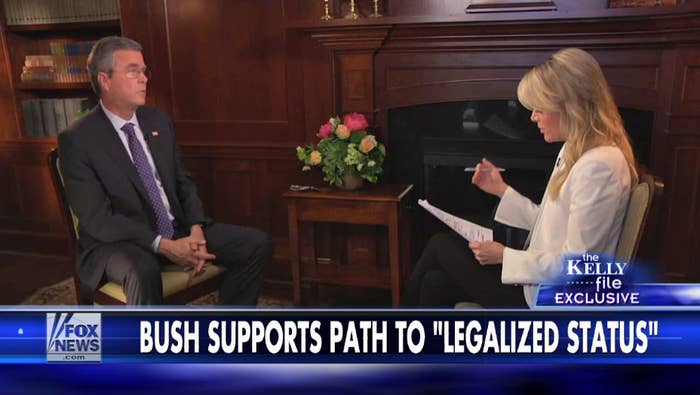 Kelly questioned the former governor of Florida about his past positions on immigration, specifically citing an interview Bush did with Charlie Rose in 2012.
"No, I've said as long as there — if that was the way to get to a deal where we turned immigration into a catalyst for high sustained economic growth, where we did all the things we need to do in border security, where we narrow the number of people coming through family petition and dramatically expanded a like-kind number for economic purposes which will help us grow and help the median rise up, in return for that as a compromise, sure," Bush said.
"But the plan in the book and the plan that I've suggested when I go out and speak, which is almost every day on this subject, I'm talking about a path to legalized status."
In the 2012 interview with Charlie Rose, though, Bush was a little clearer: He said he would support a path citizenship. Bush was again talking in the context of a deal.
"You have to deal with this issue. You can't ignore it," Bush told Rose at the time. "And so, either a path to citizenship, which I would support and that does put me probably out of the mainstream of most conservatives; or a path to legalization, a path to residency of some kind, which now hopefully will become — I would accept that in a heartbeat as well if that's the path to get us to where we need to be which is on a positive basis using immigration to create sustained growth."
In March of 2013, on "Meet The Press," Bush again said something similar — though he again framed citizenship and legalization as part of a deal: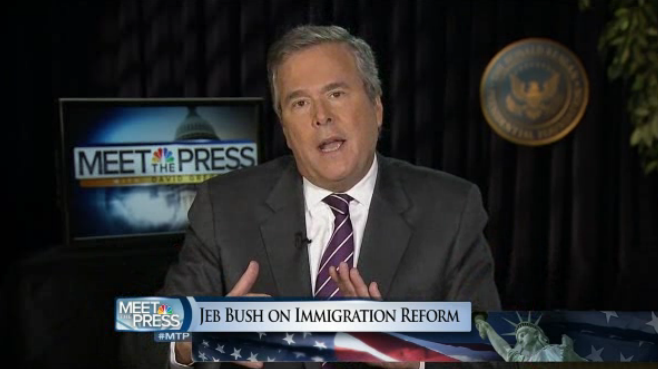 "My view has been that in order to get comprehensive reform, we could take either path, either a path to citizenship or a path to legalization," said Bush.
"The important point here is that immigrants should not get better benefits at a lower cost than people who've been waiting patiently," Bush continued. "Assume we pass the law this year, and I hope that's the case, five years from now we should look back and there should be fewer people coming illegally because we have an open legal system. Both of those paths could create that, as long as you change the rest of the system as well."
Bush also expressed support for the immigration efforts occurring in Congress at the time.
"So what's going on in the Senate and in the House right now is very positive. I support what Senators Graham and Rubio and McCain and Flake are doing with their Democratic counterparts, and if they can find a way to get to a path to citizenship over the long haul then I would support that."