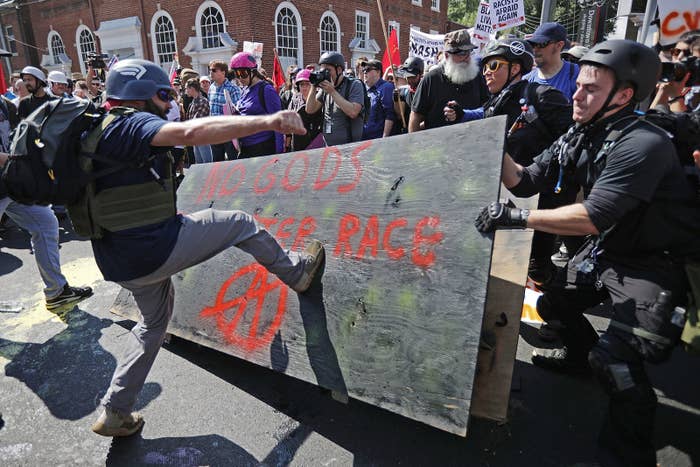 With three people dead and the violence still simmering around the University of Virginia's campus, Jason Kessler, the Unite the Right rally's white nationalist organizer, stepped up to a bouquet of microphones placed in front of an angry, restless crowd in Charlottesville on Sunday and began to speak.

Kessler was able to utter just two sentences before he was mobbed.
"It really is a sad day in our constitutional democracy when we are not able to have civil liberties like the First Amendment," he said, over jeers. "That's what leads to rational discussion and ideas breaking down, and people resorting to violence."
In the wake of last weekend's violence in Charlottesville, combatants in the long-running debate over free speech on college campuses are being forced to contend with an increasingly powerful dynamic: White nationalists and neo-Nazi groups may move the goalposts of First Amendment protections to a place few are willing to support.
Some advocates fear Charlottesville may be a tipping point, a moment at which the calculus over campus speech — and public support for it — shifts entirely, just before the start of a new school year.
This will be the most contentious and difficult year yet on college campuses, said Will Creeley of the Foundation for Individual Rights in Education, the country's most prominent campus free-speech advocacy group.
"We're deeply depressed and anxious over what the school year will hold," Creeley said. "The country is deeply polarized, we have disgusting, reprehensible outbreaks of violence on our televisions, and now we have an actual loss of life. I'm girding for a long, long fight."
There's no bigger hotbed of the free-speech battle than campuses — especially public universities like UVA, which are, for the most part, legally bound to offer space to those who ask for it. Campus free speech has become a rallying point for the conservative movement — the focus of energy, money, and legislation.
In some ways, conservative activists looked to be making headway over the last year, painting campus liberals as reactionaries and opponents of speech rights. Riots over the presence of the anti-political correctness activist Milo Yiannopoulos at the ultraliberal University of California, Berkeley, generated headlines nationwide, and prompted President Trump to tweet a threat to revoke the school's federal funds if it did not "allow free speech."
But Charlottesville elevated the most abhorrent of free speech: UVA's campus last weekend flickered with torches, and echoed with chants of "Jews will not replace us" and "White lives matter."
And while Berkeley was mocked and criticized last year for canceling a speech by conservative media personality Ann Coulter in the name of student safety, Charlottesville was a stark reminder of how deadly campus rallies can become.
In quick succession, three public colleges — Michigan State, Texas A&M, and the University of Florida — this week blocked groups from holding events on their campuses featuring white nationalist leader Richard Spencer.
That could spell the start of a vicious cycle: The further that public colleges are pushed to turn away and block white supremacists, the more they will push white supremacists to the forefront of the free-speech debate.
"White nationalists are rallying explicitly under the banner of free speech, and violence is resulting," said Creeley. "On the question of if the loss of life [in Charlottesville] will give new credence to restrict free speech more broadly: I'm certain it will."
Michigan State, which rejected Spencer's request for space on Thursday evening, said in a statement that while it "remained firm in our commitment to freedom of expression, our first obligation is to the safety and security of our students and our community."
Spencer immediately decried it as "obvious censorship."
Charlottesville has already spurred backlash against traditional liberal allies over free speech. The American Civil Liberties Union, which sued Charlottesville on behalf of Kessler last week over the city's attempt to move his rally, is now a target for some on the left. "Sometimes standing on the wrong side of history in defense of a cause you think is right is still just standing on the wrong side of history," attorney K-Sue Park scolded in a New York Times op-ed.
As public colleges move rapidly to block or cancel white nationalist events, Creeley said he fears a slippery slope — one in which safety is used as a pretext for denying First Amendment rights.
"We're put in a position where safety requires shutting down free speech," Creeley said. "If you accept that rationale once, you've lost."
The white nationalist movement, which feeds off attention, has recognized the potential for provocation by coming to public colleges. "They're trying to wrap themselves up in this mantle of free speech," said Lecia Brooks, of the Southern Poverty Law Center, which has urged public colleges to come up with alternative protests for students rather than try to block hate groups altogether.
"They're going to try to use this again and again, every time they get shut down by a college, and we cannot have that," she said. "The First Amendment must be protected."
Legally, the colleges that try to stop them are on thin ice, said Brooks, and Florida is likely to face — and lose — a legal challenge over this week's action. "There's very few restrictions on the First Amendment, and potential violence is not one of them," Brooks said. Despite the white supremacists' message, she said, "Protecting free speech needs to be paramount."
Brooks said that Florida is likely to run into the same problems as Auburn University, which in April tried to block white nationalists from its campus by saying students' safety was at risk. It lost a court case, and was forced by a judge to allow Spencer to host an event.
"Auburn made Richard Spencer a free speech martyr," Brooks said.
FIRE's Creeley would not condemn Texas A&M's decision to cancel the rally planned for its campus, saying he didn't have enough information.
"Unfortunately, after last weekend, now that people are fighting, for a civil libertarian to sit back and say, 'well the safety rationale is wrong,' it's going to be harder," Creeley said. "It complicates the issue."
In Florida, organizers who had gotten wind that Spencer was set to speak on campus stirred uproar online. They wanted one thing: to pressure the university into calling off the event.
"My sincere hope at this point, given all that we've seen, is that this event won't happen," said Mitch Emerson, a Florida-based organizer who created the Facebook event "No Nazis at UF." Mass demonstrations were planned if Spencer was allowed to use the campus, he said, and alumni were calling to threaten to stop donating money.
"It's not about free speech," said Emerson."It's an imminent threat of violence." On online message boards and in memes, he said, the alt-right was already threatening to "make Florida the next Charlottesville," and talking about how to use "stand your ground" laws.
After what happened in Charlottesville, Emerson said, "This is a different world."
Some have argued that there is a direct line, of sorts, between the burgeoning conservative free-speech movement and the rise of the extremist right and white supremacists. Conservatives have invited figures like Yiannopoulos, hoping to "bait the Left to do something silly and destructive — drawing media coverage that would allow us to act as martyrs for free speech on campus," wrote Elliot Kaufman in National Review.

They continue to take that pattern even further, Kaufman wrote — the Columbia University College Republicans, for example, invited pro-Trump media figure Mike Cernovich to campus this fall.
Campus conservatives "gave the alt right a platform," Kaufman said. "They deserve their fair share of the blame for the entirely predictable consequences of that choice."
Spencer, for his part, has promised to return with a parade of white nationalists to Charlottesville, and presumably to UVA.
That vow to "make Charlottesville the center of the universe" has terrified UVA's students, most of whom watched the mobs descend on their campus from afar. Student groups from the College Republicans to left-wing and Jewish groups said they are focused on organizing displays of unity as students return to campus for the school year.
Danyelle Honoré, a third-year student activist at UVA, said she has "mixed feelings" about calls to try to ban the protests altogether if Spencer and his rallies return. The focus, she said, should be on things like increasing the police presence to protect counterprotesters, something that was strikingly sparse on Friday night.
"I'm all for freedom of speech," Honoré said. "Everyone has that right. When it becomes violence, that's the issue. The more events that happen like this, the more it's going to affect the student body. For the sake of their own reputation, for the sake of its status, and for the sake of its student body's safety and comfort, it would be in their best interest to prevent things like this — to try to be more prepared."