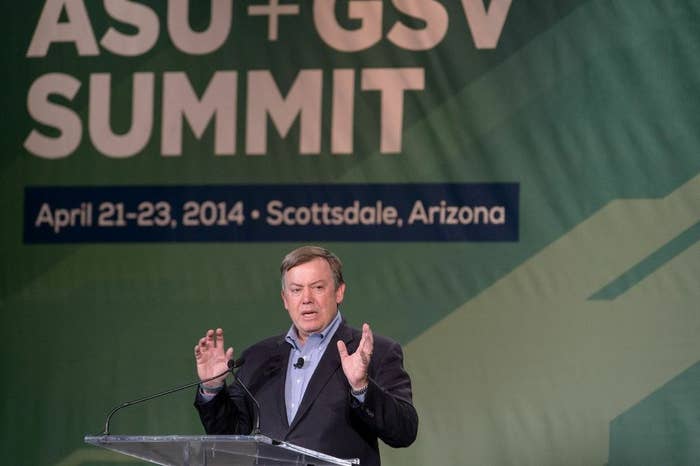 Five years ago, Arizona State University (ASU), like many other giant public universities, was lagging in the field of online education, with just 1,200 students enrolled in its degree programs. Today, that enrollment has swelled to 10,000, and by next year, when an influx of Starbucks baristas enroll in online programs through a highly publicized partnership announced last month, it is expected to have more than twice as many online students. But for ASU, 25,000 students is hardly enough. The school has set its sights on growing online enrollment to at least 100,000 students in the next five years — more than tripling a 2011 goal of 30,000 students by 2020.
"If the University of Phoenix can have 400,000 students, most of them online, why can't a real university like Arizona State grow to a similar size?" Phil Regier, the dean of ASU's online programs, asked rhetorically in an interview with BuzzFeed.
The goal, Regier said, is to make ASU into an online giant, but one that doesn't fall into the familiar traps of the University of Phoenix and other for-profit universities. For-profits like Phoenix were the original pioneers in online education but have struggled in recent years with low completion, high student loan default rates, and allegations of poor quality and misleading marketing practices.
Michael Crow, ASU's dynamic president of 12 years, has trumpeted the expansion of ASU Online as a mission of increased access and educational innovation. But some critics say that its rapid growth is something else: a pursuit of profit that has already taken the university too far in the direction of corporatization, leading it to operate more as a business concerned with generating revenue than as a public university. The deal with Starbucks, they say, is a prime example of a blurring line between for-profit companies and public universities' online programs.
Much of the credit for ASU Online's growth goes, in fact, to a for-profit company: Pearson. In 2010, Pearson, the world's largest education company, put up much of the capital to launch ASU Online, and now shares in the program's ever-growing tuition revenue. Pearson's involvement has helped ASU Online grow and transform into what Crow calls "the New American University."
"Public universities know that the for-profits are professionals at online education — they've built a business out of it," said Todd Hitchcock, chief operating officer of Pearson's online learning division. "We're helping them really enter and prosper in the markets that for-profits have traditionally dominated."
Money is undoubtedly one of the major motives behind ASU Online. Like other public universities, ASU has been hit hard by budget cuts, continually fending off efforts to slice millions off of its operating budget. Between 2008 and 2011, the university's operating budget was reduced by $91 million, even as ASU dealt with an influx of thousands of new students, forcing the university to raise tuition fees, increase class sizes, and make drastic cuts in staff.
In 2011, with an enrollment of 3,500 students, ASU Online generated $4.4 million in revenue. In 2014, that number was $94 million, enough to make up for three years of budget cuts. Online tuition is a key part of Crow's plan to drastically reduce the university's reliance on state funding, protecting it from budget cuts.
"Look at the state funding for ASU over the past five years," said Daniel Pianko, a managing director at University Ventures, an investment firm focused on higher education. "ASU was forced to innovate."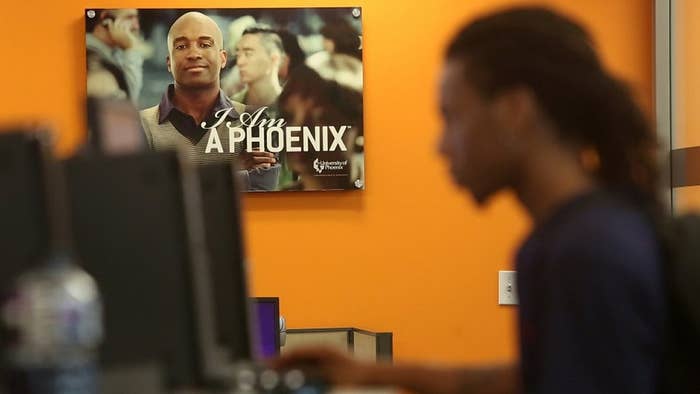 The Decline of For-Profit Colleges
In the early 2000s, for-profit universities — most notably, the University of Phoenix — were among the first to embrace online education. Offering convenience unrivalled by public and nonprofit colleges, and without the traditional constraints of campus buildings, dorms, or even class sizes, for-profits grew to staggering sizes. At its peak, in 2010, Phoenix boasted some 475,000 students.
A report from the Parthenon Group in 2011 found that 818,000 students were enrolled in online-only programs at for-profit colleges that year. By comparison, there were just 280,000 students enrolled in online-only programs at nonprofit and public schools.
But for-profit colleges' hold on the online education world is slipping. Enrollment has fallen sharply in the face of heavy criticism, lawsuits, and regulatory problems. Phoenix's enrollment has shrunk by 156,000 to 319,000 students. Corinthian Colleges, once a giant of the for-profit college industry with an enrollment of 110,00 students, is selling or shutting all of its physical campuses. Declining enrollment in its once-robust Everest College Online programs was partly responsible for the company's financial woes.
MOOCs, or "massively open online courses," had their moment two years ago, when The New York Times declared 2012 "The Year of the MOOC." The CEO of Udacity, then a major MOOC provider, predicted the free, open lecture classes would transform higher education, leaving just 10 institutions standing. But skepticism over their efficacy and reach — most of their participants were white and well-educated — tempered much of the excitement around their potential for revolutionizing education. Udacity's CEO eventually pulled the company out of the MOOC game altogether, switching over to corporate training courses.
Public universities, experts say, are positioned to succeed in the online sphere because they have clout and name recognition that MOOCs and for-profits like Phoenix and Corinthian can't match. MOOCs have been unsuccessful, in part because the certificates earned had little currency with employers or established universities — one Corinthian student told the Los Angeles Times last week that she removed her degree from her résumé because employers saw it as a drawback. By contrast, a degree from ASU Online reads "Arizona State University," with no distinction between online and in-person degrees. And the resources of large research universities make providing a quality education more feasible than at for-profits, which have long struggled with their graduation rates. Public universities have tenured professors and decades of curriculum to draw from.
"It's big public universities that are the future of online education," said Jose
Ferreira, founder and CEO of Knewton, an up-and-coming young ed-tech company that works closely with ASU on its online programs. "Not MOOCs, not for-profit colleges."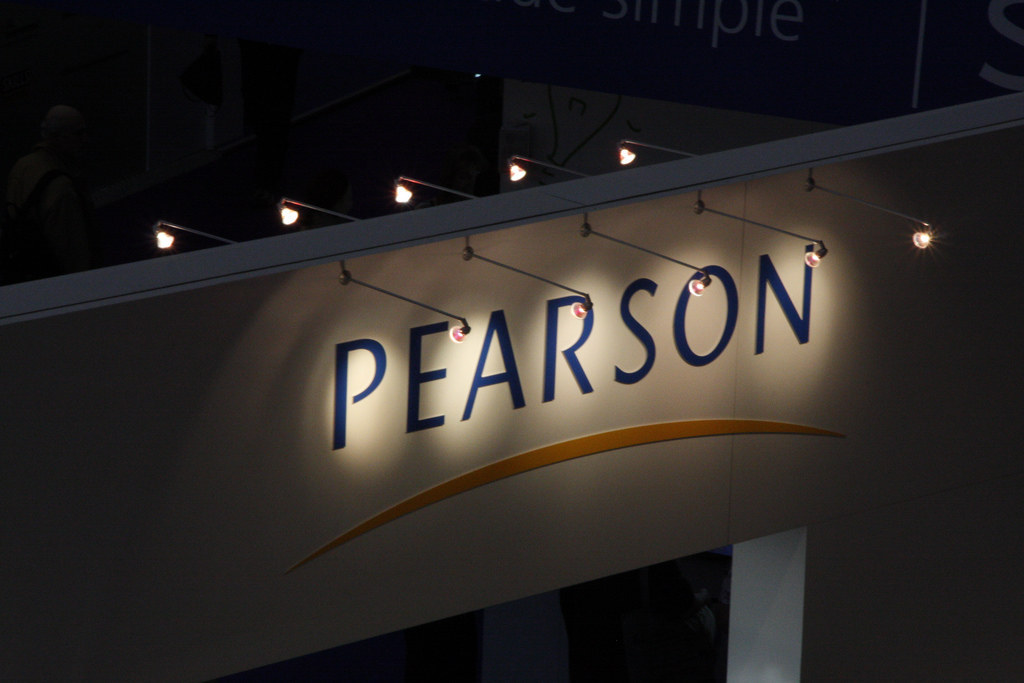 Private Partnerships Propel a Public Univeristy
While other public universities, most notably Penn State, are making strong plays for dominance in online education, it is ASU Online, industry experts say, that has taken full advantage of public universities' moment.
"ASU has pioneered the role of public universities in online innovation. "They're really a market leader," said Pianko.
In 2009, ASU decided to "redirect all of our resources into growing online." That meant offering entire degrees online, a novel concept since most universities at the time were limiting their online ventures to single courses. At the time, ASU Online was well aware of its main competitors, the for-profit giants that were churning out both online degrees and profits.
"We had to come up with our strategic differentiators," said Regier, among them focusing on student retention rather than enrollment, as large for-profits and their investors tended to do, by keeping admissions standards high (they're the same as for ASU's main campus, according to Regier) and putting a heavy emphasis on student services.
Much of the credit for ASU Online's growth, said Pianko, is owed to the university's president, Michael Crow, and his "aggressive pursuit" of partnerships with private industry. "[Crow] recognized that public universities are strongest when they leverage private providers to help extend their brand and reach," Pianko said. "Public universities can't do it on their own — strong partnerships are critical."
In 2010, ASU Online's groundbreaking venture with Pearson launched. At the time, it was essentially unprecedented; though many private universities subcontracted services, and even individual degree programs, to private companies, few had entered into the likes of what Regier called, at the time, a "joint venture." Terms of the partnership call for Pearson to provide the university with a wide variety of services, including marketing, enrollment management, and student retention, as well as a back-end "learning management platform" through which courses are taught.
The company put up a "majority" of the capital investment for ASU Online, said David Daniels, a managing director of Pearson's higher education arm, though he did not say how much. In return, Pearson got what Daniels calls a "you succeed, I succeed" arrangement: a long-term share in ASU Online's revenue. By 2011, enrollment was 3,500 students, a 70% increase from the year before. Two years later, enrollment had tripled.
ASU's partnership with Pearson led to drastic changes in how it and other public universities advertise their online programs. Marketing, especially on the web, is a key part of building online degree programs, which must draw from a wide geographical area and face tougher, broader competition than public universities with their on-the-ground programs.
Originally, Regier said, ASU Online's marketing approach "actually mimicked for-profits." It paid aggregators and paper lead generators, ran banner ads, and tried to reach the most eyes it could. Quickly, Regier said, he realized the approach was unsuccessful. "It didn't attract the kind of students who would succeed at a university like ASU," he said. "People who click banner ads, they're gullible. We didn't want that in a student."
ASU and Pearson abandoned that approach in favor of tactics like search engine optimization, clean, easy websites built for potential students, and responsive call centers. Of course, for-profit colleges employ similar tactics themselves. A search for "online degree" on Google, for instance, turns up University of Phoenix and ASU as the top two results.
"Sweeter Than a Caramel Crunch Frappuccino"
The crown jewel of ASU's corporate partnerships came with last month's Starbucks deal, which grabbed headlines with the news that it was offering its employees free college tuition at ASU Online. While Starbucks got the lion's share of the media's attention, ASU earned its share of praise — and, of course, it will have doubled its online enrollment essentially overnight, although the university is offering reduced tuition to Starbucks employees that may cut into profit margins. A columnist for the Arizona Republic praised the partnership as "sweeter even than a Caramel Ribbon Crunch Frappuccino."
"We've had a lot of non-Starbucks potential students come to us as a result of hearing about Starbucks," Regier said. "It's generated a huge amount of interest."
ASU and Starbucks' partnership is unusual, but not without precedent. Wal-Mart offers steep tuition discounts to its employees at American Public University, a for-profit college with some 45,000 students.
ASU has also turned to a growing cohort of young ed-tech companies, most notably Knewton, an adaptive learning company that has made waves by partnering with some of the textbook industry's biggest players. The website Inside Higher Education called the partnership a "grand experiment," saying that with it, ASU "has become ground zero for data-driven teaching in higher education."
Knewton's technology, initially pioneered by for-profit colleges, allows ASU Online professors to get real-time information on their students' learning, collecting and analyzing millions of data points, right down to students' mouse clicks, keystrokes, and hesitations.
Ariel Anbar, an ASU professor and biochemist, has become a spokesman of sorts for Smart Sparrow, another adaptive-learning platform. Anbar dreamed up a course centered on the search for life outside of Earth that would engage non-science students using a game in which they searched for a life-sustaining planet in a field of stars. It was the kind of class that was only teachable on a large scale online, and Anbar found a way to put it into motion using Smart Sparrow's adaptive tutoring system.
Smart Sparrow has now licensed the course to distribute beyond ASU, Anbar said. Last month, when Anbar was awarded a professorship and grant within ASU that involved using the company's technology to create "virtual field trips," Smart Sparrow sent out ASU's press release, offering Anbar for interviews.
ASU Online also co-sponsors the education business industry's leading conference, the ASU+GSV Education Innovation Summit. Nicknamed "Davos in the desert," it has become the hot spot for education companies claiming to offer "ROI for ROE," or "return-on-education" — including Apollo Group, which owns the University of Phoenix, and Capella and DeVry, two other for-profit giants. ASU Online is the only public university listed as a sponsor of the event.
Regier is adamant that ASU Online's central mission is about increasing access, just as the central mission of Arizona State and other public universities has always been. Of the Starbucks partnership, he said, "It is our response to a national need and a national concern, which is to provide high-quality university degrees to adult learners. It's a place where everywhere else, the U.S. has just flatlined."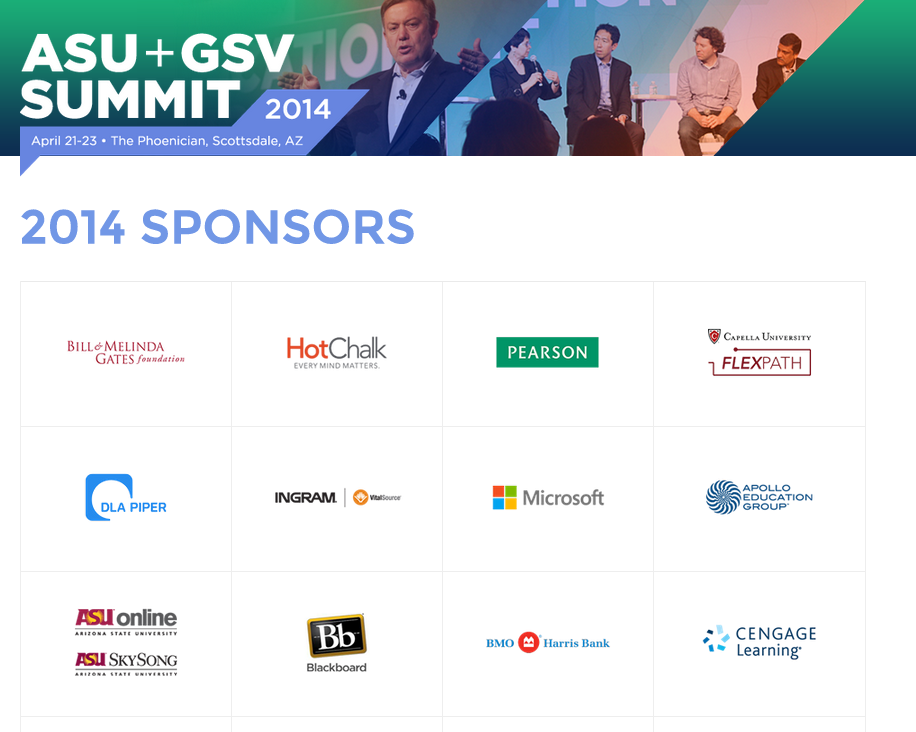 A Step Too Far?
ASU's critics say the profit-driven side of the ASU Online venture may have been at the expense of the university as a whole and the students for whom it says it wants to expand access.
"I think Michael Crow says a lot about broadening access, but I don't think he's saying that from a goodwill standpoint," said Sara Goldrick-Rab, a professor of educational policy studies at the University of Wisconsin-Madison. Online education is largely untested, she said, and numerous studies have shown that nontraditional students struggle in many online courses compared with in-person and even hybrid classes.
"It's fine to engage in this online experiment," Goldrick-Rab said. But putting 100,000 mostly nontraditional students in an online program, she alleged, "is far riskier than it's being presented as. It's a product that's essentially untested."
Gaye Tuchman, a professor emerita of sociology at the University of Connecticut and author of the book Wannabe U: Inside the Corporate University, ties the financial pressures of budget cuts and the recession to the increasing "corporatization" of public universities: the push to adopt the practices of corporations in order to gain money and reputation. Among the most common practices, she said, are partnerships with private corporations, and structural changes that eliminate the traditional faculty government of public universities.
Some of that has already taken place at ASU, where — though ASU manages academics, faculty, and admissions decisions at ASU Online — control over many other aspects of the program have been ceded to for-profit companies, especially Pearson. "If I were on the faculty of ASU," Goldrick-Rab said, "I would think, 'I expect this if I worked in a private business, but not a public college.'"
The terms of the ASU-Starbucks partnership, Inside Higher Ed reported, say that for four years, ASU "will not enter into a relationship with another for-profit enterprise" unless Starbucks approves the deal.
Tressie McMillan-Cottom, an academic who studies and writes about for-profit colleges, wrote a post on her blog that criticized the Starbucks-ASU partnership. She calls it a "strange, unique business plan — that was perfected by for-profit colleges 30 years ago."
But other cash-strapped public universities have found inspiration in ASU Online.
In 2013, when the University of Florida moved to launch its own online baccalaureate program after eight straight years of budget cuts, it turned to Pearson and Arizona State. The university hired Elizabeth Phillips, an ASU provost and one of the original architects of ASU Online, as its first executive director. Pearson, for its part, will receive an estimated $186 million over the course of its 11-year contract with the university. In its first semester, UF Online had just 590 students; in ten years, with a little help, it hopes to have 24,000.
Clarification
This article has been updated to clarify that Smart Sparrow sent out a press release written by ASU. They did not write their own release.