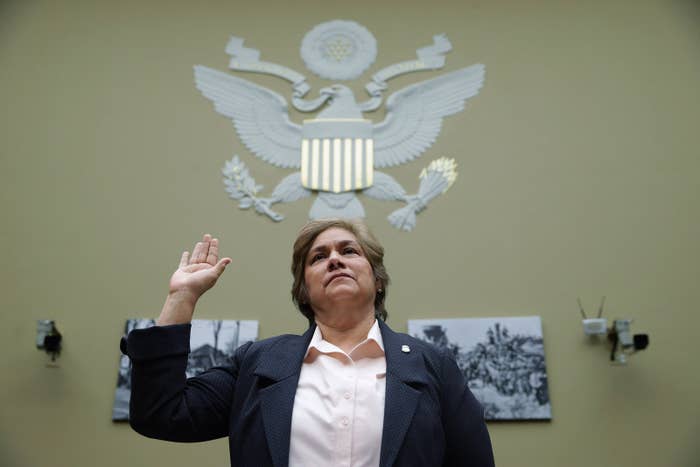 Chang had his suspicions about the University of Northern New Jersey. The promises made to him by a broker seemed, he admitted, almost too good to be true: For just $4,500 a semester, he could enroll in a university that would allow him to continue working in the United States, earning credits through his job in the financial industry. Chang was desperate: His student visa, from the American school where he'd gotten his MBA, was about to expire. If he didn't find another university, he'd need to leave the United States and his job immediately and return home to China.
He did everything he could think to do to verify UNNJ, which offered a rare chance to start working for academic credit from day one. He went to the Department of Homeland Security's website to make sure the school was approved; he checked to see if it was accredited, which it was; he made sure the school's website was reliable, with a domain name that ended in ".edu," and that it had a campus. He checked the UNNJ Facebook page and saw photos of smiling students.
"Every source that could have checked out did," he said in an interview.
But UNNJ was far from legitimate — although its operations were, in their own way, blessed by the U.S. government. The school was a sophisticated fake, set up by immigration officials in a sting operation to catch visa fraudsters. There were no classes, no coursework, no professors, and no employees besides ICE's undercover operatives who posed as administrators.
Chang, like the other former UNNJ students quoted in this article, asked not to be identified due to concerns about his his immigration status.

He is now one of more than 1,000 former UNNJ students who had their visas terminated last week after the sting was made public by Immigration and Customs Enforcement officials. The sting was a multiyear effort, beginning in 2013, that led to 21 brokers and middlemen being indicted for conspiracy to commit visa fraud. Chang and his fellow students, though they escaped criminal charges, will need to leave the country within months; their visas will be flagged for fraud, making it extremely difficult for them to return to the United States. Some may be placed under "administrative arrest," an ICE press release said.
The government says Chang and his fellow international students were complicit in an obvious fakery, intentionally gaming the student visa system to stay in the U.S. and work. International students "should be wary of any recruiter who promises they can work without restrictions while attending school," Louis Farrell, director of ICE's Student and Exchange Visitor Program, told BuzzFeed News. And the onus is on the students to research how visa programs work and ensure they aren't breaking the rules, he said.
Many students, however, see themselves as victims. They maintain that, like Chang, they did everything they could to verify UNNJ's legitimacy and were told repeatedly, by brokers and school staff, that the school was legal. Some said they were intimidated by brokers and Homeland Security agents into not asking questions.
Chang worried about the fact that UNNJ didn't seem to offer classes. When he pressed his broker, asking, "Is this legal?" he was told that there were two "course tracks," one that offered classes and a second that let him earn credits from working. Since Chang's job involved research, the broker told him he should stick with the second track. Eventually, the broker promised, he'd be able to take classes online.
During the two months Chang was a Ph.D. "student," Chang never went to class or submitted any kind of verification of his work to UNNJ. He didn't ask about the online classes again, either, figuring he might enroll in some "eventually."
"Thinking back, it's suspicious in hindsight, but I'm not really familiar with immigration law," Chang said. "And I'd never gotten my Ph.D. before. So I thought maybe this is the way it works."
Two months later, Chang turned on the television to find that he had been duped: ICE officials had revealed their elaborate and unprecedented sting operation in a press conference.
"I thought, honestly, What the fuck?" Chang said. "I was stunned. I think Homeland Security went too far on this one."
"As international students, we're a very vulnerable group," said another UNNJ student, who asked not to be named due to their immigration status. "We have limited resources in order to verify if a university is legal or not. We checked with every government agency we could think of; we were told over and over again, 'Don't worry. It's legal.'"

The government maintains that they should have known better, and that most of them probably did: Not a single one of UNNJ's "students" ever attended class. Dozens of them, the government said, also paid for fraudulent documents — like one student who told BuzzFeed News that he forked over an additional $2,000 for transcripts when the status of his H-1B visa application was in jeopardy.

But eight UNNJ students interviewed by BuzzFeed News said they had been duped, usually by the broker who brought them into the school. They say they were led to believe classes would be offered; one said he had enrolled in May and been told classes didn't start until September. When September rolled around, he was told classes had been put on hold.
In a December 2015 email reviewed by BuzzFeed News, one broker, Avinash Shankar, who was later indicted by ICE, told students that classes — which he said had been scheduled to start on Jan. 11 — had been postponed to mid-February. He cited a Facebook status made by UNNJ referencing an "Expansion and Relocation Project."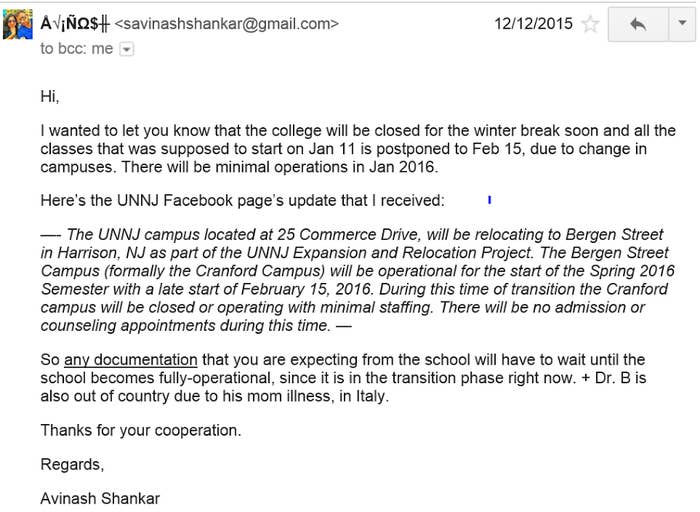 One student said his broker had asked him for work that he promised to pass along to the university, including a thesis, but never gave him a due date. Three said they were told that UNNJ offered classes online, and that they would be enrolled at the beginning of the next semester. But when they realized that wasn't true, they said, they chose to look the other way.
"At that point I closed my eyes and went wherever they take us," said a former UNNJ student, Sam. He grew suspicious when the online classes he'd been promised never materialized, but, he said, "I didn't have anywhere else to go. I thought I would buy some time and go to a more legitimate university as soon as I could."
"I think maybe we weren't 100% not knowing anything," admitted another former student, A. She was working on the East Coast but couldn't find a company to sponsor her visa. Desperate to stay in the country, A. enrolled in UNNJ in a "matter of days — it all went very, very quickly."

"For me, I just needed something quickly, and I didn't really think that far ahead," A. said. "People are saying, 'They deserve it because they broke the law.' It's not that simple — the American immigration process is very, very difficult."
Other former students were firmly convinced that they bore no responsibility — their worst crime, they said, was being naive, trusting their brokers and the government's college accreditation system.
"The moment I learned that this school was illegal, I was very shocked," said another student, who said he had enrolled in the school thinking it offered online classes. "I always thought it was a legal school, because I trusted the U.S. government, and I trusted the credentials. They said they were expanding, and they would have classes again soon."
Most students said they thought their singular hope was to find another school that would take them in. So far, none have had any luck. The first few days after she found out about UNNJ, A. called university after university; none was taking UNNJ students. Some plan to take their cases to court, but others have resigned themselves to leaving the country: "I don't know what else to do," one said.

Two students said they had been intimidated out of asking questions once their suspicions were aroused — not just by their brokers, who stood to gain financially from their remaining enrolled, but by Homeland Security agents posing as UNNJ staff.
In an email provided to BuzzFeed News, a worried student asked UNNJ's president, "Steven Brunetti" — the alias of an undercover agent who also went by "Dr. B" — about whether a deadline might jeopardize his visa status. "DONT QUESTION ME," Brunetti replied. "its fine."