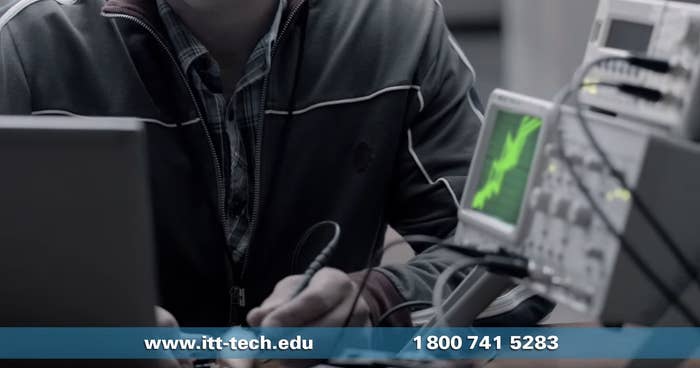 A huge for-profit college plans to cut its enrollments by as much as 60% in an effort to reduce costs amidst a crackdown by the Department of Education and other regulators.
ITT Technical Institute, which is listed on the New York Stock Exchange, told investors Friday that it will slash spending on marketing and recruiting, sending its new student numbers in the second half of 2016 plummeting. While the cuts will boost profitability in the short term, the loss of new students will choke off the company's revenue stream in the coming years.
It's the latest in a series of blows to the college operator, whose stock has plummeted in recent years.
ITT Educational Services, Inc.
ITT Tech has long been defined by its daytime television commercials, taglined "Education for the Future," in which graduates boast of their high-paying tech jobs and degrees that have enabled them to lift their families out of poverty. Once prospective students called the phone number in the ads, lawsuits agains the company allege, a well-oiled sales machine would call them back repeatedly, and on-campus recruiters would use high-pressure sales tactics to convince them to enroll.

The tactics worked. By 2010, ITT's student body peaked at 84,000 — a number that declined to 45,000 in 2015 as the school's many struggles hit enrollments. But now, facing a litany of serious threats to its future, ITT plans to do away with most of its advertising and recruiters.
The company said the changes are designed to create a "smaller but more efficient" business. But some industry-watchers say the slashing of enrollment could be a sign that ITT, which has been closing campuses nationwide, plans to eventually shut down altogether.
"What this looks like, hypothetically, is that they could be in the process of trying to gracefully wind down," said Trace Urdan, an industry analyst at Credit Suisse. "The moment where you know you maybe aren't going to make it, and you need to look for a way to wind down that is sensible and minimizes damages — this is exactly what that would look like, though it's not necessarily happening."
ITT was once seen as a darling of the for-profit college industry, steadily raking in cash and, for a time, defying the plummeting stock prices of other for-profits, like the now-defunct Corinthian. But its stock has fallen 95% since January 2014.
The most serious and pressing threat to ITT's future comes, at the moment, from the Education Department, which has demanded the company post a $123 million letter of credit to ensure the school could pay its bills if it closed abruptly. The savings from slashing recruitment costs, ITT said, would be used to pay the department.

But the company faces many other serious challenges beyond the Education Department's demands. The school's accreditor, the Accrediting Council for Independent Colleges and Schools, or ACICS, has threatened to yank the colleges' accreditation. And ACICS, which is embroiled in scandals of its own, looks set to be killed off by the government. Either event would cut off ITT's access to federal student loan dollars — the company's lifeblood — unless it finds a new accreditor, which is a challenge of its own.
Then there are the lawsuits: one by the Consumer Financial Protection Bureau, which says the company operated a predatory lending scheme, one by the Massachusetts attorney general, who is accusing the school of misleading its students, and one by the SEC, which has charged the company, its CEO, and its former CFO with fraud.