Questions Surround The Growth Claims Of An Education Technology Company That Just Raised $85 Million
Three former employees, as well as industry observers, say the record growth claimed by learning management company Desire2Learn is suspect. The company declined to provide any specific numbers to BuzzFeed News.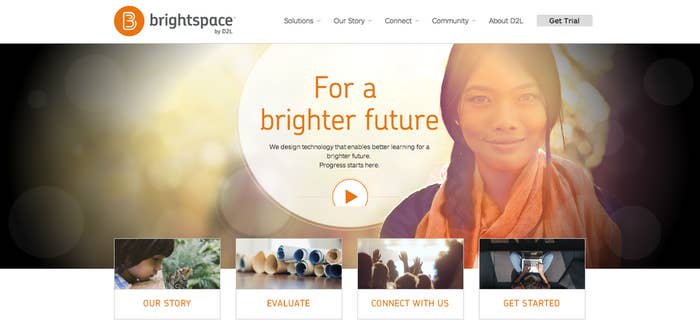 Former employees and industry observers are questioning the growth claims of one of North America's largest learning management companies, Desire2Learn, which raised a staggering $85 million last month in a Series B second funding round.
Three former employees told BuzzFeed News that the company, which is a main competitor of higher education giant Blackboard, has previously exaggerated its growth metrics, and that they suspect this round of claims do not paint an accurate picture.
When Desire2Learn announced last month that it had raised $85 million — more than the total sum of all 20 ed-tech funding rounds from the month of July according to Ed Surge — it touted what it called "record growth," including in its primary market of higher education, and "significant international expansion." The company's CEO, John Baker, told Bloomberg that the company had seen "rapid growth" in Europe and "triple-digit growth" in Latin America.
Problem is, the company released just two numbers to back up its assertions, saying it had added 250 institutional customers and 5 million learners in the past year. Those numbers would represent a 50% growth in learners, but the company would not release any other growth specifics, declining to specify growth in the higher education market, for instance, or release any details of international growth, such as the percentage of its business derived abroad.
In response to detailed questions from BuzzFeed News about figures to back up its claims of record growth in higher education and internationally, the company released a statement to BuzzFeed News, saying, "As a private company, D2L does not publicly disclose these details. The past year has been one of record growth for D2L, culminating in the recent $85 million round of financing." A representative declined to make the company's CEO, or any other executive, available for an interview related to the company's growth.
The stonewalling didn't come as a surprise to former employees with whom BuzzFeed News spoke.
"The picture they're painting of growth is not accurate," said one former employee, who left the company within the last year and asked to remain anonymous, citing his confidentiality agreement with the company. "If you look at actual metrics, they tell a different story. They're very likely not seeing growth in higher education."
A second former employee, who left the company in 2013, said, "I know for a fact that we did not hit our numbers last year. To present [Desire2Learn] as this rapidly-growing company this year, to me, seems disingenuous."
Both former employees say Desire2Learn has been struggling to innovate and take market share away from Blackboard, the perennial giant of learning management systems. A learning management system is a type of software used to administer and power e-learning at schools and universities; Desire2Learn's software was recently rebranded Brightspace.
Despite two recent venture funding rounds, Desire2Learn isn't actually a startup — the Canadian company was founded in 1999. Experts say its growth in higher education has paled in comparison to a competitor called Instructure, an actual startup founded in February 2011 that has grown to 930 institutions using its learning management platform, Canvas. Though Instructure is a private company like Desire2Learn, it readily released its own numbers to BuzzFeed News, breaking out growth by market on a month-to-month basis.
Education blogger Phil Hill first raised questions about Desire2Learn's funding round in an August post on the online learning blog e-Literate, saying that the company's growth claims "defy logic." Hill pointed to the fact that the company's growth hasn't appeared in measurements of market share in the learning management industry in higher education, which constitutes Desire2Learn's largest market. An analysis by the blog Edutechnica shows that Desire2Learn saw only 3% growth in U.S. institutions it was serving and 2% growth in the number of learners usingg the platform in the past 10 months, Hill said.
"I would have thought that they have pretty slow growth," said Michael Berman, a higher education technology expert and VP of Technology at California State University Channel Islands. "I wouldn't guess that they're in a rapid growth mode, although there might be something I don't know about."
To be sure, Desire2Learn could have been seeing growth somewhere that doesn't show up in metrics, defying the observations of industry experts. All three former Desire2Learn employees speculated that its growth numbers, if accurate, likely came almost entirely from adding corporate partners and through the many acquisitions it made after its Series A round, in 2012. The corporate market, however, makes up just 10% of Desire2Learn's business, undermining the company's claims of all-around growth; growth from acquisitions is not considered organic.
Hill has also questioned Desire2Learn's picture of its international growth, which he says isn't backed up in the company's press releases — its "triple-digit growth in Latin America," for example, seems to be made up of the addition of a single Latin American client.
Hill's claim is backed up by the former employees, one of whom worked with the company's international expansion efforts. The employee, who left the company less than a year ago, said he "would question [Desire2Learn's] metrics" relative to growth in international education markets. "I just don't know where that record growth would come from," he said.
Desire2Learn would also not release specifics of its funding round. It declined to release how much of the $85 million raised was debt versus growth funding, or to name the investor that led the round, saying only that it was "a major institutional partner."