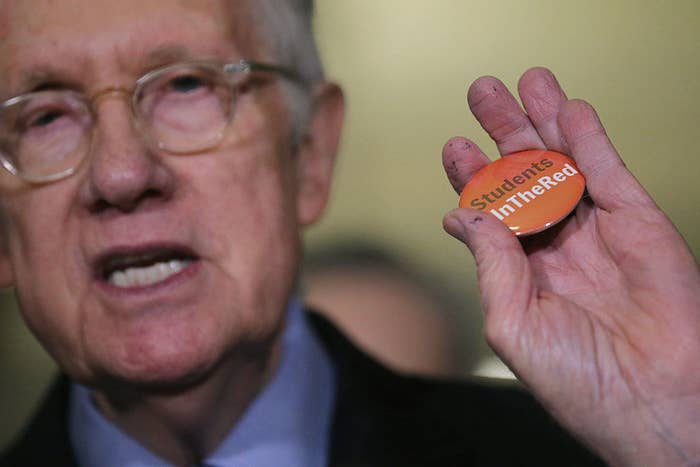 When Rina Orlando was told last month that the Department of Education would forgive her tens of thousands of dollars of student loans, racked up at a disgraced for-profit college that has been found guilty of fraud, her first response was to think she was being tricked, again.
Orlando had heard it all before: the promises of student loan debt forgiveness, the "new" programs, the official-sounding names connected to the Education Department and President Obama. All she had to do was fill out a single form, they said, and her debt could be wiped away.
Two separate debt settlement firms had already used those promises to scam Orlando out of $1,500, with no results: She still owed tens of thousands of dollars to the federal government. "I've been through that so many times before," she said. "These Education Department groups — they've taken a lot of money from me and they haven't done anything."
Orlando is far from alone. Tens of thousands of former students of the collapsed for-profit Corinthian Colleges are eligible to have their federal loans canceled because of fraud. But the government's effort to communicate this fact to students has been halfhearted at best, and only a paltry number have filed the paperwork needed to write off their debt.
In the midst of that confusion, con artists have thrived. Operating via telemarketers, search-engine optimization, and social media advertising, they promise former Corinthian students that for fees of hundreds or even thousands of dollars, they can make student loans disappear — making vague references to the Education Department's own pronouncements on debt relief. But most of the time, they do little more than pocket the fee.
The success of these scammers is made more infuriating by the fact that the government has so far avoided reaching out to eligible students via the most logical channel: the debt servicing firms hired to deal with borrowers on behalf of the government.
The grim side effect of debt relief scammers, students and advocates say, is that it undermines the government's own outreach efforts, making students confused and mistrustful of the programs.
Along with chasing down loan payments, it's the job of federal loan servicers to inform people of their repayment options — including debt forgiveness programs. But so far, the Education Department has not asked its servicers to tell the tens of thousands of former students of the shuttered Corinthian Colleges — which operated schools including the Everest University chain — that they are eligible to have their loans written off.
"It's the most obvious way to get people to respond," said Noah Zinner, a managing attorney for Housing and Economic Rights Advocates, a consumer law firm. "You would assume, if you actually want students to know about [debt forgiveness], the best way to get a hold of them are the same people who are already aggressively collecting against them."
The department signaled Wednesday that it was taking some steps in that direction. In a new set of policy directives for loan servicers, it said it would create a specialized group of servicers geared toward at-risk borrowers which would inform students that it was in touch with if they were eligible for relief. And it said it was "exploring" a pilot program with servicers to engage Corinthian students, though it would not provide details of the program or its expected start date.

But student advocates, who have been pushing since March for the government to involve servicers in Corinthian debt relief, say neither initiative goes far enough: directly involving all student loan servicers in the process of getting relief for defrauded students.
"The department should be using the servicers and collectors that they are already paying to be in contact with borrowers," said Pauline Abernathy, the vice president of the Institute for College Access and Success, an advocacy group. "Their job is not just to collect money — it's to tell borrowers about their rights and options."
Instead, Abernathy said, the department is paying loan servicers and debt collectors to go after Corinthian students for payments, sometimes garnishing their taxes and wages — even when the government knows those students are eligible for relief. "It makes no sense."
The Education Department has so far tried to reach out to Corinthian students on its own, with relatively meager results. It said in June that it had used email and snail mail to contact almost 280,000 students at the Corinthian-owned Everest and Wyotech colleges that it believed to be eligible for loan forgiveness. All they would have to do to get that forgiveness was submit a simple form. But only 5% of those students, or around 15,000, had actually applied for forgiveness by mid-June.
"People are truly confused," said Laura Hanna, an organizer for the advocacy group the Debt Collective. Many of the students who the group has guided step-by-step through the process, Hanna said, still "just don't get it ... This entire process is an absolute failure."
In a June report, the department said it was making "numerous" efforts to reach out to Corinthian students and was continuously refining its efforts. Its email campaigns, it said, were opened at remarkably high rates of 30% and even 40%.

Those numbers raise skepticism among student advocates, who say that many former Corinthian students — who move frequently and may not regularly use email — have yet to get any sort of communication from the Education Department, electronically or on paper.
"Very few students know about the streamlined relief, and to the extent that they know about it, they don't know how to apply," said Zinner.

Other students, like Orlando, have been burned by student-debt scammers claiming to be linked to the government and have little faith in emails purporting to be from the Education Department, especially ones that come from unfamiliar email addresses.

"At the same time students are getting emails from the Education Department, they're getting tons of scam solicitations," said Zinner. When he asked clients if they'd received information on debt forgiveness from the government, Zinner said, they told him they couldn't distinguish what was real from what was not.
Advocates say loan servicers like Navient are better positioned to do outreach because are much more likely to have updated contact information for borrowers, and speak to them regularly by phone if they are struggling to pay back their loans. Because they regularly interface with borrowers, and do so by phone, they are less likely to be confused with scammers.

Laura Hanna and others say the Education Department's poor results are a sign that the government should forgive Corinthian students' loans automatically, without forcing them to submit claims. The time-consuming application process is unnecessary when the Education Department knows exactly which students are eligible for relief.

Rina Orlando and her mother have been struggling for years to find a way to cope with the loans Orlando took out to go to Everest College in 2008 and 2011. Everest told her federal loans would cover the cost of a bachelor's degree, then left her stranded ten credits short, forced to take out private loans and, eventually, to drop out. She left Everest with no bachelor's degree, a $15 an hour job at an asphalt company, and no hope, she said, of paying back the almost $80,000 she owed.
For weeks now, Navient has been badgering Orlando about her monthly loan payments, saying that her income has gone up and she can afford to pay more, Orlando said.
When speaking with BuzzFeed News, Orlando found out for the first time that the option to cancel her Everest debt was not a scam. She began to sob. "They stole my education from me. They stole so much of my life," she said through tears. "I've been waiting so long for someone to tell me that."