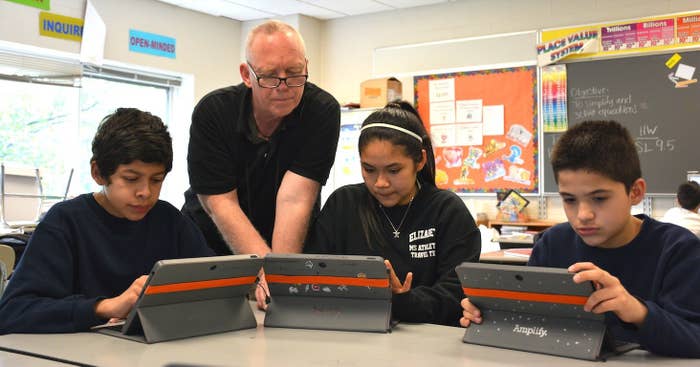 Amplify, the education company owned by Rupert Murdoch's News Corp, will stop selling the tablet computers that were once a central part of the company's plan to shake up the education industry, according to a person familiar with the matter who was not authorized to speak with the press.
Despite an almost $1 billion investment by News Corp, Amplify has struggled to gain a foothold in education, which its CEO, Joel Klein, had described as an industry ripe for disruption. Its bright-orange, "ruggedized" tablets were often at the root of its troubles: plagued by technical glitches, the first batch of them was recalled after a high-profile $15 million launch in Greensboro, NC.
Ultimately, few districts bought the devices, and the head of Amplify's tablet business left the company earlier this year. News that Amplify was giving up on the tablets was first reported by Bloomberg.
The devices were Amplify's first product. Billing itself as a hybrid technology-and-education business, Amplify built the tablets to work hand-in-hand with its own digital curriculum.
The company's talk has always been big: Klein said in an interview with BuzzFeed News last year that he saw Amplify's tech savvy enabling it to compete with the education industry's textbook giants, Pearson, Houghton-Mifflin, and McGraw-Hill. The company's "educational DNA," Klein said, gave it an advantage over companies like Apple and Google, whose devices now dominate many digital classrooms.
"There's a sense that we're doing something very big and very exciting," Klein said last April.
Amplify's struggles show that in an industry as entrenched as education, disruption, even for well-funded companies, is difficult. Despite talk of a "digital revolution" underway in the education system, the three largest textbook companies remain dominant, continuing to win massive contracts with large and bureaucratic school systems that often prefer to stick with the products they have used for decades.
The company will continue to focus on its digital curriculum products, which have features like embedded videos and work on a variety of devices, the source said. It will also keep pushing a newer line of assessment tools. School districts already using the devices will continue to be serviced by Amplify, the company said in a statement.