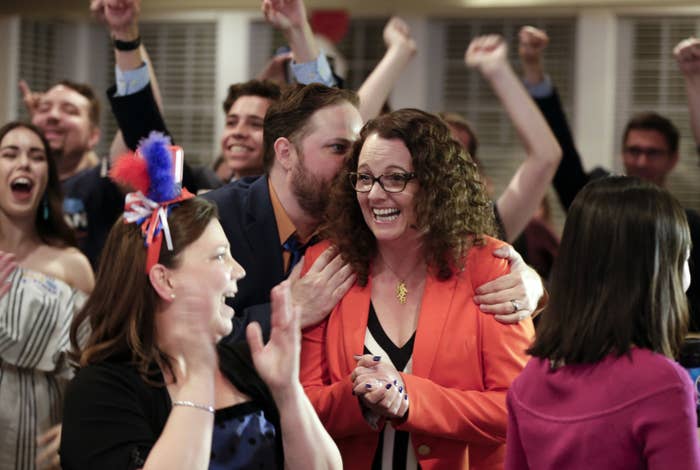 While the Democratic Party establishment carefully backs some centrist candidates to take back the House in November, progressives on the party's left wing have made a different case: that the party is in fact better off running outspoken candidates who support policies like Medicare for All, an assault weapons ban, and free college.
Now, a progressive woman is set to put that argument to the test in a key race. Kara Eastman, who runs a local nonprofit, won a nail-biting primary upset Tuesday over a longtime politician, Brad Ashford, in Nebraska's 2nd District — in what some progressives say is their most significant victory so far in 2018.
Eastman's victory "validated the point of view that running on bold, inspiring populist ideas like Medicare for All is the way to motivate voters — both in the primary and the general," said Adam Green, a cofounder of the Progressive Campaign Change Committee, one of the few national groups that had backed Eastman.
"If progressives like Kara are successful in the primaries," Green argued, "Democratic chances of wining the general go way up in November."

There's suddenly a lot at stake for national progressives in Omaha, one of the country's most solidly purple districts.
"When we win one of these in the primary, it's time to make sure that those folks have the support it takes to get all the way to the House," said Corbin Trent, the spokesperson for Justice Democrats, a progressive group that backed Eastman. "If we start coming up short in these races in November, people are going to throw their hands up in the air and say, 'See, we told you, progressives can't win.'"

With Eastman on the ballot, Trent said, "It's on us now."
Eastman's victory over Ashford is also likely to energize Republicans, who need to hold onto as many House seats as they can to retain control in November. Nonpartisan groups like the Cook Political Report and news outlets like CNN, which had previously rated the race a toss-up, now rate the district as "lean Republican."
Progressive groups trumpeted Eastman's victory as a win against the Democratic establishment, particularly the Democratic Congressional Campaign Committee, which put Ashford on a list of favored candidates called "Red to Blue."

Eying a map where some of the best pickup opportunities are more affluent, suburban swing districts that sometimes vote Republican but where President Trump is more unpopular, the DCCC has ruffled feathers this election cycle by supporting some moderate candidates like Ashford, a former Republican who supports restrictions on abortion and once supported the construction of the Keystone XXL Pipeline. The party argues that centrists are better positioned to win in districts like Nebraska's 2nd, which Trump won by a narrow 2-point margin in 2016.

But in doing so, the DCCC has become a looming villain for the progressive left, who the party has clashed with in recent months. The party is running an opposition campaign, for example, against progressive Laura Moser in Texas' 7th District.

With Eastman, the DCCC had been more measured than other races. A spokesperson said earlier this month that the party was not opposed to Eastman, but saw Ashford as better positioned to win a general election. DCCC spokesperson Meredith Kelly praised Eastman in a statement after her victory, saying she was in a "strong position" with "energy behind her."
Eastman is a vocal supporter of Medicare for All, a policy championed by the likes of Bernie Sanders to create a single-payer health care system, and opposes any restrictions on abortion. Voters in Omaha last week said they mostly liked Eastman because they saw her as a "fresh face" — particularly contrasted with Ashford, who had represented the district for a term in 2014.

"Kara has been the most clear-cut, outright victory against the establishment so far by an economic populist," said Green, of the Progressive Campaign Change Committee. "It's just the tip of the iceberg."