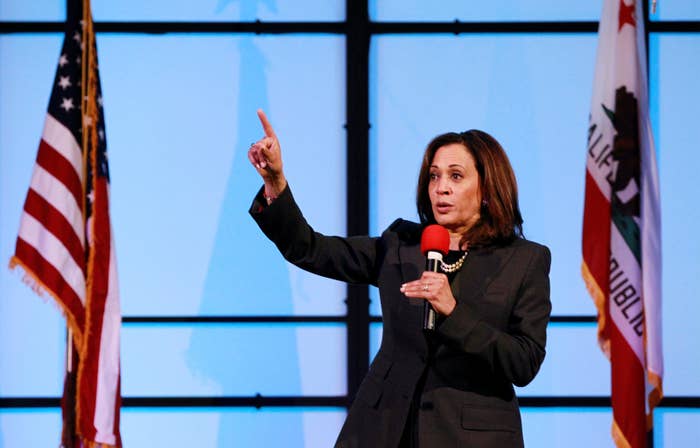 The first time Sen. Kamala Harris was running for major office, she published a book that laid out a vision for fixing the criminal justice system — a central part of the prospective presidential candidate's career.
Nearly a decade after it was published in 2009, Smart on Crime fits a moment in which the public is demanding legal investigations of government corruption and justice for the victims of sexual abuse. It also cuts wildly against many progressives' broad rethinking of the criminal justice system when it comes to racial bias, police presence, and more.
Harris, who has been in the Senate for less than two years, was a prosecutor for a long time, and in many ways, she still thinks and speaks as one. As she begins to mount a case for herself to Democratic primary voters in 2020, it's her past as a prosecutor turned California attorney general — a "cop," in the words of some on the far left — that is likely to help define her.
In Smart on Crime, Harris, the daughter of immigrants from Jamaica and India, creates an image of herself as a tough but empathetic prosecutor — one who devotes almost as much space in the book to creating a system that will support victims and help traumatized children, as she does to one that will punish offenders and prevent crimes.
But the 205-page book is also unapologetically pro–law enforcement and largely colorblind, a relic of an era in which the country's conversation on criminal justice focused not on reducing arrests or diagnosing racial injustice in the system, but preventing offenders from committing crimes. The book mentions racial bias in policing just twice.
"Virtually all law-abiding citizens feel safer when they see officers walking a beat," Harris writes in her 2009 book. "This is as true in economically poor areas as in wealthy ones."
Though they're separated by just five years, the contrast between the race-neutral vision of Smart on Crime — prevalent among most Democratic politicians at the time — and the post-Ferguson, Black Lives Matter era of race-conscious criminal justice reform that has swept the Democratic Party is stark.
Harris writes that some parents should be prosecuted for chronically truant children, that prostitution should remain criminalized, that teachers and principals want police presence around schools, that law enforcement should not ignore low-level drug users — all ideas that chafe against the progressive belief that a heavy law enforcement presence does more harm than good in vulnerable communities.
While conservatives need to move beyond a punishing focus on longer sentences, liberals, Harris writes, should "[get] past biases against law enforcement."
Harris lays out a case in the book for shorter sentences for nonviolent crimes, prison alternatives, and programs that reduce recidivism — like Back on Track, a program to keep nonviolent drug offenders from returning to prison that Harris pioneered. But she makes clear that those programs are, fundamentally, "Law Enforcement, not Social Work," as she titles one of the book's sections. "We did not develop Back On Track out of pity or compassion," she writes.
Even as she makes a case for programs like Back on Track, Harris is careful never to make excuses for even low-level offenders. She reminds readers: "Drug crimes are serious crimes."
"We are sending three times as many offenders to state prison than we were in 2001, three years before I took office," Harris writes as she discusses her own record as San Francisco attorney general. "We also increased conviction rates for drug sellers."
Harris plans to publish a second book, The Truths We Hold: An American Journey, in early 2019 — news that, when it was announced this summer, was taken as an unmistakable sign of her presidential ambitions in 2020. When she wrote Smart on Crime, she was in the midst of a run for California attorney general, her first run for statewide office.
"Most Americans will love the fact that she was a prosecutor," said Shaun King, a prominent criminal justice activist and the cofounder of Real Justice PAC, a group devoted to electing progressive prosecutors. "But she will have to walk a tightrope, because here's the challenge with her presidential ambitions: Before you win the nomination, you have to win over the base of the party. For most of us, 'prosecutor' is not synonymous with 'hero.'"
Harris's words a decade ago about police officers in Smart on Crime, King said, made him "cringe." "She would get heckled if she said that now," he said, in an era where progressives recognize the fear and mistrust that many people of color have of law enforcement.
In Democrats' 2020 primaries, "Anyone who thinks they can run from a 'tough-on-crime' record is fooling themselves," said Lis Smith, a longtime Democratic operative who helped run Gov. Martin O'Malley's failed presidential campaign in 2016 — one in which he faced questions about the tough-on-crime, broken-windows philosophy he endorsed as mayor of Baltimore in the early 2000s.
But, Smith said, "A lot of Americans have also shifted their attitudes on criminal justice in recent decades and will be forgiving of candidates who are authentic — not just opportunistic — in their positioning on the issue."
In Smart on Crime, Harris almost always presents problems in terms of class, rather than race. In one rare mention of racial issues, Harris dismisses the "myth" of anti-law enforcement sentiment among people of color, critiquing "inexperienced" public defenders she encountered in her career who put African Americans on the jury in hopes of finding people sympathetic to the defendants.
"There is a widely held notion that poor communities, particularly poor African-American and Latino communities, consider law enforcement the enemy and that they do not want police officers in their neighborhoods," Harris writes. "In fact, the opposite is true. Both my experience and scientific surveys reflect this fact again and again. ... I can state categorically that economically poor people want and support law enforcement."
That line echoes through much of Harris's career. In her public speeches, she frequently adds a strongly worded second half. A 2006 video shows her saying, of the black community, "What we don't want is racial profiling. What we don't want is excessive force. What we don't want is our civil liberties and civil rights to be stripped. But we do want law enforcement."
This rhetoric hasn't changed: Harris said virtually the same thing about race and policing in a 2011 interview with National Public Radio; in 2016, to Howard University's alumni magazine; and again in a 2017 episode of the podcast The Axe Files.
In her book, Harris brings up racial bias in policing somewhat differently. "There is no question that some communities have strained relationships and difficult experiences with law enforcement," she writes, saying that people who "feel" they have been racially profiled "understandably [get] frustrated and angry."
She praises a bill by Sen. Ben Cardin that addresses racial disparities in policing. "Initiatives like this one will help us deliver the justice and fairness our constitution demands," Harris writes. "But make no mistake: Any effort to excuse or ignore criminal behavior leads to more criminal behavior."
Harris's office says she has always been uniquely aware of issues of race in criminal justice and policing — and ahead of many others on the issue, despite her choice not to include it in much of her book. Harris has often spoken about her choice to become a prosecutor as a continuation of her parents' work in the civil rights movement.
"Just as saying you need food to live doesn't mean you tolerate rotten apples, believing law enforcement is necessary for communities to be safe does not condone any abuse, disrespect or violence against the people they serve," Harris's communications director, Lily Adams, said of the senator's statements on law enforcement in Smart on Crime.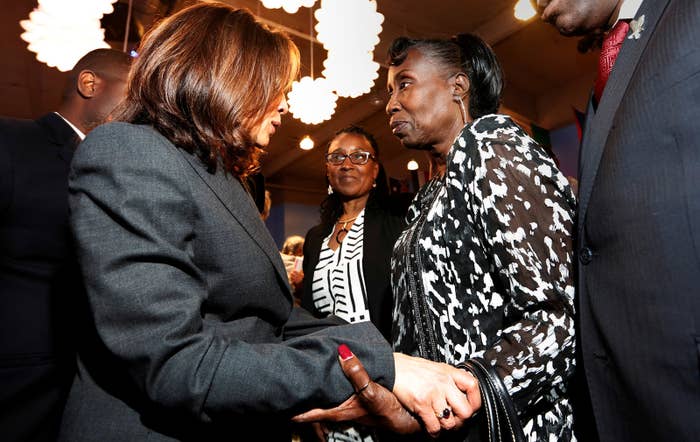 In the post–Black Lives Matter era, Harris launched a first-of-its-kind training to counter implicit bias in police officers. An editorial at the time in in the Sacramento Bee praised her for "deliberately step[ping] into the touchiest and most important discussion about race in America we've had in decades" — a significant move, the board said, because Harris had for years "steadfastly avoided controversy, most likely so she [didn't] set off any political firestorms before her next run for higher office." Earlier this year, Harris blamed "implicit bias" for the killing of Stephon Clark, a young black man shot by police in Sacramento.

And in a podcast appearance this month, race was in fact the first issue Harris raised when it comes to what she calls a "need" to fix the criminal justice system. "There are huge inequities based on race, often based on gender, and certainly based on income," she said on the podcast Call Your Girlfriend.
King, for his part, has been won over by Harris's time in the Senate, and what he calls her "evolution" on criminal justice. "I was a little slow to trust her as a reformer on criminal justice, but I think she's proven herself to me," King said.
King said he disapproved of much of Harris's "moderate" work as California's attorney general. But as a senator, he said, empowered by her intimate knowledge of the justice system, "I think she's become one of the better spokespersons for really serious criminal justice reform in the Democratic Party."
A 2014 video circulated often by Harris's critics shows her laughing at her opponent's advocacy of legalizing recreational marijuana. But this year she joined Sen. Cory Booker's marijuana reform bill, the Marijuana Justice Act, which would legalize marijuana on a federal level while also working to eliminate racial disparities in drug prosecutions, including a form of reparations for communities hit by the drug war. In a video announcement, she called marijuana enforcement "not fair" and said, "We need to change the system."
Harris's own signature criminal justice bill, coauthored with Republican Sen. Rand Paul last year, reforms the cash bail system, which she and Paul wrote in an op-ed "disproportionately harms people from low-income communities and communities of color."
But there remain tension points between Harris and criminal justice reformers that go beyond her past statements. During the recent interview with Call Your Girlfriend, Harris was asked about the Stop Enabling Sex Traffickers Act, a new law that is wildly unpopular among some progressives, despite its near-unanimous passage in the Senate. The law has drawn ire for shutting down the website Backpage, which advocates said punished and endangered sex workers by depriving them of a safer online marketplace.
Harris, who voted for SESTA, was unequivocal.
"They were [profiting] off of selling children. Minors. So yeah, I wanted them to shut down, and I'm glad they had to," Harris said frankly of Backpage. In law enforcement, she had fought for years, she said, to shut down the site herself. "I'm glad those guys are being prosecuted, and I'm never going to defend their conduct."