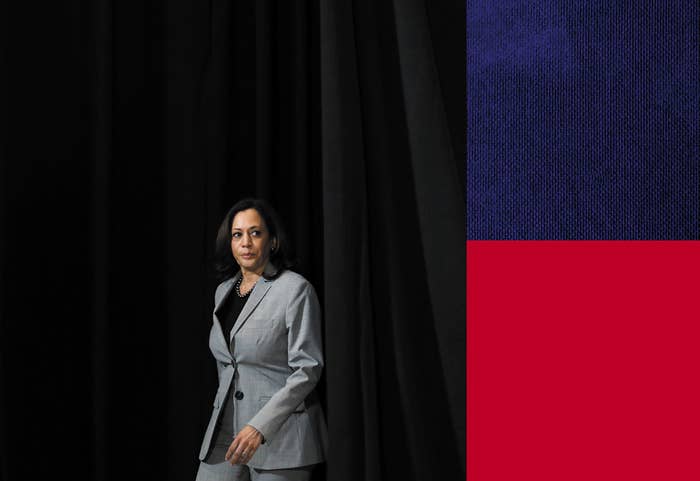 He called the president a "fool." He complained that no one could hear over "this clown," before dryly correcting himself: "Excuse me, this person." And finally, without hesitation, Joe Biden shouted across the room, "Will you shut up, man?"
It only took a few hours, on the night of last week's presidential debate in Cleveland, for the Biden campaign to stamp the phrase on T-shirts.
Aides know that when Sen. Kamala Harris takes the debate stage Wednesday opposite Vice President Mike Pence, the same strategy will not work for a Black woman.
As they prep her in Salt Lake City, Harris's team has shaped a strategy in part around the reality that she is likely to be perceived differently than the white male candidate standing opposite her. Aides have reviewed studies — including those by the Barbara Lee Family Foundation — about how women candidates pay a high price for negativity and can be harshly punished by voters over issues of honesty, a Biden aide said. For that reason, a campaign aide said, Harris likely won't take on the role of fact-checking Pence, or try to confront him frequently over falsehoods.
Harris and her team are weighing, too, the question of how to deal onstage with stereotypes that paint women, and especially Black women, as angry and overly emotional. They are especially aware of how that dynamic could play out with Pence, who is so even-tempered that, in his first vice presidential debate in 2016, he made the mild Sen. Tim Kaine look aggressive.
When Christina Reynolds, a senior official with the women's group EMILY's List, heard Biden say those five words on TV last Wednesday — "will you shut up, man?" — the first thought that popped into her head was "Hillary Clinton couldn't have said that." The second was: "I'm not positive Barack Obama could have either."
Biden took some flak for his tone in Cleveland — "I should have said this is a 'clownish undertaking' instead of calling him a clown," he told NBC's Lester Holt at a town hall on Monday night — but the moment was widely celebrated by his own campaign.
"There's a certain leeway we give to the candidates we are used to," said Reynolds, who served as Clinton's deputy communications director in 2016. "There are things that Mike Pence, Donald Trump, and Joe Biden can do that Kamala Harris can't. It's hard to imagine that she would say 'will you shut up, man' and it would become a rallying point."

The single vice presidential debate is usually nothing more than a footnote to the presidential race, dwarfed in importance by three presidential contests. But with President Donald Trump infected with the coronavirus, the dynamic has shifted — thrusting Pence, especially, into the spotlight. It is unclear whether there will be any more presidential debates.
The expectations on Wednesday are high. In her primary campaign, Democratic voters often said they dreamed of seeing Harris on a debate stage opposite Trump, citing her performance in Senate hearings, where she grilled Trump administration officials.
Sen. Cory Booker, speaking by phone between Zoom meetings on Monday, said he has watched his colleague hone a careful tonal mix in Senate Judiciary Committee hearings: "She is very respectful and professional, but at the same time hard-hitting. And she does it in a way that doesn't break the formality or the decorum of a moment."
"But I've sat next to her before, where, you know, I've winced!" Booker laughed. "Because she's hit so hard."
Her single most memorable moment of the Democratic primary came in a debate, when she confronted Biden over his record on busing and desegregation — causing her fundraising to skyrocket and her poll numbers to shoot up overnight.
But people close to Harris have sought to manage expectations around the debate, talking about Pence's history of strong debate performances. So has Harris herself.
"He's a good debater. So I'm so concerned — like I can only disappoint," she joked at a fundraiser in September.
"From Day 1, the expectations for her have been stratospheric, and the margin for error has been minuscule," said one former Harris campaign aide.
Harris's allies point to big differences between the Senate hearings — where she almost always thrives, slicing apart opponents with sharp questions — and debates, where she must also offer defenses of her own record, and where the moderator is the one in control.
Former aides say the high expectations for the candidate at Wednesday's debate are also rooted in dynamics of race and gender — in the same uneven way that aides believed expectations were set in Harris in her presidential campaign.
"From Day 1, the expectations for her have been stratospheric, and the margin for error has been minuscule," said one former Harris campaign aide.
In Wednesday's vice presidential debate, the aide said, Pence's performance and temperament are likely to be compared to Trump's. But it's unlikely that people will contrast Harris with Biden. Instead, the aide said, "She'll be compared to Miami Kamala," a reference to Harris's first — and by far her strongest — debate performance.
Biden's campaign is aware of those expectations, and wary of managing them.
Harris has been in Salt Lake City preparing for the debate at the University of Utah since Friday, the same day that Trump checked himself into Walter Reed National Military Medical Center to be treated for the coronavirus. Debate organizers have said the vice presidential debate will carry on basically as planned, with added space between Pence and Harris, plexiglass, and a new hospital-grade ventilation system installed inside the venue.
Harris's debate prep team, put together by the Biden campaign, has been led in part by Karen Dunn, the veteran operative who also helped ready Tim Kaine for the vice presidential debate against Pence four years ago.
Three former Kaine aides this week remembered that debate not exactly as a disaster, but as a clear and certain loss. Kaine, a senator best known as a steady, reliable hand with a sort of "aw-shucks" dad demeanor on the campaign trail, came out hot and aggressive. He made a forcible and (for him) somewhat unnatural attempt to pin down Pence on Trump's tax returns, Trump's insults about women, Trump's qualifications. It didn't work. Pence did not take the bait or make a traditional defense of his running mate, instead reverting with subdued discipline, and a slight knowing smile, to talking points.
Preparing for the debate, Hillary Clinton's team knew they would be up against an "understated" speaker with experience as a former radio host, recalled Matt Paul, a senior Clinton official who attended debate prep sessions with the Virginia senator. "There was enormous pressure on Sen. Kaine to be more aggressive and frankly biting than he is as a person," Paul said. "For a lot of folks, that was not the Tim Kaine they were used to seeing. So you have to provide the contrast, but it has to align with your genuine approach."
Now Harris will face that challenge as the first woman of color on the debate stage during a general election. "There were moments where Tim Kaine felt aggressive in part because of the way Mike Pence's style is reserved and low-key," said Karen Finney, another senior Clinton official who helped Kaine before his debate in 2016.
"The elephant in the room is that the 'angry Black woman' stereotype is something she has to be mindful of," Finney said of Harris. "Stylistically, how do you press a point in a way that matches [Pence's] tone but still conveys the intensity of the subject matter?"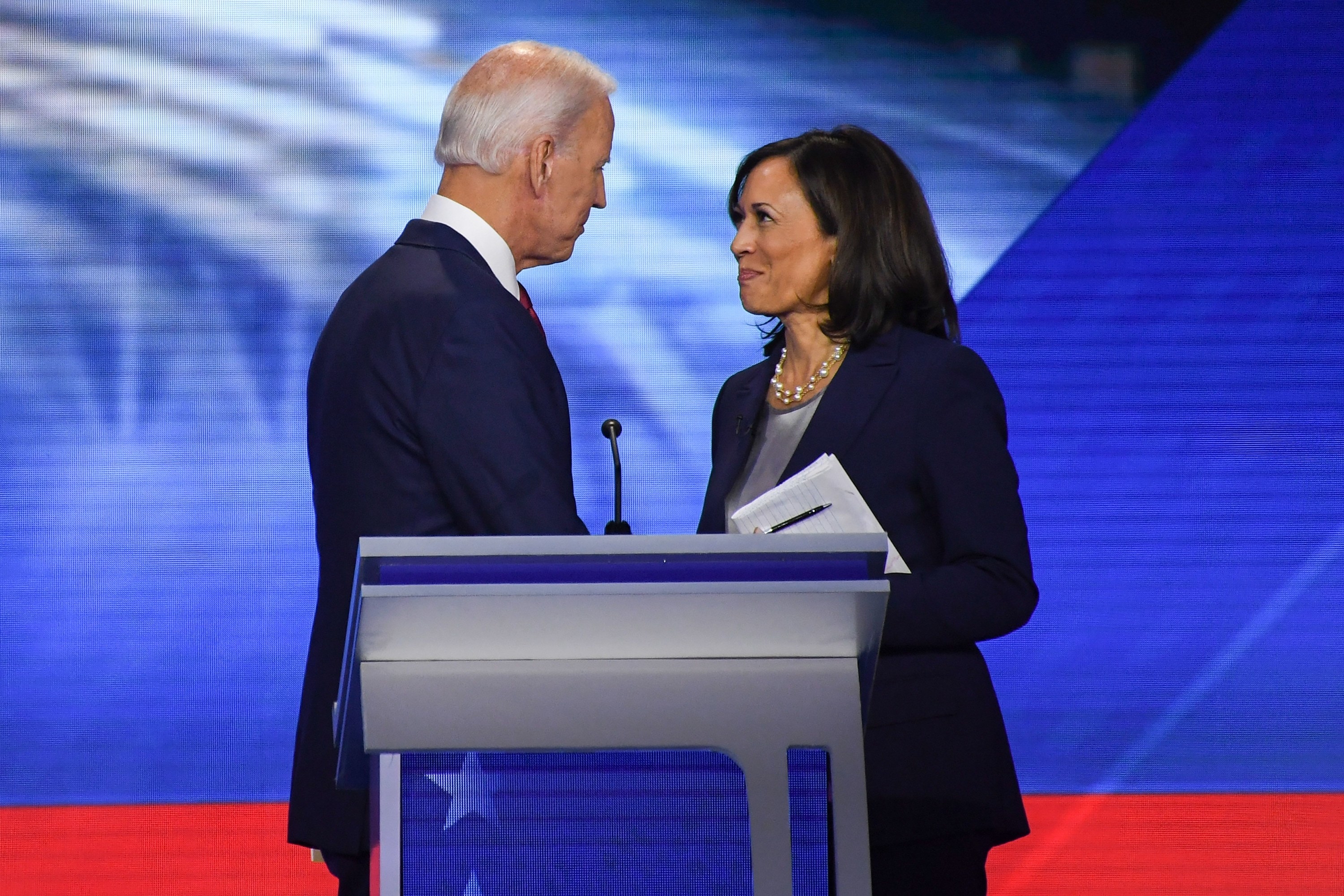 In the Democratic primary debates, Harris's strongest moment — the one many voters still think of as they envision her on the debate stage — was ultimately a double-edged sword. When she confronted Biden in Miami over his past opposition to busing, a school desegregation effort, she spoke about being bused as a child to an integrated school.
"There was a little girl in California who was part of the second class to integrate her public schools, and she was bused to school every day, and that little girl was me," she said.
Her delivery left Biden stammering, struggling to defend himself, and it delivered an overnight poll bounce in a historically crowded field of candidates. But Harris was also criticized for launching a planned attack on Biden. When she sold T-shirts of her debate line — a photograph of herself as a child against a black background — opposing campaign operatives and some political journalists cast the move cynically as calculated or cheap. And Harris struggled to find a clear answer to post-debate questions about her own policies regarding busing and school integration today.
In later debates, Harris struggled to find a similarly commanding moment. An uneven performance in the second debate, especially, caused her to slip back down in the polls. In that debate, she struggled to make a case for her healthcare plan, which was designed to appease both moderates and progressives but was ultimately muddled. Similar problems repeated themselves throughout Harris's campaign, as she frequently gave answers on policy specifics that appeared confused or evasive.
Harris could face similar challenges opposite Pence on Wednesday night, when she is likely to be pulled into conversations of policy that tread a careful line between her own, more liberal record and Biden's relatively moderate one. The Trump campaign has sought to portray Biden as controlled by the Democratic Party's more progressive wing on issues like healthcare. Harris backed Medicare for All during the primary.
Paul, the former Clinton aide, noted that in the vice presidential debates, candidates are responsible for four people's records: their own, their opponent's, and those of the presidential candidates.
"Really, it's an enormous amount on the VP candidates," Paul said. ●