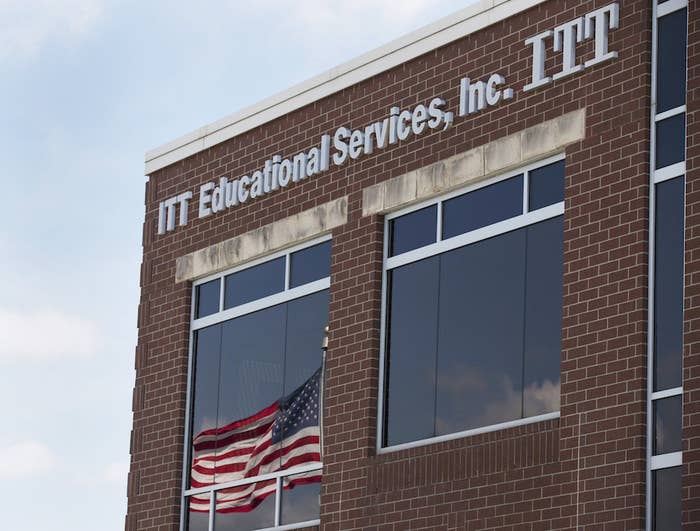 A bankruptcy judge's decision Wednesday to stop a slew of government lawsuits against the now-defunct for-profit college ITT Educational Services could have serious consequences for indebted ITT Tech students.
Consumer advocates say the lawsuits by the Consumer Financial Protection Bureau and other agencies against ITT, which closed its campuses in September after the Education Department barred it from enrolling new students, are crucial to potentially helping thousands of students get relief on student loans, both federal and private. The bankruptcy judge's decision this week, however, brought those cases to a grinding halt, meaning the suits could be left entirely unresolved.
"If [the judge] doesn't allow these cases to progress, relief would stall," said Jennifer Wang, of the Institute for College Access and Success, an education nonprofit. "These are struggling borrowers, many of whom say they were defrauded. If you hear their stories, their situations can be really dire."
The CFPB alleges that ITT's private student loan program, which allowed students to borrow money on top of federal loans, was predatory and deceptive.

In the midst of ITT Tech's bankruptcy proceedings, as lawyers and creditors wrangle over how the defunct company's assets will be distributed, the CFPB's claim against the school is "one of the least important things we can do," the judge said yesterday, according to the Wall Street Journal. He told government regulators that rather than civil cases like the CFPB's, they should pursue criminal cases "if you want to punish and deter ITT."
But there are steep stakes for former ITT Tech students that go beyond exacting financial penalties from the defunct college, advocates say. The CFPB's case against ITT could have a "big effect"on former students who borrowed private student loans from ITT, said Ben Miller, the director of postsecondary education at the Center for American Progress.
In a similar suit against another defunct for-profit college company, Corinthian Colleges, the CFPB managed to wrangle some relief for borrowers, and its case has formed the basis for a recent class action lawsuit against the buyer of much of the remaining debt that seeks to stop collections on the loans altogether. Wang says that the judgements won in lawsuits against Corinthian had a hefty impact on former students, encouraging them to file borrower defense petitions with the government alleging fraud and giving them evidence to bolster those claims.
"I imagine a similar judgment here would be crucial for protecting [ITT] borrowers," Miller said.
The government has cemented a regulatory process, called "borrower defense to repayment," that allows students who say they were defrauded by their colleges to have their federal student loans forgiven — if they can prove they were misled by the schools.
"State attorneys general have sued ITT for violating state consumer protection laws, and evidence from those cases could provide a basis for widespread discharges of former students' federal loans," said Abby Shafroth, an attorney at the National Consumer Law Center. "Slowing or stopping those cases may prevent former ITT students from accessing federal loan relief simply by blocking access to the evidence in ITT's possession."
Wang said that the lawsuits could also have huge symbolic importance in the broader picture of ITT's shutdown, which left 40,000 students stranded partway through the degrees.
"You hear from these students, 'I thought I was alone, I didn't know this abuse was going on for everybody,'" Wang said. "We know a lot of this abuse was widespread, and for students, this evidence needs to be out there."