How Google's Latest Donations To Teachers Will Help Them Beat Apple
Google is building goodwill by donating to teachers in districts nationwide. It's part of a strategy to win the education market from Apple.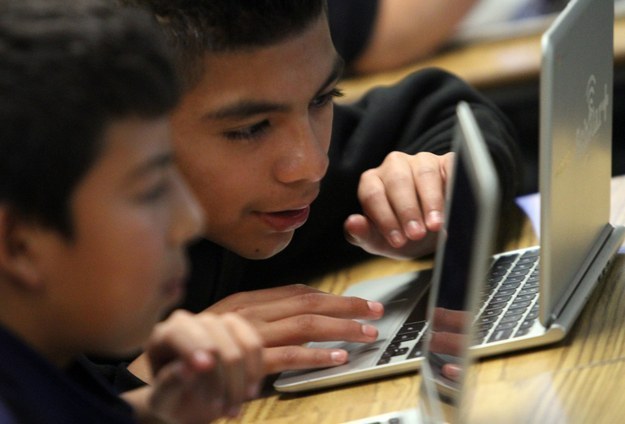 So far this week, Google has flash-funded the online campaigns of every single teacher in Boston, Los Angeles, and Seattle on the Kickstarter-like website DonorsChoose.org. The tech company has now given money to teachers in eight major school districts across the country, including in Kansas City, Chicago, and Seattle — and it may have more in mind than charity.
Google has given money through DonorsChoose twice before, and the amount of the donations — in Los Angeles, it gave just under $1 million — is a drop in the bucket for the massive corporation's charitable arm. But the nature of this year's campaign is important for the company and its push for dominance in the education space.
The donations could be a way to win over the hearts and minds of thousands of teachers, the same people that the the company sees as a key part of their rapid expansion in education. And because of them, Google has generated reams of positive local press in many districts that will be strategically important to the company in the next year, as it looks to unseat Apple as the dominant provider of laptops and tablets.
Take LAUSD, where a $1 billion contract with Apple to provide iPads to every student was cancelled late in August in the wake of allegations that the district had improperly favored Apple. Bidding has been reopened — leaving a perfect space for Google Chromebooks, which are cheaper, more durable, and come with cases and keyboards.
Up until last year, the mobile-computing market in education was almost strictly the realm of Microsoft and Apple; iPads are still considered the dominant device in education. But in 2013, Google Chromebooks grabbed a shocking share of the education market in mobile computers, surging from just 1% of the K-12 market in 2012 to 19% in 2013, according to data from Futuresource Consulting. Apple's iPad market share was at 43%.
Google also flash-funded DonorsChoose campaigns Seattle Public Schools, in the backyard of rival Microsoft, and in Kansas City and Austin, where Google already has a massive footprint through its high-speed Google Fiber internet. All three districts have had huge iPad rollouts in the past; so has Chicago Public Schools, another target of Google's DonorsChoose money. The other two cities where teachers received Google's DonorsChoose funding were Bay Area schools, near Google's headquarters, as well as Boston and Washington, D.C.
The Donors Choose campaign is also significant for its targeting of individual teachers in those key districts, thousands of whom have seen their wishes for their classrooms — sets of books, rugs for kindergartners, field trips to museums — instantaneously granted by the company. More than its rivals, Google has been relying on individual teachers to get its products into classrooms.
That's because a big part of what Google hopes will set it apart from Apple and Microsoft is the company's suite of free education software, called Google Apps for Education, which is essentially Google Drive, GMail, Calendar and other popular Google apps tweaked for classroom use. The free apps are easily downloadable and are already used by most teachers and parents at home, meaning almost no training is required to incorporate them into classrooms.
Just last month, Google pushed that strategy further by widely releasing an app specifically for teachers: Google Classroom, a so-called "learning management system," which allows teachers to collect and distribute assignments, give feedback, and organize student work alongside Gmail, Drive, and Docs. Apple has produced no such products for its iPads, although it does offer iBooks and a content library called iTunes U, as well as outside apps for free download on its App Store; Microsoft charges districts for its Office 365 For Education. That means that the decision to buy Microsoft or Apple products generally lies in the hands of school or district administrators, rather than teachers.
If more teachers become reliant on Google Apps for Education for their classroom management, it will be a boost for the company's profile, but also for its Chromebook sales The laptops, which come pre-loaded with the suite of educational tools and automatically log students in through their school's Google domain, become a natural choice for districts whose teachers already use Google on a daily basis.