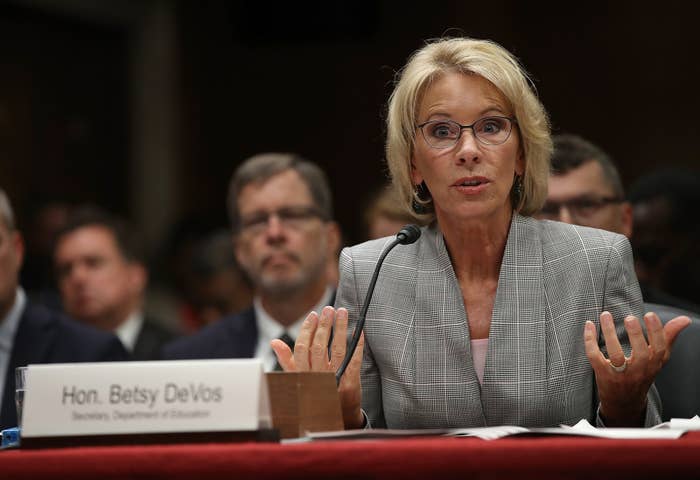 Education Secretary Betsy DeVos made a bold choice of opening anecdote in a speech to charter school advocates on Tuesday: She told the story of how her family chose to forego the public education system entirely, sending her young son to a Christian private school.
DeVos spoke of the need to ensure that poor students had the ability to attend not just charter schools, but private schools, too — just as her son had done. It was a heavy allusion to the necessity of a voucher system — one that would allow families to use taxpayer money to pay for private and religious schools.
But vouchers have long been considered politically toxic for many in the charter school movement, who are already wondering how closely their schools — attended primarily by low-income, black, and Latino students — should link their fortunes to those of the Trump administration.

"Charter schools are here to stay," DeVos told the crowd on Tuesday. "But we must recognize that charters aren't the right fit for every child. For many children, neither a traditional nor a charter public school works for them."
When DeVos singled out a charter school for praise, she then praised a private school in the next breath, singling out several "Christian schools," including one that operated, mostly tuition-free, in a homeless shelter.
Her remarks were received with limited enthusiasm, among what should have been one of the friendliest crowds the controversial DeVos will address — a group of teachers, administrators and advocates who have embraced school choice as a solution to inequality. Less than half the audience stood to applaud as she finished, and many others remained silent.
"I was surprised at the reaction she got here, honestly," said one conference attendee, a charter operator who said he was a strong supporter of DeVos. "This is one of the best places that she could be: a very friendly crowd full of school choice advocates. I was a little stunned that there wasn't bigger support for her."
"Maybe it was because it was so early in the morning," he added. "People haven't had their coffee."
DeVos is the most ardent supporter of school choice to ever serve as education secretary, advocating policies that would elevate parents' ability to choose their child's school above all other considerations. In a Trump budget that would slash billions from every other corner of education funding, DeVos's department has carved out $1 billion to expand school choice nationwide.
But by advocating for public money to flow to private and religious schools alongside charters, DeVos has unsettled leaders in the charter school movement, who have forged a rare bipartisan consensus in recent years. Despite opposition from teachers unions, many Democrats have willingly crossed the aisle to align with Republicans on policies that would allow charters to grow and experiment. But many school choice advocates, including some moderate Republicans, see vouchers as a step too far.
"High-quality charter schools have gotten lumped into this broad brush that's been painted with vouchers, and with tax credit scholarships," said Kelly McManus, the director of government affairs at the Education Trust, an education advocacy nonprofit that supports charters. "That's not accurate and not fair to them."
In her speech to charter leaders, DeVos did not expressly advocate expanding vouchers to pay for private schools. But she pointedly placed charter schools and their students alongside private religious ones, and said that low-income students should be given the chance to attend both.
"I suggest we focus less on what word comes before 'school,' whether it be traditional, charter, virtual, magnet, home, parochial, private, or any approach yet to be developed," DeVos said, "and focus instead on the individuals they are intended to serve."
"I wish she would just come out and say what we're all worried about — that she's expanding vouchers," said one conference attendee, a charter school educator, after DeVos's speech. "We need to know what she's really going to do so we can figure out what these vouchers to our kids."

Beyond vouchers, the toxicity of the Trump administration itself is fueling anxiety among charter leaders. Because they work extensively with black, Latino, and low-income students, many left-leaning charter advocates say they have been pushed to become increasingly partisan — distancing themselves from the Trump administration to sate their progressive allies, but potentially alienating Republican supporters in the process.
"Those of us in the broad, big tent of the education reform world were on the cusp of making big gains with voters," said Nick Melvoin, a pro-charter Democrat who won a seat on the school board of the Los Angeles Unified School District in May. The school choice policies of DeVos and Trump, he said, "unfortunately complicate the situation. There's been somewhat of a loss of that bipartisan consensus."
Conference attendees also worried that DeVos seemed to downplay another key issue among many left-leaning charter advocates: the need to stringently hold charters accountable for their results. In her speech, DeVos criticized some in the charter movement for "boxing out" certain types of charters in favor of others.
In her home state of Michigan, where DeVos first set out a school choice agenda, critics say a lack of accountability caused an explosion of low-quality schools, many of which were for-profit. Elsewhere, online charter schools, mostly run by for-profit companies, have been denounced across the political spectrum for their poor performance, while a study released this week showed students at other for-profit providers to perform worse on math tests than students at nonprofits.
"Accountability is so important, and she didn't seem to mention that at all," said one conference attendee, a charter school educator who asked not to be named. "Students need to actually be learning something, to be proficient."
An audience-submitted question asked DeVos how she would ensure low-performing schools would be held accountable. In response, she emphasized the need for parents to be able to choose between schools, which, for DeVos, is essentially a catchall solution to the troubled education system. "It's not choice for choice's sake," she said. "It's choice because parents are demanding something different for their children."
Policies that alienate the charter school movement could ultimately hurt DeVos as she pushes her broader school choice agenda, said Andrew Saultz, an assistant professor of education at Miami University. "It's going to put her in a difficult situation, because she's trying to hold together a coalition where some people really question those things."
"When you think about the coalition that was built around charters in the '90s and 2000s, particularly with Latino and black communities, I wonder the degree to which that coalition will survive," he said.
"The movement has had many of these tensions for a long period of time," said Shavar Jeffries, the president of Democrats for Education Reform, a pro-charter nonprofit that has taken a strong stance against much of Trump's education agenda. "The unvarnished bigotry and the reactionary policies of the Trump administration have caused these tensions — which used to be below the surface — to boil over."
However, it remains to be seen whether the rift among school choice advocates will actually affect policy.
"Right now it's a whole lot of DC buzz," said Michael Petrilli, the president of the Thomas B. Fordham institute, a right-leaning education think tank. "Their embrace of private school choice could make the issue less popular among the electorate — as with anything he embraces, there's a risk that there could be some loss of support — but on the state level, it's hard to find a direct impact."
Charter schools could ultimately benefit, Petrilli said, by presenting themselves as a political compromise between DeVos's voucher proposals and more hardline opponents of school choice.
Still, he said, the administration's embrace of school choice could be a political risk for charters, just as President Obama's support for the once-bipartisan Common Core — which even Betsy DeVos used to support — made the issue a pariah among Republicans.
"They have to be careful not to let what happened to the Common Core under Obama become charter schools under Trump," Petrilli said.
An early test for left-leaning charter advocates played out last month in Los Angeles Unified School District, where a slate of candidates who pushed for charter school expansion were targeted by teachers unions that sought to portray them as allied with Trump and DeVos. A union-funded mailer painted Melvoin, a Democratic charter advocate, as one of the "candidates who will implement the Trump/DeVos education agenda in LA."

Melvoin won the election, but only, he says, by making it expressly clear that he opposed DeVos policies like vouchers and for-profit charters, which he said should be banned in the district. "We had to come out so strongly against the administration," Melvoin said.
Although he worked in the Obama administration, Melvoin said, "Putting my face with Trump and DeVos was so toxic. The association really seeped in with some voters."