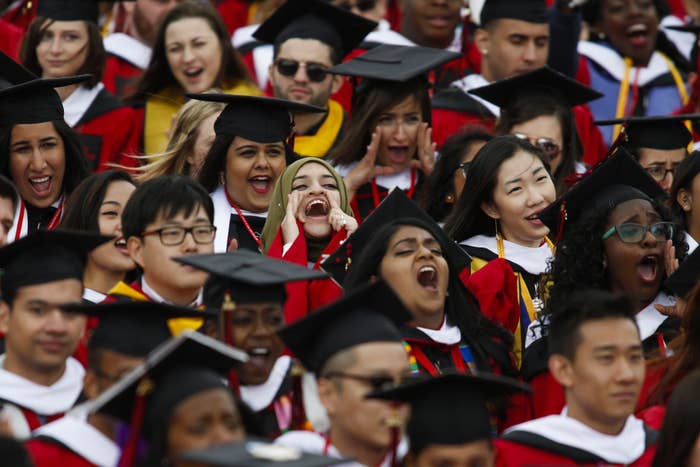 Thousands of low-income high school students will be able to use federal grant money to pay for classes at local colleges, the Obama administration announced Monday. In a first-of-its-kind move, some needy students will be able to access Pell Grants early to pay for "dual-enrollment" classes at 44 public and community colleges across the country. High school students have typically been prohibited from using federal financial aid.
The change is aimed at helping to close a longstanding gap between rich and poor students in college attendance and completion. Under the new policy, poor students can get a head-start on their college classes: a chance to begin adjusting to college and transferrable credits that could save them as much as a semester's worth of tuition fees farther down the line.
Most American public high schools offer students the opportunity to take classes at local colleges through "dual enrollment," and some 1.4 million high school students took the classes last year. But the Education Department says poor students are underrepresented in the programs. That is in part because cost can be a huge barrier: half of students have to pay for the courses themselves, and most have to pay for expensive books and materials.

It's the latest experiment in the Department of Education's push to expand federal financial aid beyond typical accredited colleges and universities. Late last year, the government launched a program that allowed financial aid dollars to be spent on a small group of unaccredited computer programming schools and online courses. The Department hopes to continue the programs
The new initiative will allow as many as10,000 high schoolers who qualify for Pell Grants, the federal government's loan-free financial aid program for low-income students, to access those grants before they matriculate in college.

It could have unintended consequences. The Pell grant isn't an unending supply of money: it lasts only six years, the average time it takes most Americans to finish a bachelor's degree. Students who start using their Pell in high school could run out of money before they graduate.
But the hope is that taking college classes in high school will help students graduate faster. Research shows that taking dual-enrollment courses in high school helps keep low-income students enrolled in college and makes them more likely to get a degree.