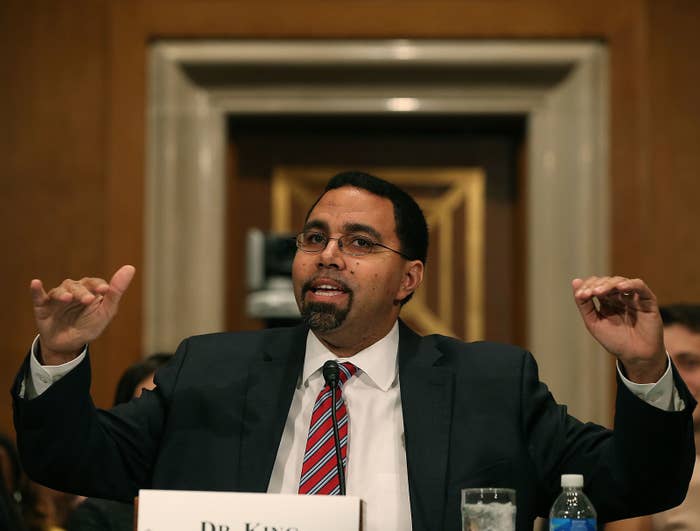 The Education Department has rejected an attempt by a troubled for-profit college to convert itself to a nonprofit, saying the school would become nonprofit in name only, essentially continuing to operate as a cash cow for its onetime owner.
"This should send a clear message to anyone who thinks converting to non-profit status is a way to avoid oversight while hanging onto the financial benefits: Don't waste your time," said U.S. Education Secretary John B. King Jr., in a statement.
The Center for Excellence in Higher Education, which owns two chains of for-profit colleges, would have received tax and regulatory breaks as a nonprofit, while funneling money to its former owner, Carl Barney, through a complicated financial arrangement, the Education Department said. And it would have allowed Barney to retain control of the schools it owns by serving as board chairman.
The proposed arrangement had been dubbed a "covert for-profit" by one former Education Department official, Bob Shireman. The government ultimately agreed; the Center For Excellence in Higher Education did not respond to a request for comment.
In a statement, the Center for Excellence in Higher Education said the government was "operating outside the law to advance a political bias" and that its statements about the school contained "lie after lie."
As for-profit colleges become increasingly unpopular — and subject to more regulation — several have eyed converting to nonprofits. If its conversion was allowed, the Center for Excellence in Higher Education's schools would have been able to shirk many Education Department regulations, including those that prevent for-profit colleges from relying too heavily on taxpayer money.

The Education Department's decision to reject the proposal is a signal that the government plans to more closely scrutinize the transactions.
Some schools have already converted: Keiser University, for example, became a nonprofit while continuing to pay significant sums to its former owners, according to a report last year. A class-action lawsuit last week accused Keiser of retaining many of the other trappings of for-profit colleges, employing 350 telemarketers that auto-dial prospective students. Keiser denied the claims.
Grand Canyon Education, a publicly-traded for-profit, tried earlier this year to create a nonprofit entity that would buy the school from shareholders. But the school's investors were wary of the plan, and the college's accreditor eventually rejected it.
"Schools that want to convert to non-profit status need to benefit the public," said U.S. Under Secretary of Education Ted Mitchell in a statement. "If the primary beneficiary of the conversion is the owner of the for-profit school, that doesn't meet the bar. It's not even close."