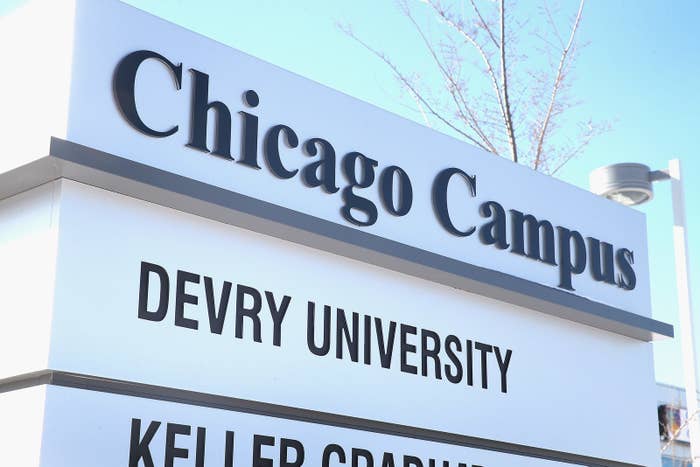 One of the last remaining publicly-traded giants of the for-profit college industry has agreed to pay $100 million to the Federal Trade Commission to settle deceptive advertising claims, in what the agency says is one of the ten largest settlements in its history.
Most of the money paid by DeVry University will go to its former students, who FTC investigators said were duped into enrolling based on inaccurate and misleading statistics about their chances of finding a job.
DeVry, which did not admit any wrongdoing as part of the settlement, agreed to pay $49 million in cash to students, and forgive another $50 million in student loan debts.
The college chain is traded on the New York Stock Exchange, and is currently valued at almost $2 billion, with the stock price doubling in the last six months. Other giant for-profit college chains, like Corinthian Colleges and ITT Technical Institutes, have been pushed into bankruptcy amid a government crackdown on the industry, while others, like the University of Phoenix, are being bought out by private equity investors.
The FTC's lawsuit alleged DeVry had improperly counted thousands of former students as being employed in their field of study, using those employment statistics to entice students to enroll.
But students with degrees in management and business administration that the school said had found jobs in their field were really working as waitresses, sales representatives, and even at a rural mail carrier, the FTC said. A graduate with a degree in health services management was counted as employed even though they worked as a server at the Cheesecake Factory.
Some observers have speculated that the FTC's case could be used as a basis for students to seek loan forgiveness from the federal government. The Education Department's new "borrower defense" regulation allows students who were duped by their colleges to have their debts erased.
In the case of DeVry, loan forgiveness could come at a hefty cost to taxpayers. In 2011 alone, DeVry took in more than $200 million in federal financial aid money, SEC filings show.

But the future of loan forgiveness — and the federal crackdown on for-profit colleges — is unclear. Like others in the industry, DeVry's stock jumped after the election of Donald Trump, who investors believe will likely be far more friendly to the sector than the Obama administration. The company's stock has risen 34% since election day.