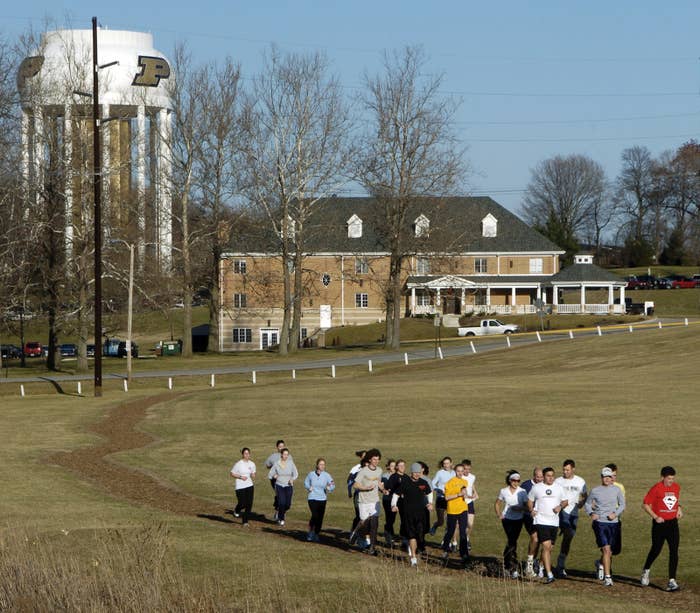 Indiana's most prestigious public university is acquiring a massive for-profit college, an entirely unprecedented deal that has the potential to alter the landscape of the American education industry — and is likely to spark intense scrutiny.
Purdue University said it planned to acquire Kaplan University, a for-profit college with some 33,000 students, transforming the school into one of Purdue's public, nonprofit branch campuses, with its classes offered almost entirely online. If approved, it would be the first time that a public university has acquired a for-profit school.
The price of the sale, university officials said Thursday: $1.
Purdue's president, onetime Indiana Republican governor Mitch Daniels, said the acquisition would allow the university to expand a mission of access — educating an underserved population of working adult learners and veterans that public land-grant universities like Purdue do not often reach. "It's so much in the public interest," Daniels told reporters.

As part of the deal, Kaplan's parent company, Graham Holdings, will continue to take in a portion of revenue from the school for decades. It will keep on managing virtually every aspect of the new university other than academics — a 30-year "program management" deal that has already raised red flags for some observers.
It could potentially also cause problems with the school's accreditor, which is charged with approving the deal, or the Department of Education, which will also have to sign off. A Graham Holdings filing said that Purdue would pay the company a fee of 12.5% of the new university's revenue, as well as reimbursing Kaplan's costs.
Graham Holdings was formerly known as the Washington Post Company, until it sold the newspaper to Amazon founder Jeff Bezos in 2013.
In the face of intense regulatory scrutiny, stigmatization of for-profit colleges, and pressure from investors, the companies that run university chains have been searching for opportunities to transform the schools into nonprofits. In almost every deal, the school's former owner continues to draw some profits from the school through revenue-sharing agreements or land deals.

Some have said these efforts are made in bad faith — at times, one critic said, creating "covert" for-profit colleges that retain all the trappings of their predecessors but with less government oversight. Last year, a high-profile effort by Grand Canyon University to transform into a nonprofit was blocked by the school's accreditor, which said the school's former owner would maintain too much control.
The instant that the $1 sale is completed, Purdue officials said, Kaplan's programs will no longer be subject to the Obama administration's "gainful employment" regulations, which revoke federal funding from schools where students graduate with too much debt relative to their earnings.
"Nothing says land-grant mission like handing one of the crown jewels of American higher education to a bottom-feeding operation," tweeted Barmak Nassirian, the director of federal relations at the American Association of State Colleges and Universities and a longtime critic of for-profits.
Nassirian called it a "Faustian deal," alluding to Kaplan's past controversies with improper and aggressive recruiting of students.
But the Obama official who oversaw much of the administration's crackdown on for-profit colleges, former secretary of education Arne Duncan, praised Purdue's plan, saying in a statement that he was "excited by this opportunity for a world-class university to expand its reach and help educate adult learners by acquiring a strong for-profit college. This is a first, and if successful, could help create a new model for what it means to be a land-grant institution."
The deal is different from other attempts to convert for-profit schools into non-profits, in large part because the school acquiring Kaplan is so well-established, said Ryan Craig, a partner at the higher education investment firm University Ventures.
"This will be viewed more favorably by regulators because there's a real, not-for-profit, public institution involved," Craig said. "On Purdue's side, I was surprised and pleased to see an institution of such caliber and reputation would be interested in taking on the challenges posed by Kaplan, which is clearly addressing a very different population than Purdue currently serves."
The average age of students at Purdue's main campus is 20, Daniels said at a board meeting Thursday morning to approve the deal. At Kaplan, the average student is in their mid-30s; a quarter are veterans.
Given Purdue's prestige, Craig said, the deal could be tricky to emulate. But if it is approved, "Others will try to scramble and look harder for partners. It does chart a path that I think has largely been unexplored."