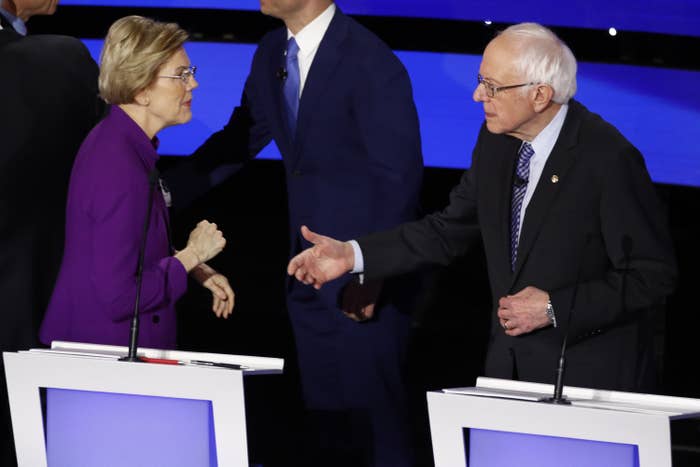 DES MOINES — "So Sen. Sanders, I do want to be clear here," the moderator started.
"You're saying that you never told Sen. Warren that a woman could not win the election?"
Bernie Sanders replied unequivocally. "That is correct," he said.
The debate moderator, CNN's Abby Phillip, turned back to his Senate colleague.
"Sen. Warren, what did you think when Sen. Sanders told you a woman could not win the election?"
"I disagreed," she replied, also unequivocally.
The explosive conflict between Bernie Sanders and Elizabeth Warren, two progressive giants and self-described friends, came to a head here in Iowa in one of the most fraught and surreal moments of a yearlong Democratic primary — and ended with a seemingly tense exchange between the two candidates as they parted ways onstage after Tuesday's two-hour debate.
After the fast-developing and chaotic controversy over a private meeting between the two senators — beginning on Monday with Sanders aides calling the reports "a lie" and ending on Tuesday with both campaigns seeking to "de-escalate" the conflict — Warren seemed to try offering the final word.
Telling viewers she was "not here to fight with Bernie," the Massachusetts senator pivoted the conflict into a case for the electability of women candidates, addressing a longstanding fear among some Democratic voters about her candidacy and drawing the only other woman on the debate stage, Amy Klobuchar, into an alliance.
"This question about whether or not a woman can be president has been raised and it's time for us to attack it head-on," she said onstage in Des Moines. "And I think the best way to talk about who can win is by looking at people's winning record. So can a woman beat Donald Trump? Look at the men on this stage."
She gestured to the candidates to her left and right: Sanders, Joe Biden, Pete Buttigieg.
"Collectively, they have lost 10 elections," she said. "The only people on this stage who have won every single election that they've been in are the women. Amy and me."
Klobuchar smiled and leaned into her microphone. "So true," she said.
In the end, the longer back-and-forth between Warren and Sanders was an uncomfortable exchange over Sanders' electoral record. Sanders took issue with Warren's claim that she was the only candidate on stage to have defeated an incumbent Republican "in 30 years."
"Well, just to set the record straight, I defeated an incumbent Republican running for Congress," Sanders said.
"When?" Warren asked.
Sanders replied: "1990. That's how I won. Beat a Republican congressman. Number two."
"30 years ago," Warren said.
From there, the candidates moved on without incident to other issues.
After the debate was over, though, Warren approached Sanders as the candidates were exiting the stage. Sanders extended his hand, but the two did not shake hands. An animated back-and-forth ensued, with another candidate, Tom Steyer, looking on in uncomfortable silence.
Sanders left the conversation, both hands in the air.
Asked after the debate if she believed the argument between Warren and Sanders had been put to rest, Sanders campaign cochair Nina Turner said, "Not exactly. I mean, we all saw what happened at the end of the debate. The senator reached out his hand to shake her hand, and she wouldn't do it."
"I don't know what she said, but you can read their body language and obviously the conversation was not pleasant," she added.
Steyer, dogged by reporters after the debate who wanted details of the exchange, said he hadn't heard what they said. "Whatever was going on, I was trying to get out of the way as fast as possible," he said on MSNBC.
It was an awkward coda to the controversy that spilled out into public view on Monday.
At issue was Warren's recollection of a private meeting with Sanders, a longtime progressive ally, as both senators were preparing to run for president in December 2018: Warren, confirming a report by CNN, said in a statement that night that she remembered asking Sanders whether he thought the country would elect a woman: "I thought a woman could win; he disagreed."
Sanders has repeatedly denied the account, saying he pointed out that Donald Trump would use gender against a woman in a general election and "weaponize whatever he could."
"I have no interest in discussing this private meeting any further because Bernie and I have far more in common than our differences on punditry," Warren said in her statement on Monday.
That same night, the Warren campaign began asking its supporters to de-escalate the fight, warning explicitly against portraying Sanders as sexist or pursuing the "'sexism' angle."
"Re: where we go from here — our goal is de-escalation and focusing on our shared goals," a staffer wrote to members of a large pro-Warren private group chat on Twitter, according to screenshots of the channel. "Claiming you're worried a woman can't win/flagging that she'll receive sexist attacks is something many, many people feel," the staffer wrote the next day.
Warren and Sanders have long had an informal truce in the 2020 primary. In the first CNN primary debate in July, the two senators wound up teaming up against the debate's moderators and lower-tier candidates who tried to attack one of the two of them or pull them apart.
But that nonaggression pact started to slip over the last weekend, when Politico reported that the Sanders campaign had talking points intended to move voters away from Warren by saying her voting base was highly educated and affluent, and she was not bringing "new bases into the Democratic Party." Sanders quickly distanced himself from the talking points. Warren told reporters at a campaign event that she was "disappointed" that "Bernie is sending his volunteers out to trash me."
The eruption of disunity between Sanders and Warren comes as Warren has been positioning herself as the "unity" candidate, capable of bringing supporters of all candidates together into the general election against Donald Trump. For Sanders, the string of stories came as an unwelcome distraction from a period that would have otherwise focused on his strength in the race: Late last week, less than a month before the primary begins here in Iowa, the closely watched Des Moines Register polling showed Sanders leading the field in the state.
By Tuesday afternoon, hours before the debate here in Des Moines, it was clear both campaigns were eager to move on from public conversation about a story that had divided the progressive community. "From what I've heard from their campaign, and certainly from our campaign," top Sanders strategist Jeff Weaver said in an interview on MSNBC, "I think we're all mostly done talking about it, frankly."
"That's where folks wanna leave it," he said.
California Rep. Katie Porter, a prominent Warren supporter, was MSNBC's next guest.
"The headline that everybody should be focused on is Democrats can beat Donald Trump," she said when asked about the Warren–Sanders story. "They both want to be focused on moving on."