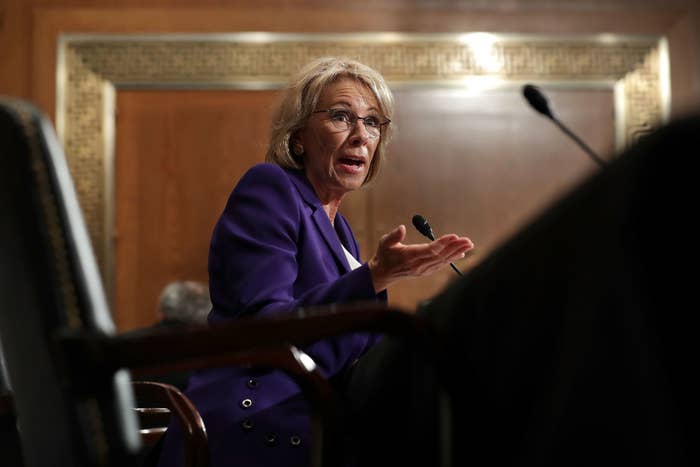 Education secretary nominee Betsy DeVos "never consented" to being listed on the board of her mother's foundation and never attended any of the foundation's meetings, according to a representative for the DeVos family.
"It was a surprise when she found out her name was on there," said John Truscott.

DeVos was accused of lying to the Senate Tuesday night when she testified in a confirmation hearing that she had never been on the board of the Edgar and Elsa Prince Foundation, which donated more than $5 million to the evangelical Christian antigay group Focus on the Family. Fourteen years of tax forms, from 2001 through 2014, list DeVos as one of the foundation's vice presidents, along with other family members.
When pressed by Senator Maggie Hassan, a democrat, about why more than a decade's worth of tax forms showed DeVos as sitting on the foundation's board, DeVos said it was "a clerical error."
The foundation filed a correction on the day of the hearing that removed DeVos from several years of filings.
Truscott, the DeVos family representative, noted that the man who had once handled the Prince Foundation's finances, Robert Haverman, is currently incarcerated for fraud, stealing some $16 million from Prince, DeVos's mother.
DeVos "LGBT issues are ones that she's never been involved in," Truscott said in response to a question about whether DeVos endorsed her mother's donations to Focus on the Family.
"She has very close friends and advisors who happen to be gay, and she attended their weddings," Truscott said.
CORRECTION
The DeVos family's representative is named John Truscott. A previous version of this story misspelled his name.