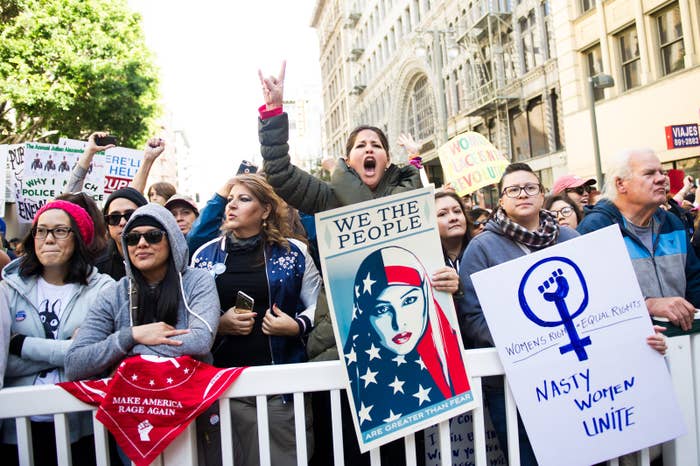 The nomination of Brett Kavanaugh to the Supreme Court will be a vital test case of whether Democrats can mobilize voters nationwide over abortion rights.
It's likely their only real path to stopping Kavanaugh, but there's more to it than that. Energizing voters in support of Roe v. Wade, Democrats believe, will be even more important if they lose the Supreme Court battle and are forced to defend abortion rights at the ballot box — offering them an issue that could change the national political dynamic around abortion.
"Any path to defeating Kavanaugh requires us to not forget what is perhaps the central issue, and that's the future of reproductive rights in this country," said Brian Fallon, executive director of Demand Justice, a liberal judicial group. "You cannot have a successful strategy unless Roe is at the center of it."
Top Democrats, like Sen. Elizabeth Warren, are joining up with abortion rights groups to brand Roe — along with preserving the Affordable Care Act — as the central issue of the Supreme Court battle. In an age when policy is increasingly enacted through regulation or the courts, the stakes couldn't be higher for the party: If Kavanaugh or a similar judge is confirmed, they would tilt the court to the right for decades.
The hope is to generate the kind of energy around opposing Kavanaugh — phone calls to senators, protests, marches — that Democrats believed helped them to stop the repeal of the Affordable Care Act last year, and that propelled millions of women into nationwide marches in the months following Trump's election.
But that could be a difficult proposition for a party that has, for decades, struggled to mobilize voters on issues involving the courts — something the Republican Party has done well. And it would reflect a shift for the party, placing a much more explicit emphasis on abortion rights than Democrats have typically employed on the national level.
"So far, it's been hard to get people to care about the Supreme Court," said a Democratic congressional aide, who has been closely tracking social media activity posts about Kavanaugh's nomination. Posts about the Supreme Court have lagged behind other topics, the aide said: "It's hard to get people to pay attention."
The hope, the aide said, is that "once we get to the fall, when [Kavanaugh's hearings] are on the news every day, the message will start to resonate.
In 2016, "the Supreme Court" became a mantra for Republicans attempting to turn out voters skeptical of Trump — an issue comparatively discussed far less by Democrats. But the looming threat to Roe vs. Wade, Democrats hope, could help to shift decades of relative Democratic disinterest in the courts, especially when paired with a renewed interest, since the 2016 election, in the way congressional districts are drawn.
A large majority of American voters, polling shows, support keeping Roe on the books; two subsequent rulings — Casey v. Planned Parenthood and Whole Woman's Health v. Hellerstedt — are less well-known than Roe but foundational to abortion law in the United States. Though Kavanaugh has only hinted at his views on Roe, Trump has promised to appoint judges who would oppose it, saying of overturning the decision, "That will happen and that will happen automatically."
Just as the 2017 health care battle did, the narrow path to beating Kavanaugh runs through two Republican women, Sens. Susan Collins of Maine and Lisa Murkowski of Alaska — both moderates who have supported abortion rights in the past. Democrats believe that intense political pressure from voters around Roe could force both senators to oppose Kavanaugh.
In a sense, much of what plays out over Kavanaugh's nomination will be a performance staged for Collins and Murkowski. The health care advocacy organization Protect Our Care, for example, has designated a budget of $200,000 to spend in one week on ads and actions that mostly target those two Republican senators, the organization's executive director, Brad Woodhouse, said on a call with reporters Monday.
"Susan Collins and Lisa Murkowski ... those are the most important Republicans," Woodhouse said on the call. "I have every reason to believe that if Lisa Murkowski and Susan Collins came out against this nomination that there would be a majority to oppose him."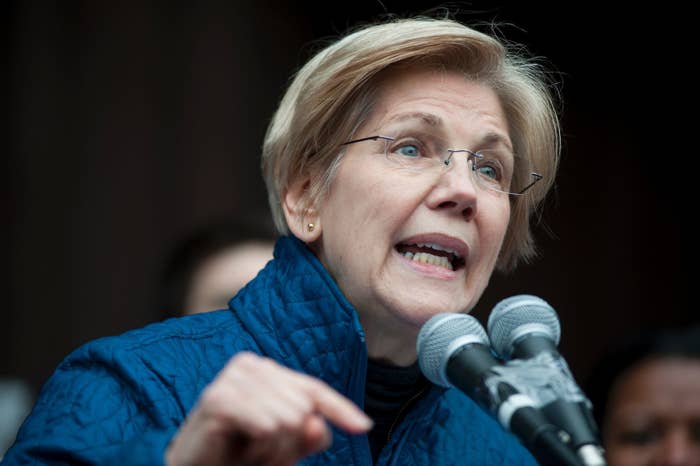 Demand Justice is organizing a nationwide tour called "Rise Up for Roe," which features Warren and a cadre of liberal women, from the actor Alyssa Milano to writer Lauren Duca to former Bernie Sanders adviser Symone Sanders, in cities including Portland, Maine, the populous liberal center of Collins' home state.
And Planned Parenthood announced two separate national efforts this week, one in conjunction with five other groups to organize more than 100 events — with a combined multimillion-dollar budget — including rallies, phone calls, town halls, and targeted ads during Congress's August recess. Another will run television ads in Maine and Alaska that feature testimonials — like a story from a woman who had an illegal abortion before Roe — with the goal of encouraging women to write to their senators with their own personal stories of abortion rights.
The efforts are aimed at jarring voters, particularly women and younger voters, with the stakes of potentially overturning Roe, highlighting the dangers of illegal abortions and what has happened to women in states that already have drastically limited abortion access.
"We want to explain exactly what this would look like in practice," said Fallon. "Part of that is to highlight places where abortion is already effectively illegal because it is so restricted — and sensitizing the public to the reality that there's anywhere between 20 and 30 states that are primed to finish the job of banning abortion outright if [Republicans] get that fifth vote."
These efforts could, Democrats hope, have a secondary effect: mobilizing women not just to oppose Kavanaugh, but to turn out and cast their votes based on abortion rights, particularly on a state level.
"There's a large segment of the population that believes in reproductive freedoms and supports Roe v. Wade, and yet it hasn't been an issue that has motivated them to act or vote," said Wendy Davis, whose viral stand for abortion rights on the floor of the Texas state Senate in 2013 made her a national name.
"I think that's because people have always taken for granted that the right will continue to exist, and we don't need to get exercised about something that's safe," Davis, who is part of the Rise Up tour, told BuzzFeed News. "Abortion rights are no longer safe with Brett Kavanaugh's appointment to the Supreme Court."
Some of the energy Democrats need has already been stirred up. Left-leaning voters, particularly women, have been highly mobilized in the wake of Trump's election, organizing marches, calling lawmakers, and turning out to the polls. Within 24 hours of the retirement of Justice Anthony Kennedy, volunteers from NARAL Pro-Choice America called their senators "at a rate of three times the amount they did with [Justice Neil] Gorsuch's nomination," the group said in a press call.
But Democrats recognize there is a huge amount of work to be done to generate the kind of political activity — and political pressure — that could actually force Collins and Murkowski to vote against Kavanaugh.
For years, Republicans successfully have used hot-button issues like pushing for Roe to be overturned and banning same-sex marriage to galvanize their base over the Court. For Democrats, the issues have often been more theoretical.
"This is a challenge on our side: We're trying to force something to be a voter's top issue in an unrealistic time frame," said one senior Democratic strategist. "Republicans have had success here because they've invested in this issue for a generation, and it's unrealistic to think our side can replicate that in two years."
This is why placing emphasis on Roe is so vital, the strategist said: "Our people tend to mobilize around the issues" rather than specific actors, like Kavanaugh or even Trump.
In the more-likely-than-not event that Kavanaugh ends up being confirmed, some worry that Democratic voters will be demoralized — and less likely to show up to the polls come November.
"I think that's hogwash," Woodhouse told BuzzFeed News. "There's so much energy among Democrats and progressives to send a message to Trump, and I think that extends to middle-of-the-road voters."
"If we lose on Kavanaugh, but Democratic senators went down fighting, it fires up our base, so that's a win in 2018," said Nicole Brener-Schmitz, the political director of NARAL Pro-Choice America.
Should Kavanaugh be confirmed, some advocates and strategists hope, the threat to Roe will be so apparent that it will no longer be a matter of strategy for Democrats. The voters will energize themselves, they said, particularly in states that would be most affected by the change, like those with "trigger laws" that would automatically make abortion illegal under a Roe reversal, or states whose governors have said that they will sign even more strict restrictions on abortion into law if they are given the opportunity.
"If Roe is overturned or if it is hanging in the balance" by the time the 2020 elections come around, said one senior Democratic congressional aide, "it feels less of a strategy question for Democrats than something that will motivate a significant component and driving force in the Democratic Party."
"Democrats don't want Roe to be overturned," she said. "But if it is, women are going to be mad."