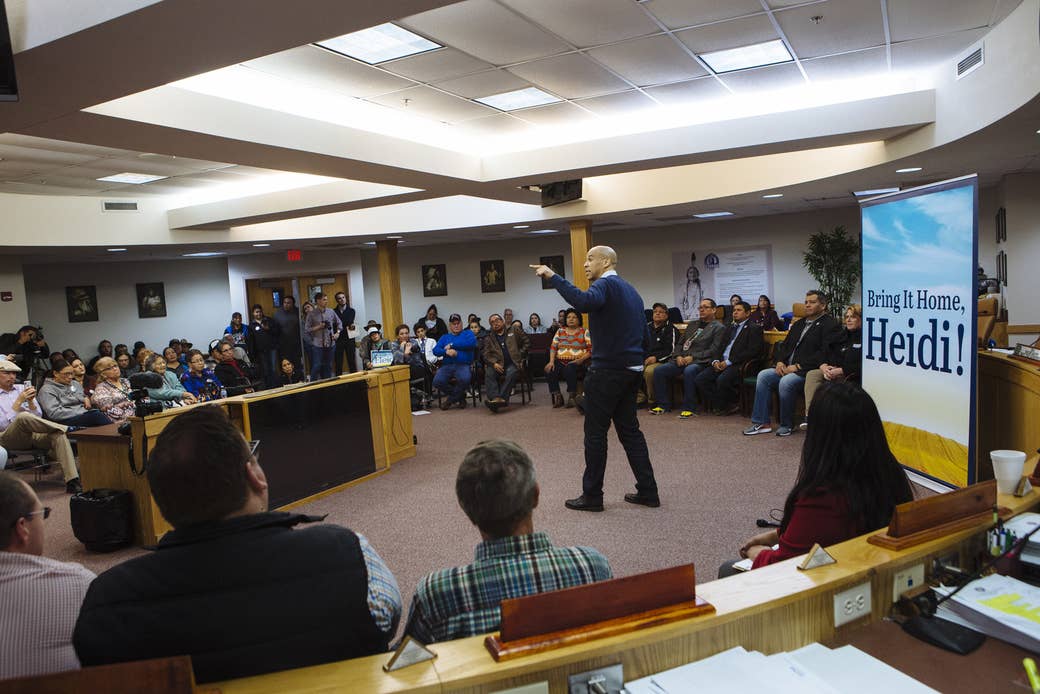 FORT YATES, North Dakota — Sen. Cory Booker is a vegan from New Jersey whose towering speeches often center around his own inner-city neighborhood.

On Friday, in the tiny, 200-person town of Fort Yates, North Dakota, Booker gave a speech about Newark crack houses and quoted Langston Hughes to a small group gathered in the tribal headquarters of the Standing Rock Sioux. And they loved him.
As Booker spoke, campaigning on behalf of Sen. Heidi Heitkamp, there was a cry of "All right, Cory!" There were murmurs of agreement. There was a standing ovation punctuated with exclamatory chants of lilili.
There was even a selfie — Booker's signature — with two women holding a sign that read "Cory Booker for President."
"I thought he was pretty powerful and passionate," said Tasha Peltier, a health care worker from Mobridge, South Dakota, and a tribal member. "I really appreciate that he's not someone from outside, as far as his community goes."
As he mulls a run for president in 2020, Booker has campaigned across the country this midterm election in places as far-flung as Iowa, Nevada, and South Carolina. But he has made no campaign stop as unlikely as the sprawling brown plains of North Dakota, a state that President Donald Trump won by 36 points in 2016 and where Heitkamp, the Senate's most endangered Democrat, trails dangerously in the polls. If Booker does choose to run for president, North Dakota is distinctly not the type of early state whose voters he would need. He drove for hours across the countryside Friday in Heitkamp's campaign bus, making a total of four stops over some 300 miles.
On the Standing Rock reservation, Booker's speech — a call for unity and justice that drew connections between the struggles of the civil rights movement and the centuries-long battles of indigenous people — resonated.
"I found him incredibly moving," said Jerl Thompson, who works at the tribal college in Fort Yates. "Always, I find a sort of solidarity between minorities. People who are oppressed can feel that solidarity about attempts by mainstream culture to disenfranchise them."
"Oh, I loved him. He's who I came here to see," said Loretta Bad Heart Bull, who was elated to take a picture with Booker. "Cory Booker for president. I sure hope so."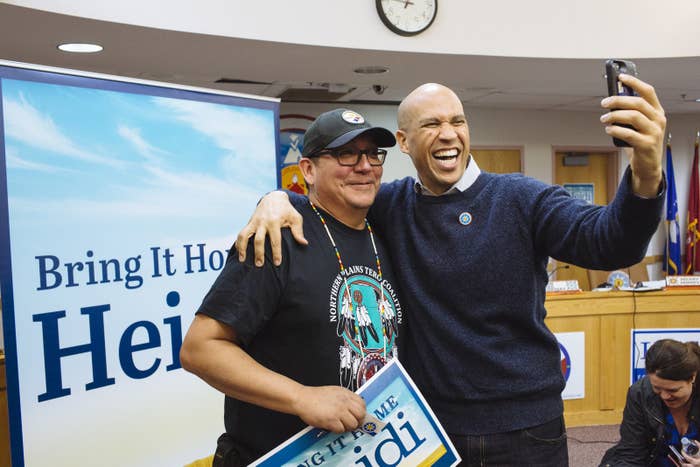 Booker wound together the branding of Native Americans as "savages" in the Declaration of Independence with a Constitution that did not mention women and labeled African Americans as "fractions of human beings." He linked a Lakota prayer to a Christian one; he spoke of how both black people and Native Americans had fought for their country despite its history of betrayals.
In North Dakota, the Standing Rock Sioux and other tribes are waging a fight of their own in the midterm elections, where the sudden enactment of a voter ID law left Native Americans on reservations scrambling to issue new identifications for hundreds of voters whose tribal cards no longer met specifications.
"If they're coming for your voting rights here, they're going to come for mine on the East Coast," Booker told the crowd.
"He's gonna be the next president," said Kirk Marquez, the owner of a sporting supply store on the South Dakota side of the reservation. He shouted as much to Booker as the senator made his way through the crowd, taking selfies. "It's all the same, you know? The struggle's gone on for 500 years or more. They're trying to throw us backwards. We can't have that."
Booker, who Heitkamp said had had few experiences with Native Americans before they became friends in the Senate, worked frequently in his speech to draw connections with tribal issues. But he also used lines that he has been saying since at least 2006, when he was a young mayor.
"I may have gotten my BA from Stanford, but I got my PhD from the streets of Newark, from folks that were wiser than any professor I ever met," Booker said.
In Fort Yates, the crowd cheered.